Coach, Inc. (NYSE: COH)
Overview
Coach is a leading U.S. marketer of premium handbag and accessories. The company sells products globally through both direct and indirect channels, and by building a business model that emphasizes "accessible luxury", Coach is able to reach a larger demographic than many of its higher-priced competitors. With superior margins and consistent double-digit annual revenue growths, Coach runs a highly profitable business, generates strong cash flows, and has virtually no debt. However, on January 23, 2013, Coach reported earnings that missed analysts' estimate by 6 cents per share. Since then, the company's stock saw a massive sell-off; it is now down 21% from its pre-earnings level.
2FQ2013 Highlights
Coach's 2FQ is considered the most important quarter by many because it includes the holiday season. Below are highlights for the quarter ending December 29, 2012:
Net sales totaled $1.50 billion, up 5% from prior year ago;
EPS totaled $1.23, up 5% from prior year;
Gross margin was 72.2%, consistent with prior year;
Operating margin declined 96 bps to 35.0%;
North America sales increased 0.6% to $1.08 billion; however, comparable store sales saw a 2.2% decline;
International sales increased 12% to $411 million, driven by 40% gain in sales in China, and partially offset by 7% decrease in Japan sales (2% decrease in constant currency).
The underperformance came from North America and Japan. Aside from the effect of Hurricane Sandy and softened consumer confidence in the U.S., the two main contributors to the -2% comparable sales in North America were 1) the emerging popularity of trendy brands such as Michael Kors (NYSE:KORS); 2) Coach's decision to maintain pricing discipline amid heightened promotional activities among its competitors. In Japan, the overall consumer market remained challenging. Additionally, a weakened yen had a significantly adverse impact on Coach's revenue in U.S. dollars.
Growth Strategy
As of December 29, 2012, Coach saw capacity for 144 additional retail stores in North America. With a 30% market share in the U.S., the company is facing difficulty in further share growth and threats from competition. Rather than expanding aggressively to offset the slowdown in sales, Coach is planning to open only 5 North America retail stores in FY2013. Instead, the company focuses on renovating its current store base to create a modern store image and experience. We believe this steady approach will allow Coach to cultivate a hipper brand image, and at the same time build a solid foundation for future North American growth.
Much of Coach's recent sales growth came from overseas, especially from China. In FY2012, sales in China increased more than 40% YoY, and the trend continued as consistent double-digit comparable sales growth helped the region post 40% sales increases in the first two quarters of FY2013. With rising incomes and higher standards of living, Chinese consumers are becoming more capable to fulfill their desire to enhance social status by association with famous western brand names. And as an "accessible luxury" brand, Coach is able to capture a bigger portion of China's expanding middle and upper class than its higher-priced competitors. Well aware of this opportunity, management plans to increase net square footage in China by 35% in FY2013.
In both U.S. and Asia, Coach is seeking more growth in men's business. According to Bain & Company, men's apparel in the worldwide luxury market grew an estimated 10% in 2012, surpassing the 9% growth in women's apparel. As gains in market share become incrementally more difficult in women's business, it makes strategic sense for Coach to expand into men's. During the first two quarters of FY2013, the company has added seven men's factory stores in North America, and most of the new store openings in Japan during this fiscal year are expected to be men's. Coach's men's business is estimated to grow 50% globally to over $600 million in FY2013.
Segment Analysis
With slow job growth in the U.S. and the effect of increased payroll tax to the middle class, the current macro environment is not favorable to Coach in North America. Additionally, the company's investment in stores and new talents, as well as Coach's transformation to a lifestyle brand, will take time to materialize. Therefore, we expect Coach to face continued challenges in North America for the remainder of FY2013. It is worth noting that Coach has grown its North America customer database to 22 million as of June 30, 2012, compared to 19 million in the prior year. The company's initiative to send coupon promotions frequently via email will likely boost sales, but the discounted prices will put pressures on margins.
In Japan, management expects to increase square footage by 10% in FY2013. As the expansion in men's business starts to take root, Coach could see flat or even modest growth in Japan sales for the next two quarters. However, the massive depreciation of the yen against the U.S. dollar since the beginning of 2013 will have an estimated 7% negative impact on Japan sales when translated to U.S. dollars.
We expect China to deliver robust growth again. Continued strength in comparable store sales, coupled with location expansions, will drive an estimated 31% increase in sales for the remainder of FY2013. Sales growth in China will also benefit margins due to estimated 40% - 70% higher premiums paid by Chinese consumers.
Margins
Gross margin for 2FQ2013 was flat YoY at 72.2%, despite 20 bp negative impact from the higher cost of inventory related to acquisitions. Selling expenses as a percent of sales went up 2.13% mainly due to cost of acquisitions. And even as administrative expenses as a percent of sales declined 1.02%, SG&A as a percent of sales increased 0.99%.
As a result, the operating margin was 35.0%, down 96 bps YoY excluding the effect of charitable contribution in the prior year.
Estimates
Despite headwinds coming from North America and Japan, we expect 7% revenue growth, excluding an estimated -1.5% impact from currency translation, and 8.5% EPS growth in FY2013. We also expect moderating margin impact from acquisitions in 2H, and increased share repurchases. Below are our estimates and projections.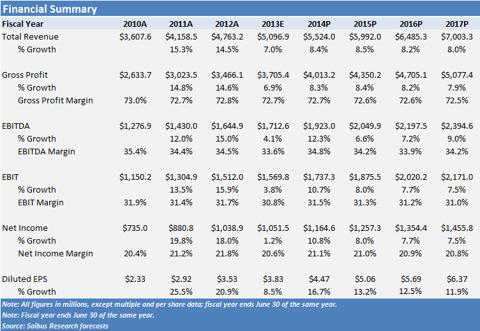 Peer Analysis & Valuation
We compared Coach against nine of its peers, and found that Coach has unmatched margins and cheap valuation according to EBITDA, EBIT, and P/E multiples. We feel that the revenue multiple is not a proper valuation metric for Coach because Coach's margins are approximately twice as much as competitors. The following table illustrates our peer comparisons.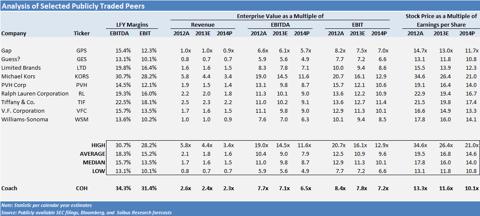 At $48.22 per share as of March 1, 2013, Coach traded at 7.1x EV/EBITDA, 7.8x EV/EBIT, and 11.6x P/E multiple on our CY2013 estimates, compared to peer average of 9.5x EV/EBITDA, 10.9x EV/EBIT, and 16.0x P/E. Based on the relevant multiple range shown below, we estimate a fair value for Coach at $58.34 - $72.12 per share, implying a 21% - 50% upside.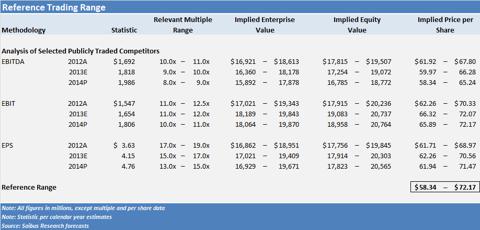 Conclusion
Management continues to deploy strategies to transform Coach from an accessory brand to a lifestyle brand. The outcome is uncertain; however, we believe Coach's strong brand equity and high perceived quality will create synergy across products. Coach has significant opportunity in men's products and the international segment, and the company has superior cash flow to fund investments as well as return capital to shareholders through dividends and share repurchases. The post-earnings drop in Coach's stock price presented an excellent buying opportunity. At $48.22 per share, the stock has a dividend yield of 2.5% and an upside potential of more than 20%.
Disclosure: I have no positions in any stocks mentioned, but may initiate a long position in COH over the next 72 hours. I wrote this article myself, and it expresses my own opinions. I am not receiving compensation for it (other than from Seeking Alpha). I have no business relationship with any company whose stock is mentioned in this article.
Additional disclosure: This article was written by an analyst at Saibus Research. Saibus Research has not received compensation directly or indirectly for expressing the recommendation in this article. We have no business relationship with any company whose stock is mentioned in this article. Under no circumstances must this report be considered an offer to buy, sell, subscribe for or trade securities or other instruments.