J.C. Penney (NYSE:JCP) hasn't been doing well. Store traffic last quarter was down 17% year over year and comparable store sales plunged 32%, confirming my impression that this J.C. Penney has become more of a museum than a retailer.
It looks like the only people buying J.C. Penney have been large mutual funds. Unlike shoppers, they really like J.C. Penney. Out of 219 million shares outstanding, eight institutions own 156 million shares, or 69% of J.C. Penney. That's what I call concentration.
Look at the list (courtesy of Morningstar.com):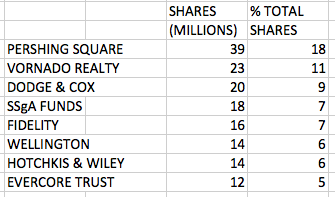 Unfortunately, most of these institutions didn't sidestep the dismal performance of J.C. Penney's stock. Ackman's Pershing Square still owns the same 39 million shares it did years ago. That's unfortunate, as shares have dropped 57% over the year. Too bad the funds didn't heed my bearish call back in March 2012.
It looks like one institution is trying to dump its shares. According to CNBC, Vornado (NYSE:VNO) reportedly is shopping its stock, helping to drop J.C. Penney another 2% after hours.
Interestingly, J.C. Penney's Savings, Profit-Sharing Plan and Stock Ownership Plan has been lightening up on its holdings for several years. According to the SEC documents, the Plan has been decreasing its shares, reporting 16 million shares in December 2010, 14.6 million in December 2011, and 11.7 million last December. They may be the smartest ones of the bunch.
Too late to sell? Not by a long shot.
Disclosure: I have no positions in any stocks mentioned, and no plans to initiate any positions within the next 72 hours. I wrote this article myself, and it expresses my own opinions. I am not receiving compensation for it (other than from Seeking Alpha). I have no business relationship with any company whose stock is mentioned in this article.
Additional disclosure: The opinions in this document are for informational and educational purposes only and should not be construed as a recommendation to buy or sell the stocks mentioned. Past performance of the companies discussed may not continue and the companies may not achieve the earnings growth as predicted. The information in this document is believed to be accurate, but under no circumstances should a person act upon the information contained within. We do not recommend that anyone act upon any investment information without first consulting an investment advisor as to the suitability of such investments for his specific situation.