Following the credit crisis of 2008/2009, SandRidge Energy's (NYSE:SD) business began to crumble and it was forced into a long recovery. The recovery period consisted of managerial decisions that focused on revamping its business and operations. The primary change involved transitioning SD's fixed asset structure from gas to liquids. The transition to liquids has dramatically reduced SD's overall competition, making it one of the top two competitors in the industry segment. In addition, reduced competition should help augment margins and produce more stables cash flows. This article provides an overview to SD's business model, highlights its recent performance, and concludes with seven reasons as to why SD is a strong buy at just under $7 per share.
Company Description
SD's business is based out of Oklahoma and is focused on drilling low-risk, conventional, high rate-of-return oil wells in shallow carbonate reservoirs. SD is the core developer of the Mississippian Oil Play and owns high valued assets in the Gulf of Mexico.
In term of its operations, SD engages in exploration and production activities in shallow, conventional, domestic on-shore and off-shore oil basins. The primary locations it operates in include Oklahoma, Kansas, Texas, the Gulf Coast, and the Gulf of Mexico. SD owns nearly 1.85 million acres of leasehold in the Mississippian, with more than 11,000 potential horizontal drilling locations identified.
Market Performance
Currently, SD is trading right between $5 and $6 per share. With 490.48 million shares outstanding, its market capitalization is roughly $2.82 billion, making it a mid-cap player in the industry. Using SD's monthly holding period returns, I computed a firm-specific beta of 2.17. The market has a beta of one, which indicates SD's returns are of slightly higher risk than the returns of the market. Institutional investors have clearly taken advantage of this investment opportunity with ownership of nearly 71% of SD's common stock outstanding.
Figure 1: SD's One Year Price Graph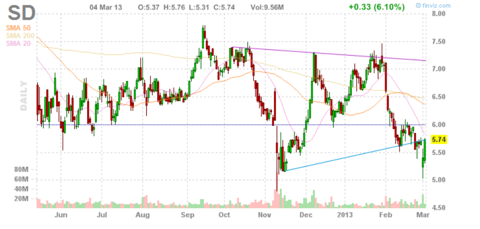 Seven reasons why SD is a good play at only $5.40 per share:
#1 SD's dedicated management eliminates any investor's concerns regarding corporate governance. The current state of SD's business and operations can be highly attributed to the successful managerial changes implemented following the credit crisis. SD's chief executive officer (CEO) Tom Ward is not afraid to take the risks necessary to excel. This is reflected through Ward's current ownership in SD and was also displayed through his previous experience at Chesapeake Energy (NYSE:CHK), where he served as chief operating officer. At both CHK and SD, Ward's personal stock ownership has reflected positively upon his vested interest as a manager.
#2 SD's narrowly focused operations help minimize competitive threats from industry peers. As previously mentioned, its operations are primarily focused on conventional drilling as opposed to unconventional drilling. Unconventional drilling for assets such as shale tends to be more competitive and by solely focusing on conventional drilling, SD will be capable of eliminating the level of competition it faces. In addition, this will also benefit SD through lowered operating costs.
#3 SD is well positioned to benefit from a recovery in natural gas prices. As you will see on the map below, SD's west Texas Overthrust leasehold is its primary gas producing region. An increase in the price of natural gas will not only attract investors' attention, but prompt a potential buyout opportunity for operations in this region. Therefore, this region should be considered very lucrative in the case where natural gas prices begin to rise.
Figure 2: SD's Geographic Placement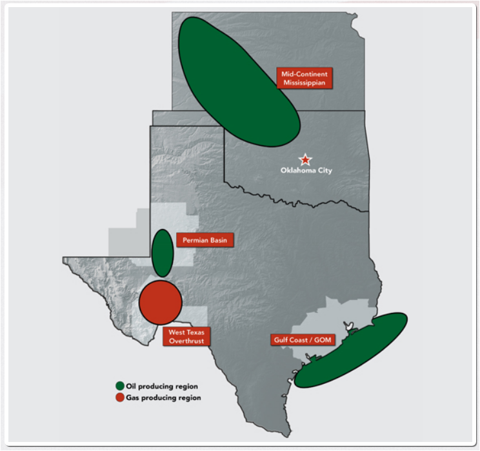 #4 SD has a strong set of assets that have the capability to yield large profits over the next several years. Currently, SD's most lucrative assets consist of roughly 225,000 acres in the Permian Basin and 1,850,000 acres in the Anadarko Shelf. As of the most recent reporting period, its return on assets (ROA) was 4.31%. I expect its ROA to increase by more than 3% within the next year.
#5 Capital adequacy can be eliminated as an investor concern. SD has secured acreage to continue its rapid development by raising over $1.5 billion through trusts. Capital budgeting is a major issue for firms in this industry; however, SD has proven its ability to generate a steady source of funds to finance its operations.
#6 A simple look at the relative strength index (RSI) for SD's security indicates that it is a strong buy. The thirty day RSI indication for SD is approximately 28.75. An RSI indication falling within the range of 20 to 30 suggests there is a high probability of an upward trend in its security price.
#7 The changes to SD's business model have ultimately attracted the attention of many new analysts. Currently, eight analysts that cover the stock have a six month median price target of $7.25 per share. This implies an upside of roughly 34% from its current value.
Conclusion
The changes to SD's business has strongly helped towards improving its financial condition, however, its interest coverage ratio still remains low at only 3.2x. Looking forward, SD's lucrative assets in the Permian basin as well as high levels of inventory should help maintain an adequate level of profitability. To minimize downside risk, it is important investors understand that a decrease in the price of oil and natural gas are the most deterministic risk factors. A decline in these prices has the potential to compress margins, which inevitably will reduce free cash flow available to investors. In conclusion, the bullish case for SD is not only favorable, but most importantly -- realistic.
Sources: Google Finance, Yahoo Finance, YCharts, TD Ameritrade, FinViz, and SandRidge Energy's Company Website.
Disclosure: I have no positions in any stocks mentioned, but may initiate a long position in SD over the next 72 hours. I wrote this article myself, and it expresses my own opinions. I am not receiving compensation for it (other than from Seeking Alpha). I have no business relationship with any company whose stock is mentioned in this article.