Company Overview
Accounting for approximately 1% of the US beer market, The Boston Beer Company, Inc. (NYSE:SAM) is the largest craft brewer in the US. In 2012, it sold over 50 beers under the Samuel Adams or Sam Adams brand names (with over 30 introduced since 2010), ten flavored malt beverages ("FMB") under its Twisted Tea brand, five hard cider beverages under its Angry Orchard brand, and five beers under two brand names belonging to its Alchemy & Science subsidiary. SAM brews nearly all of its own product at its breweries in Pennsylvania, Boston, Cincinnati, and Los Angeles.
With a knowledgeable sales force of approximately 330 people that it counts as a competitive advantage, SAM sells its products to a network of 340 wholesale distributors in the US (97% of sales), Canada, Europe, Israel, the Caribbean, the Pacific Rim, and Mexico.
Operational Change
In late 2010, SAM launched its "Freshest Beer Program," which changed the wholesaler ordering process to reduce the time between order placement and shipment. The goal of the program is to improve service, forecasting, and production planning while also lowering wholesaler inventories and delivering fresher beer to retail outlets.
In 2012, SAM reported 89 wholesalers were participating in the program, accounting for 59% of volume (up from 50% in 2011, but short of its 2012 goal of 75%). Management has set a goal of 65-75% participation for 2013. While wholesaler inventory was effectively reduced, management also noted greater challenges than expected for forecasting and production planning with the possibility of shortages in the future, which could increase costs and negatively impact wholesaler relationships. Indeed, in the fourth quarter of 2012, SAM experienced capacity constraints and service issues that resulted in an interruption in its supply chain for some wholesalers in the program.
Growth Initiatives
Early this coming summer, SAM will begin offering Samuel Adams Boston Lager in a can (the "Sam Can"). Priced at $14.99-$17.99 for a 12-pack, this will allow customers to drink SAM's beer at events where bottles are inconvenient or not permitted, such as at the beach, a golf course, airlines, and sports stadiums. SAM also hopes to obtain incremental retail shelf space for the can rather than share existing shelf space with its bottled beer. While two years of research and testing were spent creating a unique can, the news release contained several excerpts that appeared to downplay the difference between SAM's can and a standard beer can, describing the difference as "slight," "subtle" and "modest."
In addition to the growth SAM should see from introducing new beer, cider, and malt styles, this initiative will certainly expand the number of occasions where customers can purchase SAM's beer. But, the growth provided will also be accompanied by execution risks in mass-producing and filling both cans and bottles, changing the wholesaler ordering process (already being modified with the Freshest Beer program), and the potential for cans to eat into sales of bottles, not to mention the possibility of rejection by the consumer (although this is not expected).
Market Overview
SAM operates in what is called the "Better Beer" category, which makes up approximately 22% of US beer consumption by volume. This category includes craft brewers, domestic specialty beers, and imports and is associated with higher quality, price, image and taste. Since 2005, craft beer has grown 5-13% per year and outperformed both the Better Beer category and the overall beer category. For 2012, estimated that while the Better Beer category grew 6-7% overall, craft beers grew 11-13%.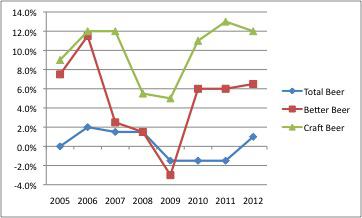 Source: SAM 10-Ks.
Assuming that the craft beer market maintains its current pace of 11-13% growth, SAM will continue to experience intense competition from four different sources: 1) a growing consumer preference for wine and spirits; 2) strong import brands; 3) the entry of AB InBev (BUD) and MillerCoors (OTCPK:SBMRY) into craft; and 4) the rising number of independent craft brewers.
Decrease in beer consumption
Starting with a wide view, there are a few market facts working against the overall beer industry. First is a slow decline in the per capita consumption of malt beverages, which dropped over 16% from 1980 to 2010.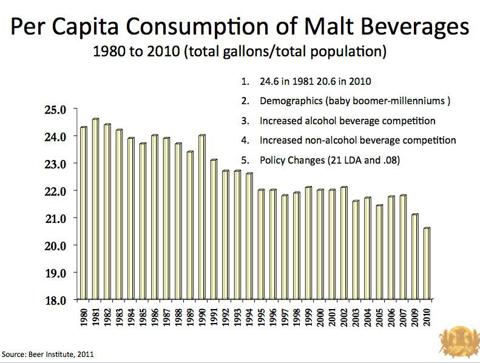 Even with beer volume rising 0.7% in 2012 after falling over 1% in 2011, it is still losing share to wine and spirits, which are growing faster than beer (at rates of 2.8% and 3.2%, respectively).
Increase in Imports
Imports like Corona (whose owner was just acquired by AB InBev), and Heineken (HINKY.PK) steadily gained market share over the last ten years. Although they have somewhat slowed lately, they are still a significant competitor with craft beer and also have the substantial resources necessary to expand their presence in the US market.
Big Domestics
Similarly, AB InBev and Molson Coors (combined producers of nearly 90% of all US domestic beer, excluding imports) have been afflicted by flat domestic sales in the US and so recently entered the Better Beer category by launching their own domestic specialty and craft beers.
In its recent 2012 annual report, MolsonCoors (TAP) stated its premium craft portfolios in the US and Canada outperformed the industry and grew market share. In the US it took its Henry Weinhard brands national and has now launched Redd's Apple Ale and Third Shift as well. Its Blue Moon and Leinenkugel brands continue to enjoy double-digit growth and also are also expecting new line extensions.
AB InBev has also stated that one of its main priorities in 2013 will be to focus on higher-end beers, including craft. This will include building on Shock Top's 2012 success by adding more styles, launching new brands like Black Crown, and rolling out the recently purchased Goose Island's craft beer nationwide.
While consumers are generally doubtful of the ability for TAP and BUD to bring out beers of comparable quality to those of smaller craft brewers, the big threat from these two companies is their strong influence on distributors. It is much easier for them to obtain prime shelf space for their new styles and brands, which will come at the expense of SAM and hinder its attempts to highlight its own new styles.
Competition in Craft
While SAM's management expects continued double-digit growth in the craft beer sub-market, it also noted that customers are still experimenting with new brands, so brand loyalty has yet to deeply develop.
SAM estimated there were approximately 3,600 craft breweries in operation or planning stages in the US at the end of 2012, up from 420 in 2006. In its most recent earnings call, management estimated that 400 new craft brewers entered the market in 2012 with expectations for consolidation remaining low due to the lack of willing sellers.
Although some brewers will ultimately fail to gain any traction, new brewers will continue to pop up in the future and existing brewers will push to expand capacity and styles, and vie for distributor recognition.
Craft Brew Alliance (BREW), another publicly-traded craft brewer, also saw sales growth of 13% in 2012 and expects to continue making investments in capacity and efficiency improvements.
In 2012, three of the largest craft brewers announced they were expanding their brewing capacity to keep up with growth. Sierra Nevada Brewing Company, which sold over 800,000 barrels in 2011 announced at the beginning of last year that it would be building a new brewing facility on the east coast to add on to its existing capacity of 1 million barrels.
New Belgium Brewing, the brewer of Fat Tire, also decided to build a new facility on the east coast with a capacity of 400,000 barrels.
Lagunitas Brewing Co. (a smaller brewer that produced 160,000 barrels in 2011) completed an expansion in July 2012 allowing it to produce up to 360,000 barrels. With expectations to increase production by 50% to 240,000 barrels in 2012, it is already planning to build a second facility in Chicago with a capacity of 240,000 barrels at the end of 2013.
All of these factors will work against SAM's plans for both increasing growth as well as maintaining margins. Though it might be able to grow at the same rate as the overall craft beer industry, it is unlikely that it would be able to steadily outperform it over the next several years. Margins will also be pressured by the need to invest in both manufacturing capacity as well as advertising and selling efforts as it gets harder to hold distributors' attention.
Flavored Malt Beverages
After growing the brand each year since it was introduced in 2001, SAM completed its national rollout of Twisted Tea (and Angry Orchard) in 2012 where it will go head-to-head with other FMB like Smirnoff Ice, Mike's Hard Lemonade, and Bud Light Lime's Lime-a-Rita. SAM estimates FMB volume increased by 9% in 2012 with most of the growth due to the launch of BUD's Lime-a-Rita. FMB only makes up approximately 2% of US beer consumption so SAM will continue benefiting from growth in this market, but it should not be a significant game-changer for them.
Hard Cider
With the quick rollout of Angry Orchard (only first introduced in the second half of 2011) SAM will able to ride the wave of growth in the hard cider category where it estimates volumes increased by 60-70% in 2012. However, hard cider still only makes up 0.5% of US beer consumption and contributed the equivalent of approximately 0.3% of SAM's beer sales. Again, there appears to definitely be short-term upside in this category, but there's not enough potential to justify SAM distracting itself from protecting and growing its core craft beer styles.
Financials Overview
For the year 2012, SAM grew net revenues by 13.1% to $580MM, driven by an increase in shipping volumes of Angry Orchard, Twisted Tea, and Samuel Adams Seasonals, offset by a decline in other core Samuel Adams styles. Margins dropped over 100 bps due to a higher cost of ingredients, and increased customer programs and incentive costs. 2012 net income grew to $59.5MM or $4.39 per diluted share. SAM ended the year with $74.5MM in cash and an unused $50MM line-of-credit after spending $66MM on capital expenditures.
Management noted that the cost of hops (3% of product cost) in particular had greatly increased over the last several years and would continue to do so. It also mentioned experiencing increases in both packaging costs and energy costs. Again, these are all factors that will contribute to a constant squeeze on margins.
In its report on 2012 earnings, SAM forecast the following financial information for 2013:
Diluted EPS of $4.70-$5.10
Gross margins of 53-55%
An increase in Advertising, Promotion and Selling Expenses of $18-26MM (mostly on Boston Lager and SAM's Seasonal Beers, but also including $2-4MM for Alchemy & Science)
Tax rate of 38%
Capital expenditures of $70-85MM, mainly for investments in capacity expansion to accommodate growth, i.e. in breweries and additional keg purchases. The 2012 10-K noted that after 2013, CapEx should return to $30-50MM, including capacity expansion initiatives.
A targeted price increase of 1-2% per barrel, partially offset by increases in the costs of ingredients, packaging, freight and processing.
Two Share Classes
There are currently two classes of common stock shares. The 8,703,670 outstanding Class A shares that are available to the public are not entitled to voting rights other than related to approving certain mergers, charter and by-law amendments, and the election of a minority of directors. The company is effectively in the control of Founder and Chairman Jim Koch, who owns 100% of the 4,107,355 Class B shares, for which he has the right to convert to Class A shares at a ratio of one-to-one. Obviously, this limits the ability of minority shareholders to influence management and the operations of the company. While they can't complain about the current share price, at times, shareholders will be exposed to instances of Koch neglecting to make decisions in the best interests of shareholders. For example, in the last quarter of 2012, he discussed SAM's decision to share some of its excess inventory "of these scarce hops so that 200 other craft brewers could make more of their beer, in a sense compete with us…" While admirable and beneficial to the craft beer industry overall, aiding one's competitors is usually not in the best interest of one's shareholders and actions like this would never happen at BUD or TAP (more likely, you would see the opposite).
Insider Transactions
The rest of management doesn't appear interested in building much of an ownership stake in the company, instead choosing to cash out options and stock owned. In the last twelve months, management has sold over 400,000 shares and currently owns less than 0.5% of the company. The CEO and CFO own less than 5,000 shares between them (although they do have a significant amount of unexercised options).
Valuation Overview
First, a DCF model was used to estimate SAM's intrinsic value. The base-case model projects cash flow for each of the next ten years and then calculates a terminal value based on growth into perpetuity. Over the first ten years, it generously assumes that SAM is able to keep pace with craft beer's overall growth of 12% per year as well as maintain its existing margins.
DCF Assumptions
| | |
| --- | --- |
| 10-year Net Revenue Growth Rate | 12.0% |
| EBITDA margin | 20.0% |
| EBIT margin | 16.5% |
| Depreciation & Amortization (as % of sales) | 3.5% |
| Tax rate | 37.0% |
| Increase in Net Working Capital (as % of sales) | 1.5% |
| WACC | 9.0% |
Ten-year Cash Flow Projection

Adding the net present value of the ten-year cash flows to a terminal value calculated using a WACC of 9.0% and perpetuity growth rate of 2.5% leaves an enterprise value of ~$1.66BB. Adding net cash of $74MM results in an estimated intrinsic value of $128.89 per diluted share, approximately 17% below its current price of $155.47 (as of 3/1/13).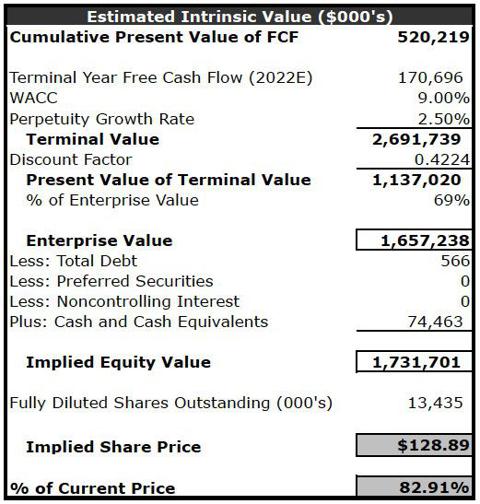 A sensitivity analysis shows that, in order to validate the current share price, over the next ten years, either SAM's revenue growth rate or net profit margin would have to be 2% higher, or both would have to be 1% higher. While either is certainly possible for a year or two, it's extremely unlikely to occur every year for the next ten years. More likely is that SAM will experience a decline in margins as it has to spend more money to maintain its share of a crowded craft beer market. Just a one-percent decrease to a still respectable 11.0% growth rate and 9.4% net margin would result in an estimated price of only $103.41, about two-thirds of its current price.

Interesting to note is that the DCF model's base-case EPS estimates (using SAM's current diluted share count) for 2013-2015 come remarkably close to the analyst estimates compiled by First Call. The 2013 EPS also falls within management's guidance for the year.
| | | |
| --- | --- | --- |
| | DCF Model EPS | First Call EPS |
| 2013 | $5.03 | $5.02 |
| 2014 | $5.63 | $5.61 |
| 2015 | $6.31 | $6.34 |
Looking at SAM's key valuation multiples in comparison to some of its peers, one can see that for every multiple, SAM is valued higher than the average. There are a few reasons that this makes sense, such as SAM's strong balance sheet with almost no debt, as well as its growth rate, which is higher than the big comparables like AB InBev, MolsonCoors and Heineken. However, even taking these facts into account, SAM looks expensive.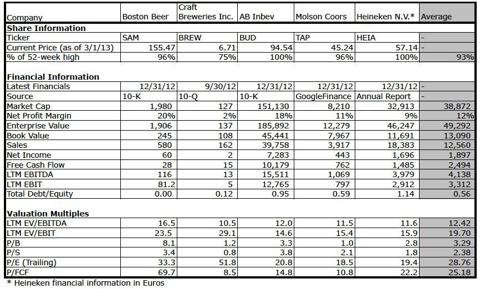 Technical Overview
Looking at a weekly chart, SAM has nearly doubled its share price since October 2011 and is technically overvalued according to MACD, RSI, and stochastic indicators. After two attempts to remain over $160 in the last two weeks, it appears due for at least a small pull-back if not a more significant drop to a more reasonable valuation.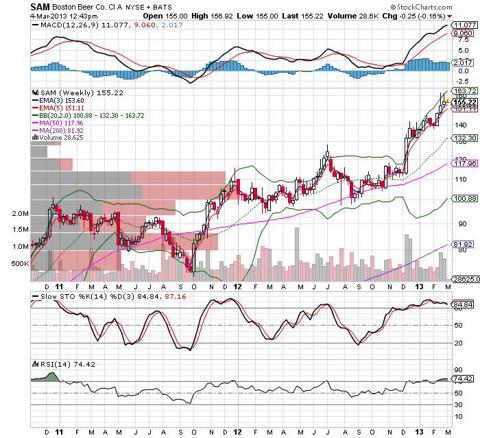 Conclusion
One of the pioneers of craft brewing, SAM has built an industry-leading stable of popular beers known for their award-winning taste and will continue to play a key part in the fastest growing segment of the beer market. With a relatively strong balance sheet, it has the financial ability to continue rolling out new brands and expand on its recent move into canned beer. Margins will be pressured by rising costs and intense competition from a wave of small independents and the big domestics' search for growth.
The complexity of SAM's operational processes has also greatly increased in the last year. The company is now brewing, packaging, marketing and selling over 50 different styles of beer with a new national presence in flavored malt beverages and hard cider while attempting to push through its Fresh Beer Program and begin its "Sam Can" initiative. Any one of these efforts can quickly turn into the first stumbling block for SAM and cause them to lose favor with wholesalers or consumers and/or require higher spending than expected.
In looking at both the stock's intrinsic value based on a DCF model and relative value in comparison to its peers, SAM's current price of $155/share appears unjustified and over-valued. For those who don't own shares, now is not a good time to buy. Current owners who have enjoyed the 50%-plus gain over the last six months may want to use this opportunity to take profits. For those with the courage and liquidity to take a short position, SAM appears to be a tempting target. There is already a large short interest in the stock at nearly 2 million shares (~25% of the float), down from over 3 million in October 2012. Also note that, as countless examples have shown in the past, it's possible for stocks like SAM to remain over-valued and continue to become even more so for longer than short-sellers can afford to wait. The bottom line though is that at its current valuation, SAM's downside risks are much greater than any potential for continued appreciation.
Disclosure: I have no positions in any stocks mentioned, and no plans to initiate any positions within the next 72 hours. I wrote this article myself, and it expresses my own opinions. I am not receiving compensation for it (other than from Seeking Alpha). I have no business relationship with any company whose stock is mentioned in this article.