Fellow Seeking Alpha author Mark Gomes wrote a very polished article on the latest FBI background check numbers for weapons peaking in December. It is indisputable that December was the peak of demand with January as the highest percentage growth. He points out that the FBI numbers for February are a bit lower than the historic percentage gain. While this is true, we do not see it as lower because of demand slacking to a large extent.
Rather, demand is so high that many weapons are simply not in stock anymore. The numbers appear lower as consumers simply cannot buy the products they want and desire in retail. Imagine going into a store to buy a pistol or a semi-automatic weapon that you have been wanting... only to see bare shelves. If you do not encounter empty shelves, you might encounter vastly inflated prices to the tune of 100% to even 150%.
Before the gun madness, a low end AR-15 could cost you roughly $700. Now the same weapon will cost you $1500 and demand has far exceeded capacity for either Ruger (NYSE:RGR) or Smith & Wesson (SWHC) to meet.
Of course, we know that the vast majority of demand is because various politicians have proposed gun bans. The federal government and many state governments are trying to push legislation that would limit what types of weapons can be legally owned. Gun-related companies are pushing back by threatening to leave non-friendly states that pass anti-gun legislation. This would affect local politicians as none of them want to be blamed for costing the local economy jobs.
Smith & Wesson Earnings
Smith & Wesson is set to announce earnings today. We can expect them to look similar to Ruger's fantastic earnings. Both companies are driven by the same large sweeping economic factors. Granted, they each have different product lines, branding, and price points, but in the end, the factors that motivate people to buy Ruger products will motivate them to buy Smith & Wesson products. The average Joe just wants a quality weapon for an affordable price that is accurate.
Price baked in?
Just looking at a 6-month chart, we can see that the price is just getting back to pre-Sandy Hook levels. The trailing P/E is a mere 12.40 and forward P/E is 10.28. The PEG stands at a very low .30. This suggests that Smith & Wesson is undervalued.
(Smith & Wesson 6 Month Chart)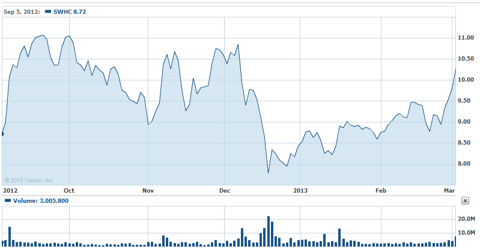 (Click to enlarge)
However, looking at Ruger, the day after earnings, the stock had a little bit of profit taking (represented by the red line) before shooting off again. It is possible that Smith & Wesson will experience the same thing.
(Ruger 6-Month Chart)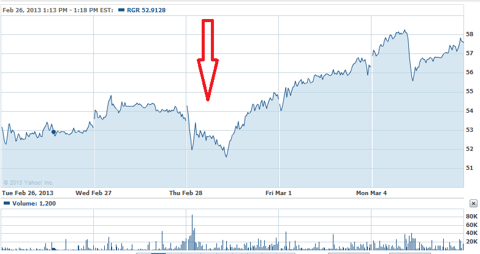 (Click to enlarge)
How To Play Earnings
We have to take into account that demand is still high and some store shelves are devoid of the products consumers want. The numbers reflect this in our opinion. As does the general lack of affordable ammo. Just try finding any pistol ammo in a Wal-Mart (NYSE:WMT) of a popular caliber... good luck!
On the flip side, it is a possibility that people will lock in some profits and the stock could slip back a few percentage points. Yet we believe that until all this mess is ironed out that the demand will continue. Granted, we may experience some reduction, but as long as the politicians are fighting over it, the debate will stay at the forefront of people's minds. Thus demand will stay strong for guns and ammo.
Another Option
If a person were willing to hold for long-term potential yet they were willing to sell out at 11 in the short term (March 15th), they could look into selling a covered call in SWHC for an 11 strike. This would yield 25 dollars per contract. Not too shabby for such a small timeframe.
We are going to sell off a small portion of our holdings just to lock in some profits. Hopefully, the stock will pull back a few percentage points and we can buy back in for its potential over the next few quarters. If we are incorrect, that is fine by us because we are making money on our remaining portion. You will never go broke taking profits.
Disclosure: I am long SWHC. I wrote this article myself, and it expresses my own opinions. I am not receiving compensation for it (other than from Seeking Alpha). I have no business relationship with any company whose stock is mentioned in this article.