I will quickly preface this article with the real life story that inspired me to embark on the research and stock analysis written below. I am a high school track and field coach. Last weekend was the State Indoor Track and Field Championships. At the meet, one of my athletes pulled me aside, telling me excitedly that I had to see something. Immediately, I worried about an injury, or something along those lines. However, the young girl dragged me over to a group of boys wearing matching sweatsuits who were laughing and pouring the contents of water bottles onto themselves. I thought this to be meaningless banter and I was disappointed in my athlete's enthusiasm until I noticed what was happening to the water. The boys were wearing what seemed to be traditional gray cotton sweatsuits; however, the water was beading up and running off of the fabric like it was imbued with gore-tex technology. I then joined the athletes in awe for a moment, equally enthralled.
Upon returning home I visited the investor relations page on UA's website and was impressed with what I saw. It turns out the sweats were made by Under Armour (NYSE:UA). This water repellency was due to UA's STORM fabric technology and, while researching this technological development, I realized that UA's apparel and shoe product lines are full of unique and progressive high-tech innovations. In tracing these innovations from their inception, I became heavily invested in the question of whether Under Armour's technologies stand to propel their stock price higher.
Company History:
For Under Armour, it all began in 1996. Kevin Plank and a couple of buddies started the company in the basement of his grandmother's house because Plank, a former University of Maryland football player, was tired of having to work out in sweat soaked cotton shirts. Plank, who had been an entrepreneur throughout his college career, found a material that was lightweight and moisture-wicking, solving his immediate concerns. When following the Under Armour story, you quickly realize that these guys are never satisfied.
Since developing its first line of performance fibers UA has focused on continuing its capacity to engineer textile technologies and implement them into their products. In the year following the successful production of the first line of UA shirts meant for sweaty workouts on hot days in 1996, the company introduced Coldgear technology which keeps athletes warm in the colder climates. Coldgear fabrics allow an athlete to stay warm while maintaining the light weight and moisture wicking properties that Plank set out to produce; needless to say, after infiltrating a market of bulky and cumbersome apparel, Coldgear quickly became the company's stalwart product.
In 2003 the company launched its first major marketing campaign with its "we must protect this house" advertisements. These in-your-face commercials served as motivation for athletes, calling them out to not only buy Under Armour clothing, but to dominate their competition while wearing it. Today, Under Armour says that it is synonymous with performance. I think this is the truth and a great marketing move considering that it wasn't long ago that, in my opinion, derived directly from the company's "protect this house" commercial series, the brand was synonymous with football. The image of a small child with fierce eyes who I envision as a miniature Ray Lewis inspiring his team on the bus before a game is still ingrained in my memory.
UA had to expand their brand's athletic moat if it wanted to continue to grow. UA was formulated on the football field; however, due to the small initial size of the company (the current market cap sits at 5.17B) and incredible foresight by its management, UA quickly created specific divisions of products meant for athletes who competed off of the gridiron. In 2004 the company launched its women's apparel line, quickly followed by its fishing and hunting camouflage line in 2006. 2006 was a big year for UA, entering the footwear market for the first time with their introduction of football cleats with their "click, clack" marketing campaign. This was yet another hard-nosed advertisement movement aligning UA with on field success and toughness. UA soon created a training shoe in 2008, soccer boots and running shoes in 2009, and basketball shoes in 2010. I particularly like this move in the production of soccer boots as the sport is growing in America and already immensely popular everywhere else in the world. This gives the company a route to continue its expansion internationally. These moves have since paid off as footwear sales grew 43% in 2011 and 32% in 2012.
Its almost as if UA could sense Nike's 2010 partnership with the NFL replacing Reebok as the exclusive maker of licensed NFL on-field apparel. The company showed humility in the 5 years prior to the groundbreaking agreement, realizing that it could not directly assault Just Do It giant, Nike, in the realm of football partnerships, and moved swiftly and effectively to enter other athletic arenas, guaranteeing its growth and solidifying its future.
The innovation has only ramped up since Nike's agreement with the NFL, and there is no sign of it slowing. In 2011 UA launched the aforementioned STORM technology, adding a highly water resistant line of clothing to UA's shelves. When recently discussing the company's 4th quarter results, Plank mentioned the implementation of this STORM technology in the company's fleece helped to deliver net revenue growth of 25%, giving the company 11 consecutive quarters of net revenue growth of at least 20%.
In 2012, UA made a large addition to its women's line launching its ArmourBra. In creating the ArmourBra, UA partnered with Dr. Joanna Scurr, who they call the foremost authority on bio mechanics of the female body. The company included many of its notable technologies into the bras: its lightweight four way stretch material, its moisture transport system, and strategically placed mesh venting to keep the athlete even more cool and dry while being properly supported. The company's selling point of this new Armour Bra line is that 70% of women do not wear properly sized sports bras. The company's marketing solution was to create a color coded system that is easily understood by the customer, making bra shopping quicker and easier to complete.
While it seems that UA missed out on the NFL sponsorship, the company hit it big with their partnership with Buck Commander. Buck Commander was a white-tail deer hunting show that aired on the Outdoor Channel staring Willie Robertson and his family. The Robertsons have since become pop-culture icons due to the reality television show, Duck Dynasty, that airs on A&E. The show has already aired two seasons, with the third premiering recently, on February, 27th. The men of the Robertson clan, famous for their hunting prowess and unshaven faces, spend the vast majority of their time wearing camouflaged clothing. The boys take pride in their masculinity, commonly calling city folk "yuppies", while happily embracing the term "redneck" for themselves. The camouflaged clothing that these men wear is produced by Under Armour. The company couldn't ask for a better advertisement for their hunting and fishing line as this revolutionary show grows in popularity. Because the original sponsorship of the Buck Commander team has unexpectedly become a marketing goldmine and Nike's continued reluctance to enter the camouflaged sporting arena, UA has grown into a formidable player in the industry. Under Armour's move into the camouflage clothing market has proven to be successful because of the introduction of its already established technologically advanced clothing production capabilities into a market of more traditional, technologically inept manufacturers.
UA's most recent release is its Coldblack technology. The company has created a line of dark colored fabrics that go against common summertime protocol. These dark colored fabrics do not attract and absorb heat, but reflect up to 80% of solar rays coming in contact with the wearer, keeping them cool and comfortable with a minimum of UPF 30+ rating. The company is marketing these fabrics in several different lines of clothing meant for activities such as running and golf.
Marketing Strategy and Brand Expansion:
Under Armour's first major commercial success was its ColdGear technology. Since the company debuted its heat trapping, moisture transporting fabric, its thirst for improvement as not been satiated. While the original Coldgear technology performs just as well today as it did in 1997, UA has continued the growth of the line, having developed EVO ColdGear, which is both lighter and warmer than its predecessor. This material was revolutionary in its dual layered nature, possessing a brushed inner layer meant to contain the body's heat and an outer layer meant to be durable and slick to speed up the evaporation process. Now, the company boasts another addition to its ColdGear line after having engineered ColdGear Thermo, which enhances heat entrapment without adding extra weight with an internal hexagonal pattern structure.
Like its success in the hunting and fishing arena, UA has also extended its brand reach into the extreme sports arena with its new MTN series. This series capitalizes on the success of its Coldgear products, combining these, with its water repellent STORM technologies with the hope of maximizing its exposure to the extreme sports industry. This is what the company does so well, compounding its innovation into other areas of production.
Extreme sports, whose popularity is growing rapidly with the success of ESPN's Xgames and the addition of several new ski and snowboarding events into the winter Olympic schedule. Next year in Sochi, the slope style will debut at the winter games alongside the already established crowd favorite, half pipe, which will only continue to increase the public awareness of the winter sports world. With this move into the sector, UA is once again playing a market share play against Nike, who has already established a sponsored snowboard team that includes two divisions: North American Pros and Global Pros and a skateboarding team with 18 professional members.
While UA does not have a sponsored extreme sports team, the company does represent several big named athletes with its products. Within the major sports spectrum, the strategy seems to be focused on controversial young guns such as Byrce Harper of the Washington Nationals who was an All-star and won National League Rookie of the Year in 2012, and Cam Newton, who is a former National Champion, Heisman Trophy winner, and AP Offensive Rookie of the Year who made the Pro-bowl in 2012. UA seems to have hit home runs with these athletes on-field success; however, each of them carry baggage. Harper, who fits perfectly into the rough and tough mold the company has tried to portray with its advertisements, has also been known to upset and even insult veterans in the Major Leagues with his aggressive play style and Hollywood persona. Newton's amateurism was called into question during his lone year playing at Auburn University because of allegations that his father, Cecil, accepted money during his recruitment from junior college which would have been a violation of the NCAA's policies. Newton was not found guilty and went on to defeat the University of Oregon in the 2011 BCS National Championship. Its been said that no press is bad press and with these athletes, UA has once again put itself in a nice situation to benefit from the sporting world's headlines.
When it comes to marketing, I was also interested to see UA highlighting its new "Bottoms Bar" promoting its new Studiolux Quattro Collection on its website homepage (3/1/13). This is a series of 6 different styles of women's pants made with the new StudioLux fabric to attempt to take market share away from Nike and powerhouse Lululemon (NASDAQ:LULU) in the women's yoga apparel sector. Not only is Under Armour attempting to gain market share in this very profitable division, with this move UA is attempting change public perception of its clothing. These yoga pants, tights, and Capris are being marketed as acceptable casual clothing. This is another direction of growth for Under Armour, following the path that both Nike and Lululemon have taken in the past to increase overall sales.
This article has focused on innovation and with its newest television ads, UA seems to be in the process of reworking its former mass-marketing strategy. UA has recently launched its biggest global marketing campaign, ever. The company's newest catch phrase, "I will" melds well with its recent emergence from the football specific sporting world. "I will" is rather ambiguous, similar to Nike's now famous phrase, "Just Do It." I like this move in a more gender neutral direction with the still motivating phrase, "I will", as its rallying call. The grandeur of this movement clearly shows the company's confidence in its expanding product line and its ability to emerge as a global power in both men's and women's athletic apparel.
This confidence is shown in Under Armour's future guidance. In its updated 2013 outlook, UA expects net revenues to increase 20-21% and operating income to increase 22-23%.
Direct Competition With Nike:
UA has been able to release technologies that directly combat several of its major competitors more successful products in an attempt to take away and gain market share. UA's emergence in the yoga apparel sector dominated by Lululemon has already been discussed. Here are two recent examples of UA targeting Nike.
UA created its "charged cotton" series of apparel, heralding it as "The World's First True Performance Cotton," to directly combat Nike's dri-fit cotton clothing. This technology looks and feels like regular cotton, yet it is made with Elastane for extra stretch and will not cling to you when you sweat thanks to its moisture-wicking properties. In UA's 4th quarter news release the company's CEO, Plank, attributed charged cotton directly to the company's recent sales success.
UA has also released its UA Spine technology, a rigid, yet flexible chassis system for its footwear. The company is focused on light-weight running shoes, with the men's RPM running shoe weighing under 10 ounces while the women's comes in under 7. Both of these models come standard with the company's new Micro-G technology in its foam midsole. UA is combining this new light weight material with its 4-G foam sock liner, meant to conform to any athlete's foot. Both of the company's new shoe releases, the Spine RPM and the Spine Venom, serve as a direct response to the tremendous success of the Nike's light weight foam soled running shoes, the Nike Free series.
Here is a graph showing the gain in stock price for both of these companies in the past 5 years.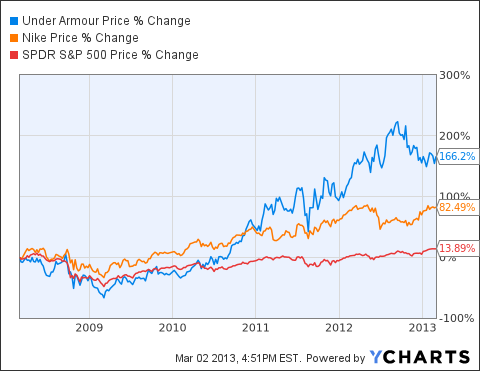 Valuation:
I will begin this section by saying that at its current price point, UA's stock is not for me. This is not to say that the stock is bad or that it will not quickly rise from current levels, but that for me personally, I find investing in a company with multiples and a beta as high as UA's too risky. I also tend to lean towards companies that pay a sustainable and growing dividend. I love the company's products, its high quality standards, and its innovative nature; however, I don't have to stomach to tolerate the inherent risk of a growth stock. Nonetheless, I will go over UA's fundamentals for those interested in the tremendous portfolio of advanced clothing technology and growth potential that Under Armour has to offer. Just because Under Armour doesn't fit into my current investing strategy doesn't mean it won't mesh well with yours.
I like to look EPS numbers when considering the health of a company's stock, especially one whose P/E multiple is as high 40.9. UA's one year EPS growth is a very respectable 32.01%. This is however below the industry average of 38.84%. This one year average has been significantly boosted by Lululemon's astronomical growth of 49.59%. The 5 year growth of the industry as a whole is very healthy too: 17.60%. UA does however outpace this growth, with a 5 year EPS growth rate of 18.24%.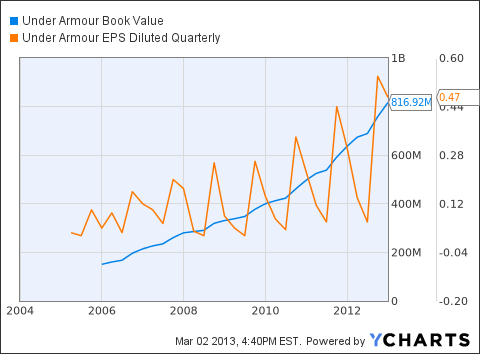 UA Book Value data by YCharts
Another metric that seems especially meaningful when looking at a company like UA is sales growth. Although I'm talking about UA as a tech company due to the company's innovative high-tech fabrics and design technologies, the vast majority of the company's income is derived from retail sales. Over the past 5 years UA's sales have grown 24.78%, which outshines both its peers and its industry average which come in at 9.91% and 12.42% respectively.
It should also be noted that although many of the company's numbers are impressive and show strong growth potential into the future, the company's current short ratio is 9.9. The industry average is a mere 0.8. The high short interest in the stock should not come as a surprise with UA's P/E multiple sitting nearly twice as high as its peers (the industry average P/E is 23.0x), but the question remains, can UA's future growth continue and squeeze out these shorts?
Personally, I like UA in the long term; I just wouldn't buy in at these current levels. I love the sales growth numbers, but I am worried about the short interest and the staunch competition that UA faces in the marketplace. Overall, this research has intrigued me. I think the company is situated nicely in a strong consumer market with a widening moat, a growing fan base, and several unique products that have staying power into the future. Now I just have to wait for a further pullback.
Disclosure: I have no positions in any stocks mentioned, and no plans to initiate any positions within the next 72 hours. I wrote this article myself, and it expresses my own opinions. I am not receiving compensation for it (other than from Seeking Alpha). I have no business relationship with any company whose stock is mentioned in this article.