I saw this article today, REITs: Why The Dividends Are A Mirage, and it was amusing to me. The author said:
Many real estate investment trusts (REITs) can be quite tempting as the housing market seems to be on the mend and experiencing a revival. What appears to be a bonus, a huge bonus, is that many of these REITs are flashing what looks like exceptionally high dividend yields. There's only one catch, and it's a biggie: many of these dividend yields are a mirage.
I won't bore you with the humor I saw in the article (read it yourself, sitting down) but the closing just about slapped me silly:
Investors should still discount the dividend yields. Normally a relative high dividend yield could be used as a fundamental reason to expect a rise in a stock price, but I believe in the case of REITs that also dilute, that thinking should be avoided.
Most of the REITs the author referenced were mortgage REITs, with the exception of American Realty Capital Properties (ARCP). I cannot understand the logic for including ARCP with the group of higher yielding mortgage REITs; however, One I read the author's comment on ARCP's dividend yield it made me feel like I had just sucked the helium out of a hot air balloon - I could not stop laughing:
There's no such thing as a free lunch, and when you see an exceptionally high dividend yield there is probably a reason for it.
It's Time to Back up the Truck
ARCP closed yesterday at $13.24 a share with over 11.9 million shares traded. For those of you who don't closely follow ARCP, the company recently merged with ARCT III (formerly a non-traded REIT) solidifying the combined companies competitive position in the triple-net sector.
Around a month ago I wrote an article, American Realty Capital Properties Is Not A Mickey Mouse REIT; It's Beginning to Look More Like A SWAN, and in the article I touted the benefits of the merger (with ARCT III):
The uniquely synergistic marriage will benefit ARCP investors as the REIT will have perhaps the most high-quality income steam in REIT-dom. I especially like the hedged strategy of owning a 30% mix of medium-term leases (with high-growth) and a 70% mix of long-term leases (with moderate growth). Essentially, this combination provides for strong stability of bond-like revenue with strategically limited exposure to "vintage" rents.
Now that the merger has closed ARCP is now the 4th largest triple-net REIT with a market cap of around $2.039 billion (source: SNL Financial). In addition, ARCP's significantly increased enterprise value of $3.1 billion offers the potential for the REIT to lower costs of equity and debt capital. Also, ARCP will most likely gain future positions in both the MSCI and the Russell Index and move closer to achieving an investment grade rating.
More importantly, ARCP is no "mirage" for dividend investors (as the above-referenced author claimed) but instead a "miracle of such." Simply said, ARCP is a dividend machine. In an interview on Mad Money yesterday, Jim Cramer cut to the chase when explaining to ARCP's CEO, Nicholas Schorsch that the company was the only REIT that had "declared its fifth consecutive quarterly increase in annualized dividends paid."
That's no mirage folks. ARCP's dividend yield is nothing but extraordinary -- especially when you consider the income that is driving the train…
Get on the Dividend Train
For dividend investors, ARCP is a dividend train. Now that the merger (referenced above) has closed, the company has 692 freestanding properties net-leased to 49 primarily investment grade rated and other credit tenants. The portfolio consists of around 16.4 million square feet in 44 states and Puerto Rico. In addition, the well-balanced portfolio consists of 20 distinct industries with an average remaining lease duration of 11.5 years.
With very modest portfolio leverage of 24% (of enterprise value), ARCP has already closed on around $212 million in 2013. In addition, ARCP has said it will close on another $140 million in acquisitions in the next 60 days.
Last week ARCP's share price slid from around $14.47 (February 26) to around $13.10 (March 1). The sell-off was due to the fact that some of ARCT III's (non-traded) investors elected to liquidate shares (and many redeployed cash back into other ARC products). However, institutional support moved the shares up yesterday as over 11 million shares traded and the stock closed at $13.24.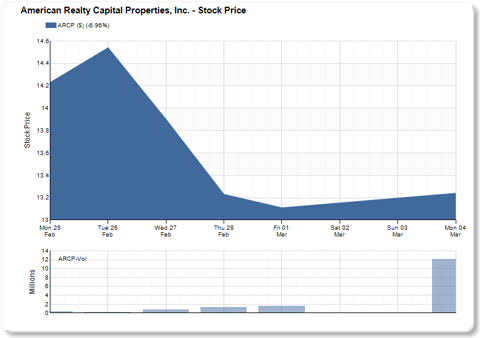 In fact, ARCP's management team also saw this as a buying opportunity as William Kahane and Nicholas Schorsch both purchased around 50,000 shares (each) with a combined value of over 41 million. Other ARCP executives also purchased shares.
No Mirage. Back Up the Truck
Post merger, I expected to see some near-term softness in ARCP shares. Given the make-up of ARCT III's non-traded investor composition it is common to see investors respond to the opportunity to trade their shares (following the merger).
ARCP's dividend yield is no mirage. The 6.8% dividend yield is fully-supported by high-quality cash flows as the portfolio is 100% leased (Cramer pointed that out in Mad Money yesterday). In addition, I see further upside to earnings and the dividend supported by the company's highly accretive spread strategy ($33 million closed in the 4th quarter at an average cap rate of 9%).
As I pointed out when I wrote on ARCP 18 months ago, the biggest investment risk for ARCP is tenant concentration. However, since the IPO, ARCP has successfully managed to diversify the portfolio and now that ARCT III has closed the company's tenant base has broadened resulting in a more balanced platform.
Bottom Line: Load Up The Truck. I expect to see ARCP shares to climb to $15.00 by year-end and that represents an incredible opportunity to achieve significant capital principal appreciation and enjoy a magnificent dividend of 6.8%. It's no mirage.
Disclosure: I have no positions in any stocks mentioned, and no plans to initiate any positions within the next 72 hours. I wrote this article myself, and it expresses my own opinions. I am not receiving compensation for it (other than from Seeking Alpha). I have no business relationship with any company whose stock is mentioned in this article.