There are some situations in the commodity space which we simply cannot explain right now. Some stocks are defying gravity, even in the face of downgrades and production hurdles, while others cannot avoid the gravitational pull exerted upon them. There is value out there, but with oil prices seeming to fall on a daily basis and refiners turning out to be the big winners in all of the shale drilling taking place right now. We continue to look to the companies with growing production in well positioned plays and we think that the Wattenberg, Permian and Utica shall be winners this year, with the Utica leading the way and Wattenberg close behind.
Commodity prices this morning are as follows:
Gold: $1583.90/ounce, up by $11.50/ounce
Silver: $28.96/ounce, up by $0.464/ounce
Oil: $90.30/barrel, up by $0.18/barrel
RBOB Gas: $3.1054/gallon, up by $0.0071/gallon
Natural Gas: $3.568/MMbtu, up by $0.039/MMbtu
Has a bottom finally been put in gold? Probably not, but a relief rally could be due...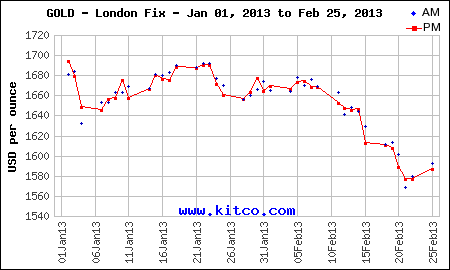 Chart courtesy of kitco.com
Oil & Natural Gas
Yesterday saw SandRidge Energy (NYSE:SD) shares recover a bit, over 6%, as we investors moved back in seeking value after a brokerage came out with positive things to say about one of the trusts (we did not get this research report nor could we find it, however it comes from a reliable source) that SandRidge set up in the Mississippian play. We stated yesterday that we thought investors should stay away from SandRidge at this point because as they move north into Kansas the play gets gassier naturally and we already know what has happened in the oily portion of the southern play so our guess is that the known gassier part of the play will only get gassier as more wells are drilled and a production curve is assembled. Investors could be in for more shifts in reserves and the such so we would prefer that other names be investigated in the Bakken, Utica, Eagle Ford and even Permian. Much better value out there at this point in time.
As we discussed yesterday, GMX Resources (GMXR) had an interesting day. It opened up strongly as investors paid attention to the well result and sunk as the day went on, most likely due to the shift in focus to the missed interest payment and the issues that could lead to. This is becoming a leveraged bet on the Bakken and whether the company can obtain financing to bridge the gap until they have the free cash-flow via operations to pay for their capital expenditures out of pocket. We are usually risk takers and gamblers, but even this throws up warning signs to us and has forced us to stop in our tracks.
Hess (NYSE:HES) is beginning to look like a company possessing a lot of hidden value and in the near future they will begin to unlock some of that in moves which the company laid out for shareholders yesterday. The company will sell their 1,350 gas stations while also exiting the energy trading and marketing business. The company will also look to monetize their midstream operations in the Bakken, possibly as early as 2015 (although no plan has been given for how this will be accomplished). Shareholders will see 6 new board members named, however none of them are to appease activist investors and are viewed as 'friendlies' to the company. Not all of the calls for change were implemented, but enough were to appease shareholders yesterday as shares rose $2.30 (3.46%) to close at $68.84/share on volume of 10.3 million. This sure looks like a story worth following.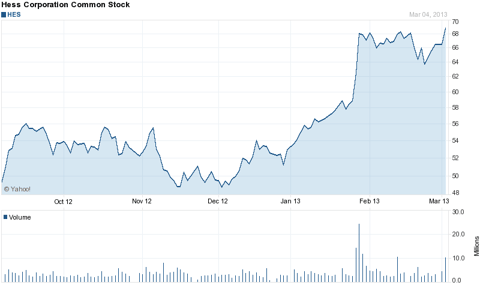 Chart courtesy of Yahoo Finance,
Uranium
Yesterday we saw UR-Energy (NYSEMKT:URG) announce that the court case against them had been dismissed and that they could now proceed along with the construction on their Lost Creek Project (see press release here). We were a bit disappointed in the price action as the shares had trouble moving higher and it now appears to us that $0.80, which was once support, has now become resistance. We continue to watch the uranium companies and especially those in the development phase so we hope to bring more to readers in the next few weeks and months with some takeaways from conversations and emails we have with our contacts in the industry.
Iron Ore
Cliffs Natural Resources (NYSE:CLF) has literally fallen off of a cliff recently and support has been hard to find. Management really dropped the ball here and let shareholders down but that coupled with the need to raise more capital really added to the most recent downfall and now shareholders appear to be in for some Chinese water torture. It has always been our preference to just have the kitchen sink thrown our way and to sift through all of the garbage to see just how bad the situation is and move on from there, however it is depleting to have to get a string of bad news and have constant down days as appears the case here. Even if this is a one quarter phenomenon and the ship gets 'righted' quickly, investors are not giving management the benefit of the doubt at this point and the share price is indicative of this. We have had numerous questions about whether X price was a good entry point recently and our response has been no, it is going lower. As it stands right now every one of those prices was above the current price and if we break through this next level of support it is not unreasonable to think we could retest the lows set during the most recent downturn. The stock closed at $23.78/share yesterday after falling another $1.47, or 5.82%.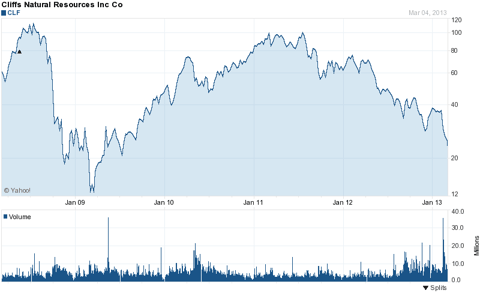 Chart courtesy of Yahoo Finance.
Disclosure: I have no positions in any stocks mentioned, and no plans to initiate any positions within the next 72 hours. I wrote this article myself, and it expresses my own opinions. I am not receiving compensation for it (other than from Seeking Alpha). I have no business relationship with any company whose stock is mentioned in this article.