By Jason Napodano, CFA
On March 4, 2013, the U.S. FDA Center for Drug Evaluation and Research (CDER) Committee for Reproductive Health Drugs (ACRHD) voted by a wide margin that Depomed's (NASDAQ:DEPO) Sefelsa (gabapentin-ER) for the treatment of menopausal hot flash should not be approved at the upcoming PDUFA schedule for May 31, 2013. Specifically, voting went as such:
1) Based on the pre-specified analyses, is there sufficient evidence to conclude that gabapentin is effective in treating moderate-to-severe vasomotor symptoms (VMS) due to menopause?
Yes = 1, No = 13. Not even close! The clear majority of the panel members felt as though the evidence did not support Sefelsa in this indication. Criticism of the trial design, the effect size, the missing data from discontinuation, and the modest and not statistically significant efficacy was echoed by almost all panel members.
2) Is the overall risk/benefit profile of gabapentin acceptable to support approval of this product for the proposed indication?
Yes = 2, No = 12. Again, not close. The panel spent considerably more time than we expected discussing the risks associated with Sefelsa, but mainly it came down to the fact that the panel members felt as though the lack of separation between Sefelsa and the placebo group did not warrant approval of the drug.
Sefelsa has no chance at approval on May 31, 2013. Management seems content to let the new drug application (NDA) remain active at the FDA. We think they should withdraw it. There seems little reason to keep investors focusing on an event surely to deliver a negative headline in two months.
Despite our stance as "Depomed Bulls" before the panel meeting, the surefire rejection of the Sefelsa NDA has absolutely no impact on our financial model. We had no sales or costs associated with Sefelsa for 2013 or beyond. We stated in the past that the odds of approval were below 50%, and thus we built our financial model accordingly. We believe Depomed stock is worth $9 per share today based on discounting future cash flows.
…Guidance For 2013… Before we get into our valuation, let's first review the current financial guidance from Depomed for 2013:- Total revenues of approximately $125 to $135 million, which includes approximately $6 million in anticipated milestones under the company's collaborative arrangements.
- Operating expenses of approximately $120 to $130 million, which includes approximately $4 million of intangible amortization related to the acquisition of Zipsor.
- Year-end 2013 cash and investments of $70 to $80 million
For the full-year 2013, we currently model total revenues of $128.4 million, up 41% from 2012. We model total operating expenses of $125.5 million, resulting in EPS for the full year of $0.01. We forecast the company will turn cash flow positive in the second half of 2013. We think the EPS number grows to $0.65 in 2014 and $1.07 in 2015. Depomed should exit 2013, assuming no new business development activities, with roughly $75 million in cash and investments. Now for our valuation below:
Gralise
According to IMS data, Gralise did just over 46k prescriptions in the fourth quarter 2012. Adjusted sales of $6.0 million equate to a blended price of around $135 per script. We expect the blended price to increase slightly in 2013 thanks to a recent price increase of 12% on December 14, 2012. Gralise now costs $2.52 per pill, or a $7.56 per day. That equates to around $225 per prescription. The actual realized price to Depomed is lower due to the lower cost titration pack (about $190) and the co-pay assistance card which reduces the out-of-pocket expense for the first prescription to $25 (an estimated $25-50 benefit) and provides a total benefit of $75 per patient. Thus, for the first quarter 2013, we model a blended price of around $155 per prescription. A major potential driver of Gralise prescriptions in 2013 will be the company's first Medicare Part-D win with CVS Caremark. This covers some 6 million lives, or around 20% of the entire Medicare Part-D market. Considering the average Gralise patient is around 61 years old, Medicare Part-D is a big part of the equation. For example, the prescription fill rate for Gralise is around 85%, but for Medicare Part-D the rate is only around 50%. We suspect this was because of the lack of Medicare Part-D coverage and the fact that co-pay cards cannot be used with Medicare. The listing of Gralise as Tier-2 with CVS' 6+ million lives opens up a meaningful opportunity for management. In total, there are roughly 30 million lives covered under Medicare Part-D that have been disadvantaged to Gralise due to lack of coverage. If Depomed can follow this up with additional Medicare wins in 2014, Gralise prescriptions (and sales) are set to soar. For the week ending February 22, 2013, Gralise total prescriptions were just under 4,000, which annualizes to a run-rate of approximately $30 million using a blended price of around $150 per script. Gralise currently holds 0.4% of the total gaba-molecule market. To date, over 10,000 physicians have written prescriptions for Gralise, with the majority coming from pain specialists (~41% of the total), primary-care physicians (~28% of the total), and neurologists (~16% of the total). Roughly 55% of the Gralise scripts are coming from users switching from generic gabapentin TID, with Cymbalta (~21%), Lyrica (~12%), and Lidoderm (~11%) rounding out the bulk of the rest of patient switches.
For the full-year 2013, we are modeling sales of Gralise at $42.2 million. We expect Gralise sales to grow to $80.9 million in 2014. We believe peak sales of Gralise are $260 million. Gralise remains the key value driver for Depomed in our view. Below is a graphical representation of our forecasts vs. weekly TRx. To date, Gralise TRx has been remarkably consistent in its slow and steady growth. Investors will note some recent volatility around the holiday season and the recent price increase, but we expect things to smooth out and track on plan shortly.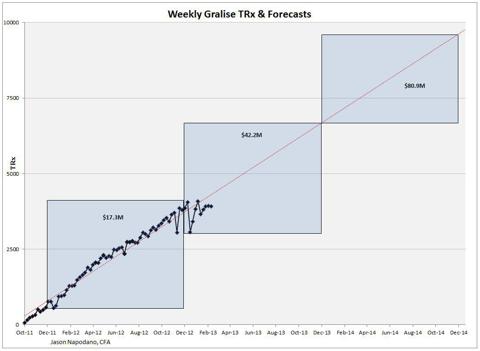 Zipsor
Zipsor is now being promoted in the second position behind Gralise by the Depomed sales force. We note that at the time of the acquisition, Zipsor was annualizing at around $19 million per year. Depomed recorded a total of $4.9 million in Zipsor sales in the third and fourth quarter 2012. In our conversations with management in early January 2013, management noted that Zipsor prescriptions have been flat the past several weeks. We are expecting around $5 million in product sales for each quarter in 2013. We see Zipsor as having $30 million peak potential as long as it stays in the number two position for Depomed behind Gralise.
Glumetza contributed $12.5 million in royalties in the fourth quarter 2012 off of sales at Santarus of around $42.4 million. Santarus (NASDAQ:SNTS) recently took a price increase on Glumetza and increased the number of reps promoting the product. Total Glumetza royalties in 2012 were $42.7 million. Depomed received 29.5% royalty on sales of Glumetza at Santarus. We note the royalty rate jumped up in 2013 to 32%, and will jump again to 34.5% in 2015. For 2013, Depomed management believes it will receive over $50 million in royalties from Santarus on Glumetza.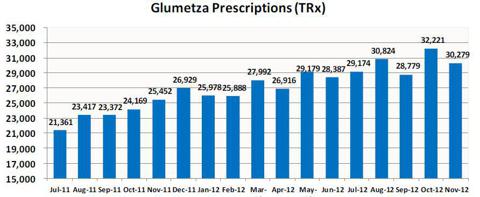 We expect the first generic Glumetza tablets will start to show up in early 2016. Glumetza is a nice cash-cow for Depomed. It lowers the quarterly burn and provides meaningful growth to the topline. However, Glumetza has a shelf life, and royalties are going to start to decline in early 2016 on the launch of generic alternatives. We think that Depomed could monetize this royalty stream in an effort to secure additional cash beyond 2013. We believe if the company can secure north of $125 million, it would be wise to sell the royalty stream and look to acquire another late-stage or commercialized product in the pain / neurology market that Depomed can promote along with Gralise and Zipsor.
Glumetza is no longer a core-asset and its life is coming to an end. We believe that shareholders would react favorably to cashing-out on Glumetza and securing another core-asset to add to the existing "pain and neurology" model the company has worked so hard to create over the past year. That being said, we do not expect Depomed to enter into such a transaction unless they already have identified a pain / neurology product to acquire.
Acuform / Licensing Deals
In 2012, revenues from licensing and collaborative payments totaled $18.8 million. The company has numerous technology and licensing agreements with other pharmaceutical companies. The company has existing relationships with Merck (NYSE:MRK), Johnson & Johnson (NYSE:JNJ), Boehringer Ingelheim, Covidien, and Ironwood. These five companies have paid Depomed nearly $40 million over the past two years. On the fourth quarter call, CEO Jim Schoeneck noted the potential to pull in upwards of $75 million from these agreements in the next several years.
In August 2012, Depomed announced a licensing deal with Janssen Pharmaceuticals that paid Depomed an upfront payment of $10 million in cash. Depomed licensed Janssen the non-exclusive right to Acuform gastric retentive drug delivery technology, which is apparently being used in J&J's Nucynta-ER (tapentadol extended-release tablets). Depomed started receiving a low single-digit royalty on sales of Nucynta-ER effective July 1, 2012 through December 31, 2032. Depomed can also earn a one-time sales milestone upon achievement of a specified level of quarterly net sales. Prescription tracking services peg Nucynta and Nucynta-ER annualizing at around $85 million in sales. That's up from $50 million at the end of 2011. The ER formulation accounts for 31% of the franchise sales, up from 20% at the end of 2011.
Depomed also receives royalties on Merck's Janumet-XR (sitagliptin and metformin-XR). Merck sold $1,659 million of Janumet in 2012, up a strong 22% YoY. Merck continues to transition patients from Januvia to Janumet. Now that Janumet-XR is on the market, we expect Merck to fully-cannibalize Janumet with Janumet-XR. We see peak Janumet-XR sales at $2 billion worldwide.
While the J&J and BI deals are smaller than the deal with Merck, they still provide a potential meaningful cash flow stream in the future. Depomed has received $20 million in total payments from J&J and $12.5 million from Boehringer. Likewise, Covidien has been working to develop acetaminophen / opioid analgesic combination products utilizing Depomed's Acuform gastric retentive drug delivery technology. Covidien has stated in the past that they plan to commercialize the first of these candidates in 2013. We expect this will be a Vicodin-XR formulation. Covidien expects to follow this up with a second product in 2014. We expect this will be a Percocet-XR formulation. Depomed receives milestones upon delivery of the final formulation, potentially up to $15 million worth, and low single-digit royalty on sales. We are big fans of Depomed's licensing and collaborative business.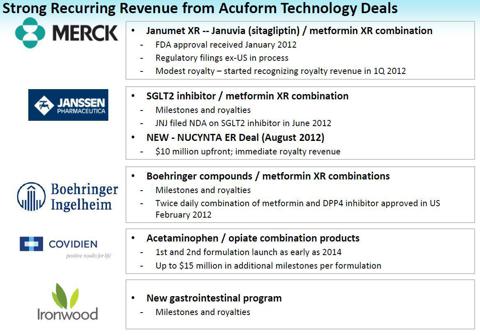 On January 29, 2013, Depomed filed a complaint in the United States District Court for the District of New Jersey against Purdue Pharma L.P. for infringement of U.S. Patent Nos. 6,340,475; 6,635,280; and 6,723,340 (collectively, the "Depomed Patents"). The complaint alleges infringement of the Depomed Patents arising from Purdue's commercialization of OxyContin (oxycodone hydrochloride controlled-release) in the U.S. The Depomed Patents relate to Depomed's Acuform drug delivery technology. U.S. Patent Nos. 6,340,475 and 6,635,280 will expire in 2016, and U.S. Patent No. 6,723,340 will expire in 2021. We note that the polymer formulation patients that expire in 2021 are the same patents that Depomed licensed non-exclusively to J&J's for Nucynta-ER. J&J obviously saw an issue and believed it made more sense to settle with Depomed than battle them in court. We will be watching this closely over the next few months. Purdue's OxyContin does around $1.3 billion in sales worldwide. Just 1% royalty could provide $13 million in cash to Depomed per year, and that does not include a potential back-pay for damages. This could be a $50 million settlement at the high-end. We do not think it receives the investor attention it deserves. The company seems to generate at least one major Acuform licensing deal per year. These deals come with no expense or development obligation at Depomed. This opportunity is largely absent from the current valuation.
Conclusion
Depomed is currently trading with a market capitalization of $325 million, or roughly 2.5X our projected 2013 revenues of $130 million. That's cheap! Based on our 2014 revenues of roughly $185 million, the company is trading at only 1.75X 2014 revenues. If the multiple of 2.5X hold for 2014, the stock is worth $8.20 per share.
The company exited 2012 with $77.9 million in cash. In 2012, Depomed booked over $40 million in royalties on Glumetza, sold through partner Santarus. Management expects to book over $50 million in 2013. Booking similar amounts in 2014 and 2015 nets a present value of at least $125 million. Prescriptions of Gralise for the week ended February 22, 2013 show the drug annualizing well over $30 million and growing steadily. We think Gralise, the company's flagship pain / neurology product is easily worth another $100 million in present value. Throw in anti-inflammatory pain medication, Zipsor, promoted in the number two position behind Gralise, and some royalties on big pharma drugs like Merck's Janumet-XR and J&J's Nucynta-ER and investors can see that buying Depomed is undervalued today.
We reiterate our 'Outperform' rating on the stock and $9 price target. We have posted our DCF model below for investors to see how the valuation stacks up based on a true discounted cash flow model scenario.
Disclosure: I have no positions in any stocks mentioned, and no plans to initiate any positions within the next 72 hours. I wrote this article myself, and it expresses my own opinions. I am not receiving compensation for it. I have no business relationship with any company whose stock is mentioned in this article.
Additional disclosure: PropThink is a team of editors, analysts, and writers. This article was written by Jason Napodano, CFA. We did not receive compensation for this article, and we have no business relationship with any company whose stock is mentioned in this article. Use of PropThink's research is at your own risk. You should do your own research and due diligence before making any investment decision with respect to securities covered herein. You should assume that as of the publication date of any report or letter, PropThink, LLC and persons or entities with whom it has relationships (collectively referred to as "PropThink") has a position in all stocks (and/or options of the stock) covered herein that is consistent with the position set forth in our research report. Following publication of any report or letter, PropThink intends to continue transacting in the securities covered herein, and we may be long, short, or neutral at any time hereafter regardless of our initial recommendation. To the best of our knowledge and belief, all information contained herein is accurate and reliable, and has been obtained from public sources we believe to be accurate and reliable, and not from company insiders or persons who have a relationship with company insiders. Our full disclaimer is available at www.propthink.com/disclaimer.