U.S. equity ETFs snapped up $3.1 billion in U.S. stocks in February, the second month of being net buyers on the market. They bought $1.8 billion in financials and $878 million in industrials, the two sectors with largest ETF buying. On the other hand, selling mostly concentrated in IT companies, which ETFs sold $744 million in stocks. U.S. ETFs sold $368 million in Apple's (NASDAQ:AAPL) shares alone, the largest ETF share sale in a company in February.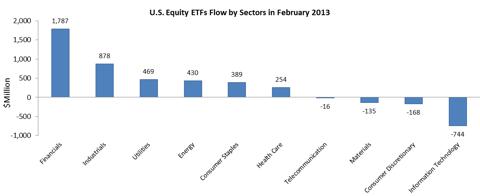 Source: ConvergEx/TrimTabs
Most noticeably, U.S. ETFs bought $211 million worth of Facebook's (NASDAQ:FB) shares in the past month. Most transactions happened on two days - Feb. 12 ($160 million) and Feb. 27 ($62 million), so it also means ETFs were net sellers of $11 million in the rest of the month. The number of ETFs holding FB dropped in February from 50 to 48, so I believe the inflow was reflecting a weight increase in ETFs. After all, FB has rebounded over 50% since its lows in September. Notice the two spikes of FB volume in February - one occurred on the same day with the ETF flow (Feb. 12) and the other one happened one day after the ETF flow (2/28).

Source: ConvergEx/TrimTabs
I noticed there were other cases when a spike in ETF flow was followed by a spike of the stock's volume the next day. For example, Corrections Corp of America (NYSE:CXW) received the largest ETF flow after Facebook in February. The inflow came on Feb 27 as ETFs increased their holdings of CXW by 77.5% on that day, or $135 million. CXW's trading volume surged on Feb 28 to eight times the 30 day average volume.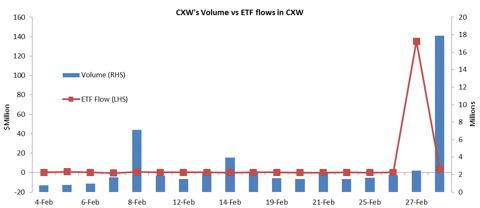 Source: ConvergEx/TrimTabs
I went on to examine all 236 cases in February in which transactions by ETFs caused an over 10% change of the total value of the stock held by ETFs. (e.g. if ETFs hold $10 million worth of ABC's stocks, and on one day they bought more than $1 million in ABC, that's an over 10% change.) It doesn't matter if the transactions were buying or selling, and I excluded a few cases that are caused by acquisition, as ETFs tend to sell a company's stocks before the company is acquired.
What I found is interesting. In those 236 cases, if the ETF holding's value is bigger than 5% of the company's market cap, on average the trading volume would be 2.14 times higher than the 30-day average volume one day after the spike in ETF flow. If the ETF ownership is between 3% and 5% of market cap, the next day volume would be 1.88 times higher than the 30-day volume. If the ETF ownership is between 1% and 3%, the ratio is 1.34 time. And for companies that have less than 1% of market cap in ETF, the next day volume would be only 1.10% times higher than the 30-day volume.

Source: ConvergEx/TrimTabs
It makes sense that if the ETF holding is a big portion of a company's market cap, then a significant change of the value of the ETF holding should trigger a higher volume. While I'm not saying the finding here proves a relationship of statistical significance, I can at least suggest that it's more likely you'll see a higher volume on a stock if you know that ETFs hold more than 5% of its market cap and you just saw a big ETF flow in or out of that stock.
Our analysis of the ETF holdings data showed that over 900 companies have more than 5% of their market cap held by U.S. equity ETFs, and the median number is 3.6%. About two-thirds of these companies are small-caps with market cap below $2 billion, and about 100 companies are over $5 billion. Depending on the niche of the market, I think any investor/trader can use such a list of 30 to 100 stocks on a daily basis, in case the ETF flow data raise a flag on any given day.
Disclosure: I am long AAPL. I wrote this article myself, and it expresses my own opinions. I am not receiving compensation for it. I have no business relationship with any company whose stock is mentioned in this article.