The coal industry has languished miserably over the past two years. The Market Vectors Coal ETF (NYSEARCA:KOL), which closely replicates the performance of the Global Coal Index, is trading at a 33.5% discount to its price one year ago and a 53.2% discount to its price two years ago. While some major players have remained somewhat consistent and hedged huge downfalls through diversification, others have fallen harder than the broader market ETFs. Companies like Patriot Coal (OTCQB:PCXCQ) have fallen victim to bankruptcy; other industry leaders have tumbled to new 52-week lows and continue to push lower.
The trend is negative, and unfortunately, it will continue that way for most coal companies.
Domestic Picture: Bye Bye Coal
Domestically, coal has been hurt by a bevy of executioners, namely political policy and the price of natural gas. Because natural gas is an alternative to coal for energy production, slight price changes result in huge demand shifts for the two natural resources. The price of natural gas has fallen significantly over the past few years, making it a cheaper alternative for energy production as compared to coal. Though the price of natural gas has seemingly bottomed and begun a small ascent, the performance of and outlook on coal stocks has not increased, which is a disturbing fundamental divergence.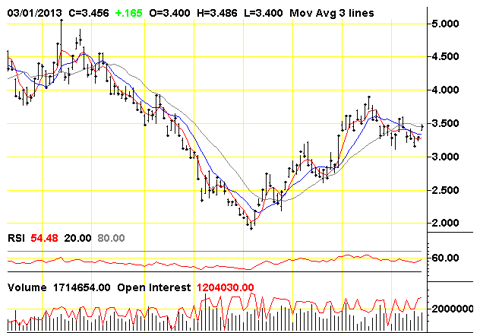 Similar to its ties to the price of natural gas, the demand for coal has waned significantly because of new energy policy put forth by the Obama Administration. It seems that the negative impact of coal is continually breached in major political announcements and speeches; the administration has made the exploration and implementation of alternative energy companies one of its top priorities - focus on solar and wind, in addition to continued push for energy independence with domestic oil and natural gas. There is no room for coal - and its tremendous amount of negative externalities - in that push for energy independence.
The administration's effect on coal could be seen all too clearly during the run-up to the presidential election of 2012. After Romney seized victory during the first of three debates, coal stocks soared. In the month before the election, James River Coal Company (JRCC) soared as high as 112%, Arch Coal (ACI) 42%, Peabody Energy (NYSE:BTU) 36%, and Consol Energy (NYSE:CNX) 27%. While JRCC and ACI have market caps at or lower than $1 billion, the gains in BTU and CNX added more than a billion dollars in market cap to each company. After the results of the election declared an Obama victory, each stock tumbled; JRCC suffered the most, down over 66% in just three weeks.
Global Demand Waning
Global concerns are resurfacing as China is back in the news. The Chinese markets tumbled yesterday, the Shanghai Index was down over 3.7% on news that the government is planning to reign in on residential real estate with stricter enforcement of sales tax. The danger that the Chinese government faces is a real estate bubble, and they might be a bit too late for regulation. In addition to the worries over a real estate bubble, Chinese manufacturing data continues to decelerate, a sign that the country is entering a period of slow to no growth, label it stagflation.
Stagflation doesn't bode well for coal demand. Most significant US coal miners have strong interest in Chinese growth; with US demand waning significantly, China and India are the two sources of increasing coal demand. It seems, however, that demand has also peaked, and with fluttering demand comes a major problem for coal stocks.
Fundamentals: Debt Worries; Fast Burn Rates
Coal companies - specifically JRCC and ACI - are at immediate risk. They're burning through cash reserves and have relatively high amounts of debt. Other coal companies stand on more stable ground. BTU and CNX have more diversified portfolios including businesses in natural gas. They are also seeing consistent profitability. JRCC and ACI see levels of debt that might force near-term bankruptcy with increasingly accelerating earnings losses.
The following two charts are of CNX and ACI. The first shows a downtrend with some level of stability. The second is roller coaster prepping for its final descent with an accelerating downturn.
CNX 150 Day: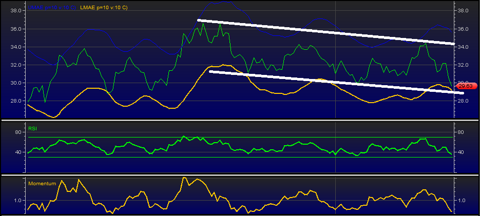 ACI 150 Day: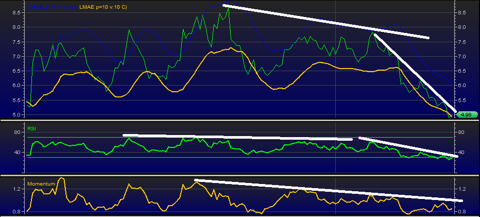 How to Trade: Long-Term Out-Of-The-Money Puts
The trend is negative for the coal stocks and it has been for a long time. They tried to reverse course with hope in a potential Romney victory, but that run fizzled along with the candidate's chances for victory. Demand in the United States is way down and continuing to shrink fast. International demand - supposedly the saving grace for the coal industry - seems to be waning quickly as well with continued poor news out of China.
The way to play these at-risk stocks for the long-term - especially JRCC and ACI - is to risk a small amount of capital on a large loss in stock price, and to do it by buying long-term out-of-the-money puts. I'm a buyer of JRCC Jan '14 $1 puts for $0.25. For ACI, I'm a buyer of Jan '14 $3 puts for $0.30. If these companies do declare bankruptcy within the next ten months, investors will see a 10x+ return on their investment. Even if the negative alternative is to let the options expire worthless at expiration, if you're a believer that either JRCC or ACI will declare bankruptcy within the next 10 months, your expected value return on investment is 65% before trading fees, a risk I'm willing to take.
Disclosure: I have no positions in any stocks mentioned, but may initiate a short position in JRCC, ACI over the next 72 hours. I wrote this article myself, and it expresses my own opinions. I am not receiving compensation for it (other than from Seeking Alpha). I have no business relationship with any company whose stock is mentioned in this article.