Newmont Mining (NEM) has been taking a beating lately. The stock has been on a multi-year sell off, breaking through its previous support level of $43 per share. However, just about every gold mining company has followed the same path, and with stock prices near a multi-year lows, now just might be the time to go long on Newmont.
According to its yearly report, Newmont Mining had proven and probable gold reserves of approximately 98.8 million ounces with land positions in the aggregate of approximately 31,500 square miles.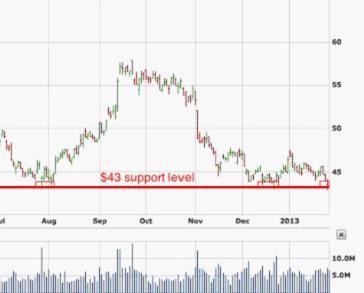 image courtesy of Yahoo finance and Etrade
The Market
The current issues for Newmont right now are three fold and they all play a factor, including the price of gold; the price of gold has a direct impact on Newmont' profitability. Furthermore, the rising costs of operations, increased concerns over stability and security are all eroding Newmont's bottom line. According to end of year filings, copper demand remains weak while cost of production has skyrocketed.
Newmont's Cost Applicable to Sales (NYSE:CAS) increased for both gold and silver while resultant production dropped sharply. For the first full three quarters of the year (9 months) Newmont reported gold production was down to 3.73 million ounces from 3.87 million year-over-year and copper was down to 108 million pounds from 152 million pounds. Meanwhile, the CAS increased to $664 per ounce of gold and approximately $2.33 per pound of copper. This represents an increase of over 13% in cost for gold production and a 91% increase in copper production in a little over 9 months.
The explanation given makes sense. There have been ongoing political and stability issues at the company's Waihi, Codding and Tanami mines. At last estimates, and as near as we can determine based on the financials, Newmont is loosing about a million dollars a day in operational cash flow. However, there are signs that this might be abating.
This years report shows a net income of $1.9 billion from continuing operations, compared with just $500 million in 2011.
Will Newmont Rebound?
The board of directors approved the Conga Mine Project in 2011. This project, which is huge in size and scope, encompasses several different districts in Peru, the Cajamarca district of Encañada and Huasmin, and the provinces of Celendin and Sorochuco. If, and only if, all of the permits can be secured will the mine, allegedly, begin production sometime in 2014 and 2015.
The problem is that the mine, for all of 2011, received some terrible press, was beset by countless activist groups and encountered multiple delays. Worse yet, such was the pressure by the local community that Newmont all but halted any further action on Conga. The issue for Newmont, is that it had placed an enormous amount time, effort and money, to the tune of $5 billion, into backing its Conga project in the hope that it, the mine, would drive future growth.
Now, it is evident that the time marker of 2014 for commencement of operations is no longer achievable and based on its current filings and reports, any further development of the Conga mine is on hold.
However, if the Conga mine does ever go into production, it could have a huge impact Newmont's profitability. Current estimates are that the Conga mine will have an approximate annual production rate of 580,000 to 680,000 ounces of gold with an associated 155 million to 235 million pounds of copper. The only question is when, if ever, the mine will go into production.
But, the Conga mine is not the only resource available to Newmont. Granted, this project took a toll on Newmont and its stock price, but in the final analysis, the price has been paid, with stock prices tumbling to under $41 per share, and the stock now looks like a good buy. Consider, Newmont has fourteen open pit mines as well as four underground mines in Nevada and its other Peruvian holding, the Miera Yanacocha is allegedly the largest single gold producer in Peru.
Copper & Gold Prices
Ultimately, the price of gold and copper will have a fundamental impact on Newmont's profitability. Given its operating margin of $971 per ounce, the company is heavily exposed to gold price fluctuations. However, global banks are now buying gold in record amounts that will undoubtedly have an impact and drive prices higher.
For example, Russia has now amassed gold reserves in excess of $530 billion, and according to all reports, it has no plans to stop acquiring gold as this is it best was to diversify its foreign reserves away from the United States dollar and other "fiat paper" assets. According to Reuters, "The Russian government wants to bolster its ability to withstand economic shocks, and will transfer $30 billion in surplus revenues from last year to its fiscal Reserve Fund, meaning that the central bank's reserves will grow."
It is even common knowledge that China is buying vast amounts of gold as well. According to Forbes, analysts believe China bought as much as 490 tons of gold in 2011, double the estimated 245 tons in 2010. "The thing that's caught people's minds is the massive increase in Chinese buying"
In the same article, it is reported that even Germany is starting to repatriate its gold with plans to hold almost 4,000 tons of its gold in Frankfurt.
In short, almost every expert is now predicting an increase in the price of gold. This would bode well for Newmont, case in point, its reported almost $2 billion in profit.
Copper should also see a rebound given the emerging middle class around the globe and a rebound in the housing market here in the United States.
The Competition
Freeport-McMoRan (FCX) is a mining company that acquires and sells copper, gold and molybdenum. According to its Q4 filings, net income for common stock was $743 million/$0.78 per share, which was a nice increase from 2011's $640 million. Total net income for year 2012 was lower at only $3 billion compared year-over-year to 2011's $4.6 billion.
However, the most interesting development is Freeport-McMoRan's announcement of its proposed acquisition of McMoRan Exploration Company and the Plains Exploration and Production Company. Interestingly enough, McMoRan Exploration was a spin of off Freeport-McMoRan back in 1994. These acquisitions would provide an opportunity for Freeport-McMoRan to expand into the fields of oil and gas exploration and development.
Barrick Gold (ABX) was a total disappointment this year, despite being a company that has interests in gold as well as oil and gas. Q4 earnings were at a net loss of over $3.06 billion. Year-over-year comparison shows that at the same time last year the company posted a profit of $959 million.
Goldcorp (GG) is currently Newmont's strongest competitor with current operations in Argentina, Quebec and Canada. According to Q4 reports, the company made $1.4 billion in revenue for the fourth quarter. Interestingly enough though, is the fact that the company's stock price is trading well below its 50 day and 200 day moving average and is down over 35% from its 52 week high of $47.
The Bottom Line
According to reports, Newmont's production in Africa is expected to grow over the next few years. Most of this growth is attributable to the ongoing development of the Akyem project in Ghana. Unlike Peru, this operation is proceeding exceptionally well. The project is reported to be about 78% complete and amazingly on budget. Given reports of first production occurring sometime in 2013, now is the time to buy Newmont stock. Another strong point for Newmont is that its phase 6 project for the Batu Hijau mine in Indonesia is also expected to begin in 2013, adding to Newmont's production of copper and gold between late 2013 and 2015. Furthermore, once in production, these production lines can be expected to increase over a period of a year or more as production and transport lines are streamlined.
It would appear that Newmont has readily recovered from the Congo debacle and is well on pace to increase production and profitability. With a strong dividend payout and a cheap stock price, now is the time to start buying Newmont.
Disclosure: I have no positions in any stocks mentioned, and no plans to initiate any positions within the next 72 hours. I wrote this article myself, and it expresses my own opinions. I am not receiving compensation for it (other than from Seeking Alpha). I have no business relationship with any company whose stock is mentioned in this article.