Google Trends allows users to see how often specific keywords have been queried over a specific period of time. Although Google Trends may contain inaccuracies for a number of reasons, including data sampling and a variety of approximations, Google Trends has been showing a strong correlation between Apple's (NASDAQ:AAPL) share price and Apple queries on Google. The same goes for other smartphone providers.
Below is the 5 year price performance chart for Apple, Samsung (OTC:SSNLF), Nokia (NYSE:NOK), and BlackBerry (BBRY). Apple had gained 244.31% from March 7, 2008 to March 1, 2013. Samsung was also up and increased 139.46%. Nokia and BlackBerry, on the other hand, had lost 90.03% and 87.23%, respectively.

Source: Google Finance
By looking at Google Trends below, Apple's queries had been increasing until the last peak of September 2012, which was coincidentally matched by Apple's record high price of $705.07, recorded on September 21, 2012.

Source: Google Trends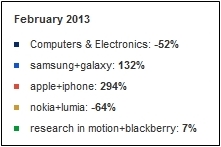 Source: Google Trends (compared to February 2004)
From February 2004 to February 2013, the amount of queries for "apple + iphone" had increased 294%, followed by "samsung + galaxy" (+132%), and "research in motion + blackberry" (7%). "nokia + lumia" was down 64%. The trends are matched by the price performance for these 5 stocks. BlackBerry's share price had been declining gradually since early 2011, which followed the steady decrease of its search volume since late 2010.
Is Google Trends Accurate?
Based on this report, Google Trends provides daily and weekly reports on the volume of queries related to various industries. Google hypothesizes that this query data may be correlated with the current level of economic activity in given industries and thus may be helpful in predicting subsequent data releases.
Google is not claiming that Google Trends data definitively help predict the future. Rather, Google Trends may help in better predicting current trends.
For example, the volume of queries on a particular brand of automobile during the second week in June may be helpful in predicting the June sales report for that brand, when it is released in July. Google Trends provides data, which is much closer to the present day economic situation, meaning that analysis can be made earlier, and market turning points can be identified sooner.
In September 2012, iStock had some success using Google Trends to predict iPhone 5 sales accurately during its first weekend of availability. If Google Trends had been working for iPhone 5, then it very well might work for iPhone 5S and iPhone 6 sales projections.
Google Trends Predicts...
If Google Trends is correct, Apple's queries should increase in the next quarter based on Google Trends' forecast. Based on the strong correlation between Google Trends and Apple's share price in the past, Apple's share price should rebound in the coming quarter.
Below is the chart for iPhone queries:

Source: Google Trends
There are a few important events on the chart to note:
Point A: Apple iPhone 5 release (September 2012)
Point C: Analysts cut estimate for iPad, raised for iPhone (December 2011)
Point D: Apple iPhone 4S release (October 2011)
Point H: Apple iPhone 4 release (June 2010)
Along with these important iPhone developments, Apple's share price had been increasing steadily until its peak in September 2012, the release of iPhone 5.
Risks
Apple is facing the problem of short product life cycles and potential margin compression due to intense competition. Investors are also concerned on how to unlock the value of Apple's huge cash pile.
Bottom Line
Apple, with a market cap of $404.24B and a low P/E of 9.76, is still one of the most valuable companies in the world. For investors who have confidence in Google Trends data, Apple is a good buy at present levels. Apple is just a catalyst away from rebounding with its low Forward P/E of 8.1 and $39.82B cash with zero debt while generating an operating cash flow of $56.73B.
Disclaimer: There is no guarantee Google Trends data is accurate. Investors and traders are recommended to do their own due diligence and research before making any trading/investing decisions.
Disclosure: I have no positions in any stocks mentioned, but may initiate a long position in NOK, AAPL over the next 72 hours. I wrote this article myself, and it expresses my own opinions. I am not receiving compensation for it (other than from Seeking Alpha). I have no business relationship with any company whose stock is mentioned in this article.