Accounting debacles seem to occur commonly with oil & gas stocks, especially for those with operations in many different countries and tax codes, as it is often very difficult for management to maneuver through this regulatory gauntlet of taxation guidelines. A popular company that rings a bell for problems of this nature is Weatherford International, (NYSE:WFT). This globally positioned oil & gas equipment company has had its share of accounting problems in the past, and the stock has suffered tremendously as a result despite attractive growth prospects. After selling WFT after a sell-off ensued following their accounting announcement, I have been buying and selling stocks in the energy sector ever since.
Magnum Hunter Impressed me, but reminded me of WFT:
After looking to fill the void in my portfolio after selling part of my position in Carrizo Oil & Gas (NASDAQ:CRZO) recently, and I stumbled upon Magnum Hunter Resources (MHR) as a possible replacement. This company has displayed tremendous growth over the past several years, and the recent February investor presentation practically made me salivate. The company projects production to reach impressive 18.5-20 MBOE/day in 2013, a significant rate of increase for such a small amount of time.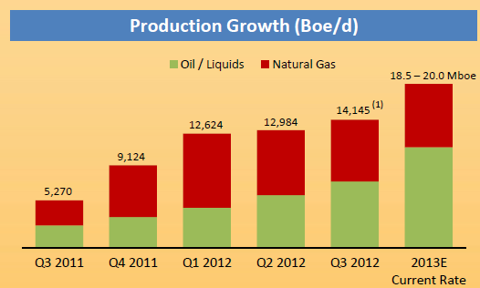 Moreover, on slide 6, MHR boasts an astonishing average annual proved reserves growth rate of 128% since 2008, a 22 fold increase from 2008's 3.1 MMBoe to 2012's 73.1 MMboe. Moreover, the company grew annual proved reserves by 4.8x on a weighted average based on common shares outstanding for this same 4 year period, which accounts for share dilution over this time. The company has attractive acreage in 3 main shale areas:

On the November 2012 conference call, management highlighted pleasing results. Management continued to harp on the growth the company has achieved, as well as a possible spin off of midstream assets slated for the first half of 2013, which could bring a couple bucks per share. However, management did mention the need to fund some of its operations. In addition, a comment about accounting issues nearly sent my heart into arrhythmia. Some important highlights from this call were:
"44% increase in borrowing base" (6 min 25 sec)
"First Utica Shale wells to be drilled in 2013" (7 min 03 sec)
"May be selling divisions" to unlock shareholder value due to share price discount to NAV (7 min 35 sec)
"Looking for a partner to enhance Eagle Ford development" (16 min 14 sec )
"We are having meetings with other parties to realize greater value" (19 min 18 sec)
"There were accounting deficiencies"... "but no impact on P&L"..."no changes to earnings and cash flow...matters were miniscule...has a lot to do with theoretical accounting" (22 min 30 sec)
Accounting Issues:
The company gave a great amount of detail starting at the 22 minute 30 second mark, which seemed to sufficiently quell the worries of the analysts and myself. The company did file a delayed 10-K notice, which sites a change in accounting firms as a reason for the delay.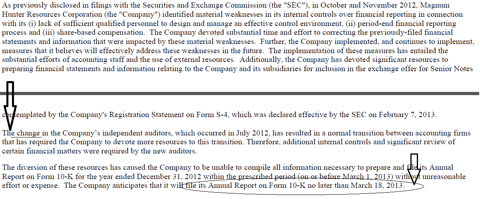 In addition, it is important to note MHR found the errors, not the SEC, which is a "glass is half full" way of looking at this situation. This indicates management apparently is on top of their books, and luckily they caught this issue before more errors were made. Speaking of thinking positive, management cited "significant growth", as an additional reason for changes to results of operations. This gave me a good chuckle. The filing states MHR will submit their 2012 Annual 10-K no later than March 18th.

Summary:
As I have learned in the past and especially with WFT, accounting issues should be grounds for selling. With MHR's case though, I have more faith in this management team than usual, and it appears their accounting issues are minor and are nothing to be too concerned about. However, like I said, accounting issues are not to be taken lightly, and until things are ironed out I have decided to exercise patience, and to pass on initiating a new position in MHR to avoid a black swan type event similar to WFT's. Don't get me wrong; MHR has executed tremendous growth and management has kept their word thus far, and frankly if I owned MHR I would probably hold tight. However, after feeling WFT's accounting pains first hand, I have no choice but to wait.
Question: How Serious Are Magnum Hunter's Accounting Issues? Answer: MHR's accounting issues aren't that serious, but for investors looking to initiate a new position, the right thing to do is wait until the 10-K is filed by March 18th.
Disclosure: I am long CRZO. I wrote this article myself, and it expresses my own opinions. I am not receiving compensation for it (other than from Seeking Alpha). I have no business relationship with any company whose stock is mentioned in this article.
Additional disclosure: I may initiate a position in MHR at any time