The tobacco industry has been going through tough times, as volumes are on the decline due to rising regulations and growing health concerns. Tobacco companies are relying on price increases to support their top line growth. Also, cost cutting initiatives and share buybacks remain important tools in the hands of these companies to grow their bottom lines. In this article, I have compared four tobacco companies and picked the best tobacco stock. The four tobacco companies discussed in this article are Philip Morris International (NYSE:PM), Altria Group (NYSE:MO), Lorillard (NYSE:LO) and Reynolds American (NYSE:RAI). While making the comparison, I analyzed volume growth, margins, dividends, historical cash flows, share buybacks and expected growth rates for the above mentioned companies.
I believe PM offers investors the best investment opportunity compared to its peers due to following reasons:
-Strong volume growth
-Attractive last five years sales and EPS growth rates of 8% and 17%, respectively
-Highest gross and operating margins of 66% and 43%, respectively
-Lowest payout ratio at 62%
-Healthy historical dividend coverage ratio
-Analysts are anticipating a high growth rate of 11.5% per annum for the next five years for PM
Volume Growth
As stated above, volumes for the industry are on the decline, and the companies are relying on price increases and cost cutting initiatives to grow their top and bottom lines. In 2012, tobacco industry volumes were down by (2.5%). Only PM managed to expand its volumes for the year in 2012. The table below displays the volume growth trend for the four companies and the industry: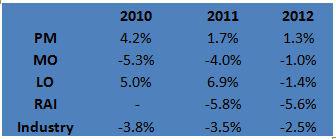 Source: Company Reports
Financial Performance
Tobacco companies in general have delivered healthy financial performance in the past. All of the above mentioned companies have grown their earnings and dividends at impressive rates. PM and LO grew their top lines at 8% per annum each in the last three years. PM also experienced the highest EPS growth of 17% annually, whereas LO experienced the highest dividend growth of 17% on average in the last three years. The following table shows sales, EPS and dividend average growth rates for last three years: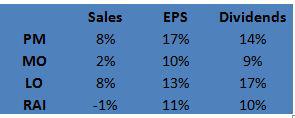 Source: Reuters.com
In making margin comparisons, based on fiscal year 2012 results, PM is right at the top with highest gross and operating margins of 66% and 43%, respectively. However, MO has the highest net income margin of 29%. Following are the margins for the companies: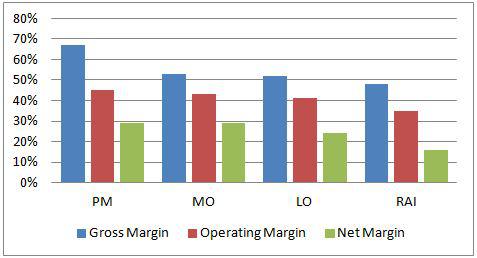 Source: Financial Reports and Calculations
Dividends And Cash Flow
Dividend yield has remained an important return component for shareholders as these companies offer attractive yields. LO and RAI offers the highest dividend yield of 5.3% each, followed by MO's yield of 5%. PM has the lowest yield of 3.60% among the four mentioned companies, but it also has the lowest payout ratio of 62% as well. I'm not deterred by the low yield, because with such a low payout ratio, PM has room to increase future dividends.



Source: Yahoo Finance
Dividends offered by the companies are sustainable, as the table below displays satisfactory dividend coverage ratio of the four companies for the last three years. Despite the fact that all the companies had decent dividend coverage, PM's dividend coverage remained the most attractive in comparison to its peers.
(Dividend Coverage = Free cash flow/Dividends)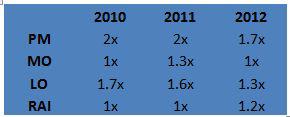 Source: Financial Reports and Calculations
Conclusion
I believe PM is the best tobacco stock among its peers, as it has been experiencing volume growth in contrast to declining volumes in the industry. Also, analysts are anticipating a high growth rate of 11.5% per year over the next five years, as compared to PM's peers. Analysts' consensus growth projections for the next five years for MO, LO and RAI are 7%, 9%, and 7.3%, respectively. Moreover, PM has higher gross and operating margins than its peers.
Disclosure: I have no positions in any stocks mentioned, and no plans to initiate any positions within the next 72 hours. I wrote this article myself, and it expresses my own opinions. I am not receiving compensation for it (other than from Seeking Alpha). I have no business relationship with any company whose stock is mentioned in this article.