As someone who covers a lot of short ideas on this site, one of the most important items I follow is short interest data. One must always be aware of the short interest in a stock. A large short base could spark a short squeeze on good news, while low short interest could spark a huge drop on bad news. Every couple of weeks, we get an update from Nasdaq on short interest data, and I report on what I am seeing. Today, I'm here to discuss the mid-February data, and here are five names that have seen significant short covering recently.
First Solar (NASDAQ:FSLR):
The solar giant has seen a significant amount of short covering over the past couple of months. The number of shares short is nearly half of what it was back in August. As you can see from the chart below, the number of shares short in this name is at its lowest point in about a year. Since the end of 2012, roughly 5.55 million shares of the 22.25 million have been covered, with almost 1.6 million shares being covered in the first half of February.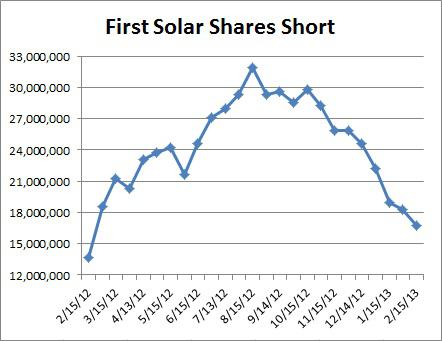 I chose to highlight First Solar's huge decline in short interest because I believe we will start to see a rise in short interest again. First Solar recently reported fourth quarter results. While earnings per share beat by a nice margin, revenues missed by a wide margin. Additionally, First Solar issued guidance well below expectations, guiding to Q1 revenues of $650 million to $750 million and earnings per share of $0.70 to $0.90, below a consensus of $829 million and $0.94.
First Solar shares closed at $36.13 on February 19th, just a week before earnings. By the time earnings came out, the stock had lost nearly $5, trading for $31.36. We've lost another roughly 21% since then, with First Solar now trading at $24.70. It seems like the bears have taken control of this name again, and I expect to see a rise in short interest over the next update or two.
3D Systems (NYSE:DDD):
3D Systems has been one of the most controversial names in the past few months as the company's numbers have been questioned. There have been a couple of articles on this site that have been rather negative, causing the company to hold a conference call to respond.
Anyway, I'm not here today to discuss the company's results or whether or not I believe it is doing anything illegal. I'm only focusing on short interest data, and as you can see from the chart below, a significant amount of shares have been covered lately. Almost 3.46 million shares short were covered in the first half of February. That's 18.72% of the number short at the beginning of the month, and we are now at the lowest level of shares short since August.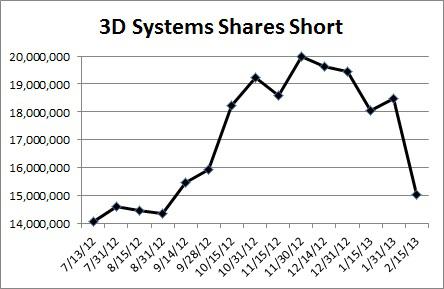 The one item I want to highlight today is that the company recently executed a 3 for 2 stock split. This will increase the total number of shares outstanding, and thus, has lowered the price. I put this name on the list because of the stock split. It will be interesting to see if the number of shares short jumps with the next update, because there are now a lot more shares to short, and there are many non-believers.
Netflix (NASDAQ:NFLX):
Netflix was on this list last time around, as we continue to see Netflix shorts run for the exit. In the first two weeks of February, another 1.64 million shares were covered, 17% of the February start total. Since the beginning of 2013, we have seen the short count drop from 13.16 million to 8.07 million. That drop doesn't include the 4 million shares already covered during the last two months of 2012, as you can see from the chart below.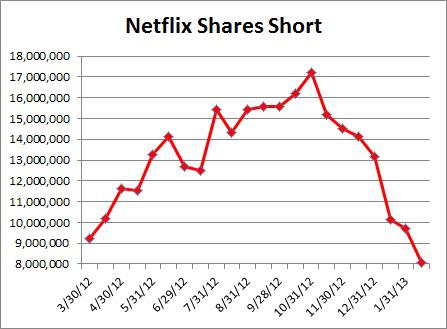 We all know the reasons why Netflix shorts are covering. Netflix handily beat Q4 estimates and issued strong guidance. Since Netflix reported Q4, analysts have raised their Q1 revenue estimates from $969 million (11.4% growth) to the current estimate of $1.01 billion (16.5% growth). Earnings per share estimates have risen from a loss of 7 cents to a profit of 16 cents. For the full year 2013, revenue estimates have come up from $4.07 billion to $4.26 billion, and earnings per share from a profit of $0.41 to $1.29.
Netflix shares have held up fairly well even after such a large rally. Shares traded down from $197 to $175 on a report that domestic Q1 revenues were trending light. However, shares then rallied back to around $190, probably on more short covering. We also got some news Friday that Netflix has grabbed exclusive rights to "The Hunger Games" in the UK and Ireland on March 3rd, and in the U.S. sometime after that. Netflix has made a number of content deals so far this year, although competitor Amazon (NASDAQ:AMZN) has as well. The big question everyone has been asking is if the company will be able to pay for all of this content down the road. With shares near their 52-week high, investors seem to believe the answer is yes at this point.
Herbalife (NYSE:HLF):
This stock has been another controversial one, as Bill Ackman has established a large short position in the name, a company that he believes is a pyramid scheme. Herbalife shares went from the mid-$40s to the mid-$20s on this news, which sent the number of shares short soaring, as you can see below.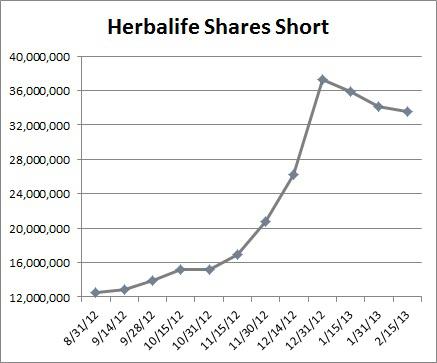 However, Herbalife has a strong supporter on its side, and it is Carl Icahn. Icahn has bought a 13% stake in Herbalife, and really wants to take down Bill Ackman. Recently, Herbalife reported a strong fourth quarter, beating on both fronts and raising guidance. However, those results may be immaterial to the biggest news from last week. Herbalife has increased the size of its board of directors, and will allow Icahn to appoint two representatives.
The news of Icahn getting two board reps has sent Herbalife shares up more than 10% in three days, putting the stock at its highest point in a month. Given this latest round of news, I will be looking for the number of shares short to decrease over the next month or two. Icahn seems to have the edge here, especially after raising another $200 million. While we haven't seen a huge fall in short interest yet, the number has come down by 3.7 million, or about 10%, from the recent high. We've also seen three straight decreases.
VMware (NYSE:VMW):
The cloud software name has seen a dramatic drop in short interest during the first few weeks of February. The company reported a mixed result at the end of January, but issued bad guidance. Shares fell more than 21% on the news.
It appears that a number of short sellers were happy with the plunge and decided to take profits. During the first half of February, the number of shares short dropped from more than 12.5 million to just 8.3 million, a drop of nearly 43%. As you can see from the chart below, the number of shares short is at its lowest point in about 4 months. After a huge rise in short interest during 2012, short sellers have won this round. I wouldn't be surprised if we see another decline in short interest when we get the end of February numbers. Shares have continued lower since the post-earnings fall, and I assume more shorts have been covering with shares now in the low $70s.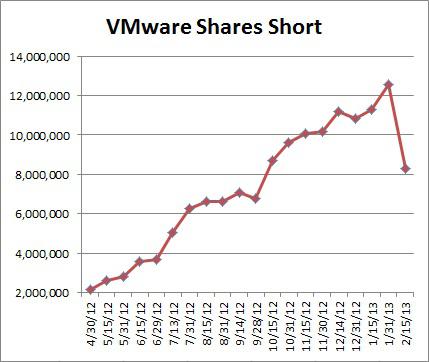 Final Thoughts:
All five of these names have seen significant drops in short interest, either over the past update or the past few updates. Investors must always be aware of where short interest is in a stock, as it can help determine where a stock may trade in the future. I'll be back in a couple weeks with the next round of data, and we'll see if any of these names make the list again.
Disclosure: I have no positions in any stocks mentioned, and no plans to initiate any positions within the next 72 hours. I wrote this article myself, and it expresses my own opinions. I am not receiving compensation for it (other than from Seeking Alpha). I have no business relationship with any company whose stock is mentioned in this article.
Additional disclosure: Investors are always reminded that before making any investment, you should do your own proper due diligence on any name directly or indirectly mentioned in this article. Investors should also consider seeking advice from a broker or financial adviser before making any investment decisions. Any material in this article should be considered general information, and not relied on as a formal investment recommendation.