With consumers scaling back big purchases this year, you would think that specialty retailers would be affected by drops in revenue as well. February's MSSI data, however, shows that this is not necessarily the case.
Looking at three of these retailers in more detail highlight the issues, both good and bad, that are shaping the market right now. The figures we have compiled at retailers Sephora (which is part of OTCPK:LVMHF), Weight Watchers (NYSE:WTW) and Limited Brand's Victoria's Secret (LTD) do highlight that times are not necessarily the best, but the stores still are certainly open for business.
MSSI data shows that the average monthly spending at all three of these retailers is up year-on-year compared to 2008. Sephora leads that pack at an almost 9% increase, whereas Weight Watchers and Victoria's Secret observed increases of 3.74% and 4.56% respectively.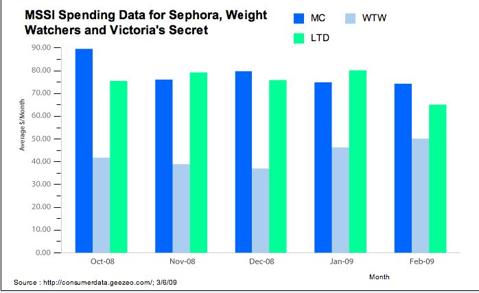 The trends reveal that spending levels have indeed varied since October. However, the last three months tell the real story; each firm's results help identify what people are willing to spend on different types of products. Consumers' spending at Victoria's Secret locations has fallen the most in this period, with levels decreasing following January's post-holiday clearance boost to be down 17.42% overall from November. Clearly gratuitous spending on underwear is not a focus for the American consumer when times are tough.
Retailer Sephora's smaller dip of 2.11% highlights that consumers are still willing to shop at high end stores, but are not getting those little extra items that help inflate revenues.
Weight Watchers is the only one of these three firms to observe gains in the last three months; February MSSI data capturing an overall increase of 28.52% from November. This increase can be largely attributed to a significant jump between January and December as dieters switched off the home-cooking that the holiday invariably provides.
This being the case, however, revenues are holding steady, even with consumers cutting as much as they can. This would suggest that firms that offer products which can offer more than simple materialistic value should be expected to keep sales steady and maybe even increase in the current recession. Consumers are willing to shell out the money if they're getting their monies' worth.
This data was compiled by the Geezeo Main Street Spending Index (OTCPK:MSSI).