As someone who covers a lot of short ideas on this site, one of the most important items I follow is short interest data. One must always be aware of the short interest in a stock. A large short base could spark a short squeeze on good news, while low short interest could spark a huge drop on bad news. Every couple of weeks, we get an update from Nasdaq on short interest data, and I report on what I am seeing. Today, I'm here to discuss the mid-February data, and here are five names that have seen significant increases in their short interest numbers recently.
Zynga (NASDAQ:ZNGA):
During early February, shares of Zynga rallied to their highest point since last July after the company's fourth quarter earnings. Investors seemed to be pleased with the company's stance to improve profitability by shifting resources to online gambling. Zynga shares rallied as high as $3.75 on February 12th, which probably explains the jump in short interest you see below.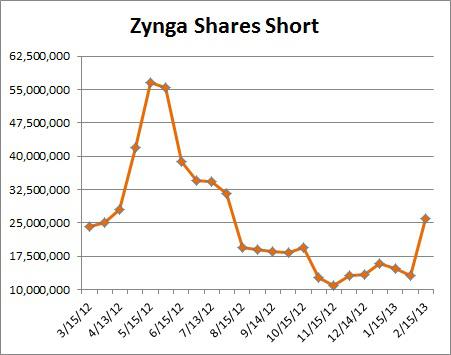 During the first two weeks of February, the number of Zynga shares short jumped by 97.3%. This is the one of the highest increases I've seen in short interest data over the past year. This is the highest number of shares short since the end of July. Zynga shares did back off that $3.75, even going under $2.90 during late February. With the stock in the low $3s during the last week of the month, I would expect to see the short interest number decline at the next update as shorts take some profits.
BlackBerry (BBRY):
While shares of BlackBerry, formerly Research in Motion, rallied above $18 in late January on the promise of the BlackBerry 10 launch, shares have dropped since. The stock made another run at $17 in early February, which may be a primary reason why short interest has shot up again. The mid-February short number was only about half a million shares from the recent high we saw. Since late April, the number of shares short has soared from 53.7 million to 136.5 million, as you can see in the chart below.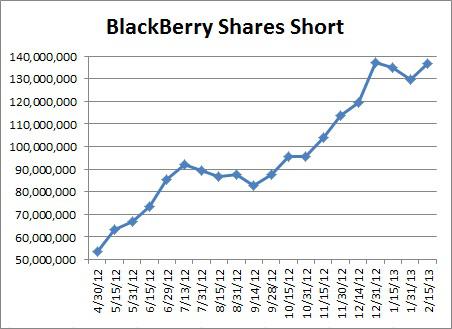 The stock has come down a bit in recent weeks, and I detailed why in a recent article. There were a ton of negative analyst notes throughout February stating that BlackBerry 10 was off to a slow start. These analysts didn't see any positive sales trends, and noted that sellouts appeared to be due to a lack of inventory. Many of these analysts downgraded the stock, and put price targets well below where the stock was trading. This will be a very important month for BlackBerry, as the company is expected to report earnings at the end of the month. If the BlackBerry 10 launch has not gone well, you can expect this stock will see single digits during April. However, with almost 30% of the float shorted, any good news could result in a massive short squeeze that could push this name back towards that $20 level.
lululemon (NASDAQ:LULU):
The Canadian apparel maker has seen its short interest rise substantially since the company pre-announced its fourth quarter results. The revenue number that it gave was at the high end of its original guidance, but was a bit below the unlofty average estimate that analysts had. Since this company trades at such a high valuation -- 30 times next year's currently expected earnings -- lululemon is held to a high standard. Even though the company guided to fourth quarter earnings ahead of its own guidance, everyone focused on the revenue number.
In just two months, the number of shares short went from about 14.1 million to 19.6 million, a rise of 39%. Nearly 20% of the float was short at the mid-February update, so a squeeze would definitely be possible on good news. The company has announced Thursday, March 21st as its earnings date. The number of non-believers in this name has certainly increased, but the company is coming in above where it guided to. This company also has one of the best balance sheets out there, so I wouldn't exactly bet against it at this point. However, I wouldn't be surprised if we see the number of shares short increase as we approach the earnings report.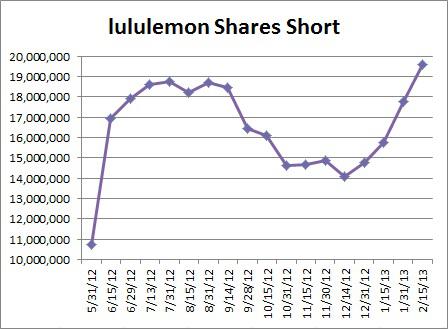 Facebook (NASDAQ:FB):
Facebook shares have fallen back to earth a bit after the company's fourth quarter results. While it was a good report, Facebook shares had rallied nearly 60% into earnings, meaning expectations were high. Facebook came in around the whisper numbers, which gave many investors a reason to take profits. Additionally, the company stated it would see a significant rise in expenses during 2013, which has caused many analysts to reduce their estimates in the name. Since the company reported, non-GAAP estimates for 2013 have dropped from $0.66 to $0.57, which doesn't represent a lot of growth from the $0.53 non-GAAP profit in 2012.
With Facebook delivering good, but not great results, the number of shares short popped up during the first few weeks of February. This was the first rise in short interest in nearly three months. While the number of shares short did increase nearly 24% in percentage terms during the first two weeks of February, the short count was still at its second lowest point since the company went public. Additionally, the 25.4 million shares short is well below the 95 million-plus we saw just three months earlier. I'm curious to see the end of the month stats when they are released, because I have a feeling they will head back towards 30 million. Facebook's promise had seemed very bright for a couple of months, but at the moment, investors are waiting to see how things materialize in 2013.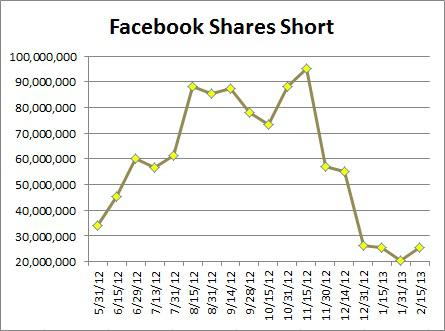 Sprint (NYSE:S):
The telecom giant has seen its share count rise since it reported fourth quarter earnings. The company did beat in terms of both revenues and earnings, but still produced another large loss due to depreciation and interest expenses. Like I mentioned in the article, Sprint's turnaround continues, but there still are some large risks. Sprint shareholders are currently relying on the Softbank deal being completed because Sprint needs the capital injection to pay back lots of debt and build out the network. We might have gotten some clarity on Sprint's attempt to buy Clearwire (CLWR) this week when Clearwire tapped some Sprint financing, but Dish Networks (NASDAQ:DISH) will not give up. Sprint remains in a battle for Clearwire, which could continue for quite a while.
Sprint shares seem to hit a ceiling in the high $5 range, and short interest shot back up in early February. Part of the reason may be some low analyst estimates, as the current average estimate calls for Sprint to see a decline in revenues this year. That's not a good sign for a company in a distant third place in its space. While the 70 million shares short represents just a small portion of the 3 billion shares outstanding, short increase did increase by 42.5% in the first two weeks of February. The number of shares short in Sprint is at its highest point since the end of September. If we don't get any clarity on the Softbank or Clearwire deals soon, you can expect the number of shares short to increase even further.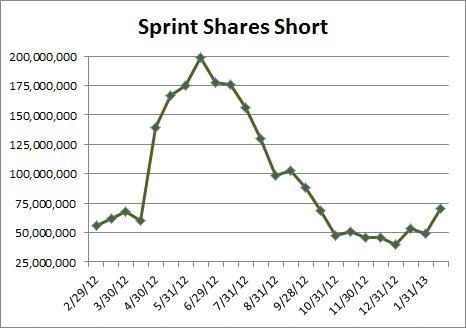 Final Thoughts:
Investors in these five names are hoping that the recent increases in short interest are a one-time issue. If these names can produce good news going forward, the number of shares short will reverse, and for some of these names, a nice short squeeze could occur. One thing is certain. These names have all seen large increases in short interest, and we'll see if any make this list when we get the next update in a couple of weeks.
Disclosure: I have no positions in any stocks mentioned, and no plans to initiate any positions within the next 72 hours. I wrote this article myself, and it expresses my own opinions. I am not receiving compensation for it (other than from Seeking Alpha). I have no business relationship with any company whose stock is mentioned in this article.
Additional disclosure: Investors are always reminded that before making any investment, you should do your own proper due diligence on any name directly or indirectly mentioned in this article. Investors should also consider seeking advice from a broker or financial adviser before making any investment decisions. Any material in this article should be considered general information, and not relied on as a formal investment recommendation.