2013 Market Outlook
The following is a collection of thoughts I prepared for a colleague of mine. It contains analysis I believe to be important right now or relationships that have proven to hold reliable predictive value recently.
Tools of the Trade
Relative strength is a concept that has been widely accepted in both fundamental and technical analysis. Relative strength tends to persist over long periods of time, and numerous studies note the value in investing in those securities that exhibit relative strength.
Ratio charts are often used in intermarket analysis as it is one of the most effective ways to examine relative strength in one group compared to another, and accordingly have been used frequently in my work. Put simply, a declining line means that the numerator is underperforming the denominator, and vice versa.
Correlations are also analyzed frequently to determine the strengths of certain relationships in identifying favorable trade setups. Correlations used in my analysis will involve various time periods, from 20 days to 200 weeks. Important signals are often given when correlations cross the zero line - when they go from positive to negative, or vice versa.
Breadth
The below chart has been reliable 3/3 times in the past year, and looks to be in the process of making it 4/4. Readings below 20 represent oversold conditions in which one can expect a bounce, and readings over 80 represent over bought conditions in which one can expect selling pressure. Equities recently remained in overbought territory for longer than usual, however they have since pulled back. It is this move out of overbought and oversold conditions that typically corresponds with a near term change in direction. I believe the correction that began last week is not final and that further selling can still be expected.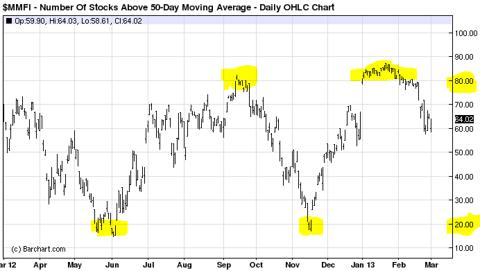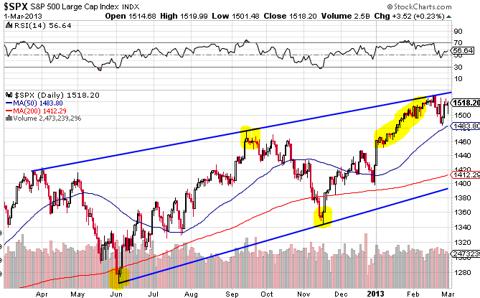 Note the choppiness in the SPX (NYSEARCA:SPY) top in September/October top is not so different from current market conditions. Continuation of the above down trend in $MMFI would not support current equity prices. Further there is resistance in the upwards trend channel in SPX
JNK:LQD Leading Indicator
Below is a replication of a chart I presented on February 11th. Stated with the chart was the following:
"I think the below chart is the one of the most important considerations right now. This charts compares a ratio of high yield or junk bonds (JNK) to Investment Grade Corporates (LQD) (note that one could just as well substitute (HYG) for JNK and derive the same result) to the S&P500 (SPY). The JNK:LQD bond ratio (red and black line) often leads equities (black line). Note in June 2012 it broke lows while equities held, only to collapse months later. September 2013 again this ratio dropped while equities remained at highs, again collapsing shortly thereafter. Since January this divergence has re-emerged and this bond ratio should be concerning for anyone maintaining a bullish short term outlook on equities."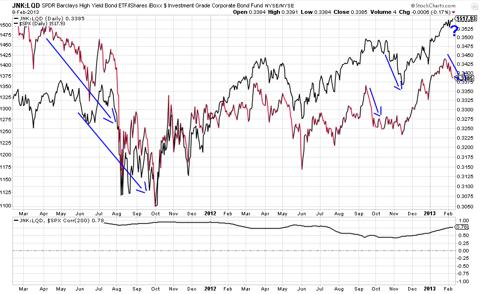 Pasted below is how that same chart developed. It is evident that this ratio led equities down. And while equities have recovered almost to highs the ratio is still trending down, indicating potential near term further downside equity risk.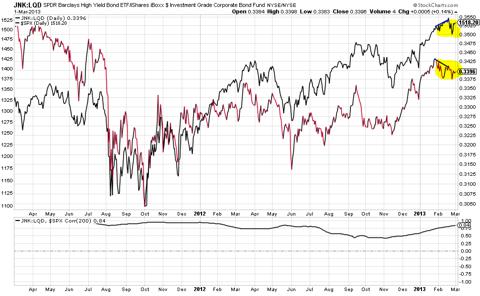 HYG and JNK
HYG and JNK appear to be at critical junctures. As the two ETFs trade more like stocks than bonds, and have leading properties as mentioned above, they should be monitored. HYG is currently resting on two significant support lines. Failure of these levels could lead to a larger turn down in equities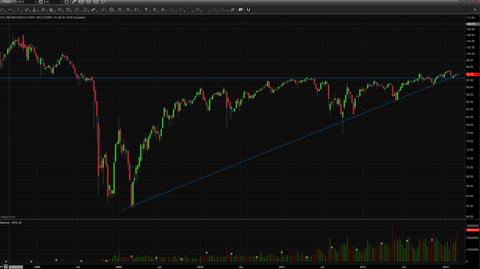 Similarly JNK has a very clear level; one that is even stronger than HYG. Note that the level held before equities really crashed in 2008, and then re-emerged to act as a significant resistance level.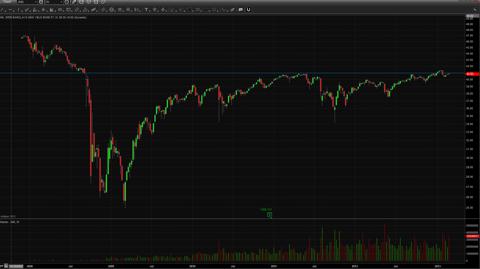 Consumer Services
Consumer Services (IYC, UCC) led the SPX into the recession and has since led it out. The break in the down trend in relative strength occurred at the start of 2009 just as the SPX was in the process of putting in a bottom. It has since outperformed consistently and led equities up, however appears to be losing momentum. A break in this uptrend could begin to sound alarms, however it is obvious that it can lead by a considerable amount of time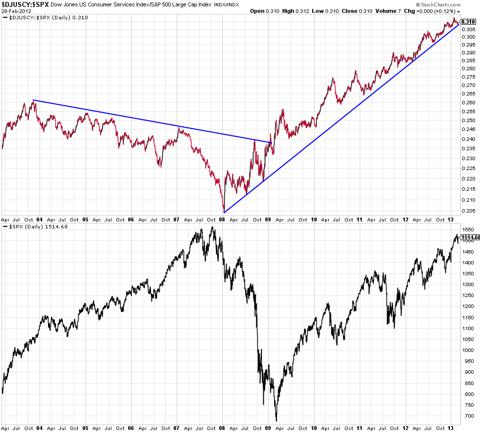 Technology
Technology (XLK, QQQ) is at an important juncture here. A reversal in recent underperformance could really ignite the equity market rally, however further deterioration in this sector would raise caution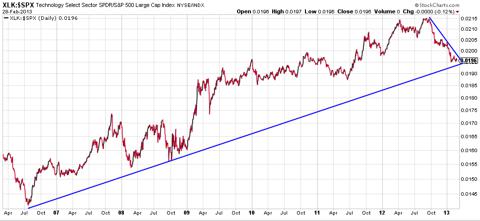 The Nasdaq to bond ratio is also important for longer term considerations. Changes in the longer term trend of this ratio coincide with changes in equity market direction.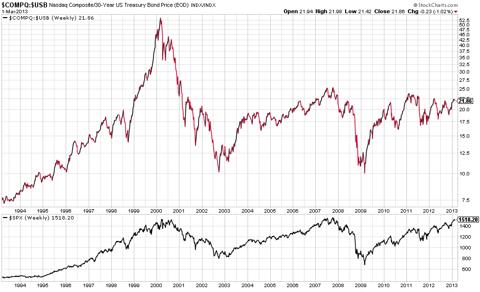 Apple
I want to make a comment today as I was rather disturbed about an article that has gone viral on a lot of financial sites. The article was about Andy Zaky and describes how some investors lost their life savings in Apple under his advice and/or his hedge fund that made bullish leveraged bets on Apple (AAPL).
Apple is significant in technology and to equities in general, hence I often include comments on it. In December I wrote an article that compared it to previous tech giants that also had parabolic moves up that were later wiped out. People ridiculed the article and said the comparisons were weak due to differences in P/E and other measures. I never suggested that it was a perfect comparison, merely that one would be wise to consider what has happened after previous parabolic moves.
As this is an intermarket analysis I will not dwell and simply state the following: Apple is in a very clear down trend in both absolute and relative performance. Until this trend is broken, or a base is put in, one likely will be best avoiding it. If and when this trend does reverse however it will play an important role in driving the technology sector back up.
Utilities and the VIX
The VIX (NYSEARCA:VXX) is often analyzed for impending signals for equity market direction. As the VIX turns up when markets correct, utilities also typically exhibit strength in deteriorating economic situations as they pay dividends. Accordingly, the ratio of utilities to SPX will outperform when markets turn down. In both of the two most recent equity market tops, the reversal from trending from negative correlation to positive correlation of this ratio to the VIX has marked the top. Interestingly, the cross up through zero in the 200 week correlation has rather precisely marked the past two tops. How to derive meaning in this relationship moving forward, given that there has been a stronger positive relationship recently needs to be determined. In any case, there appears to be useful predictive properties, potentially using one component to confirm the other (when both are going up it signals that fear truly is entering the market)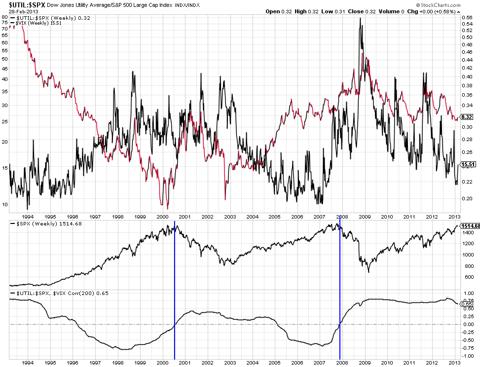 China
Recent Weakness in China (NYSEARCA:FXI) is not encouraging for commodities or equities, especially as China led global markets up in Q4 2012.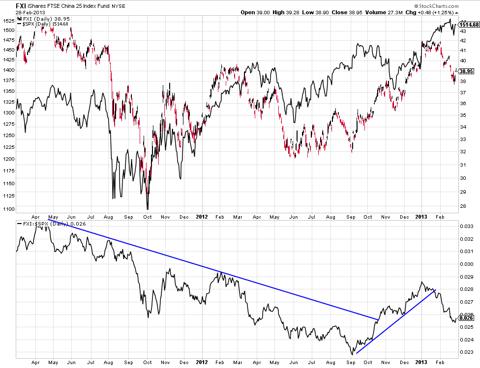 Support and Resistance
Canada
For confirmation that the equity market rally has resumed I would look at Canada and look for a close above 12,800 in the TSX. This level has been very significant over the last two years.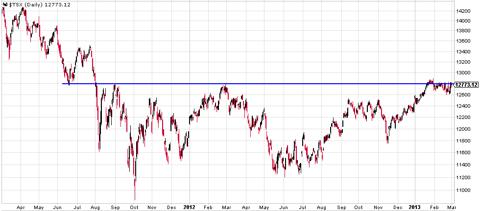 Europe
A break below 235 could trigger a short term pullback. There appears to be pretty strong levels around 240 and 230 as well.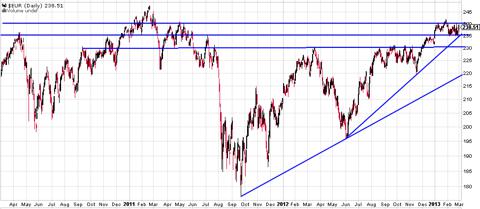 U.S
In determining an expected pullback, one may consider the breakout levels of the Russel (NYSEARCA:IWM) or transports (BATS:IYT) as a first target in which support will be found. These indices led the markets up since October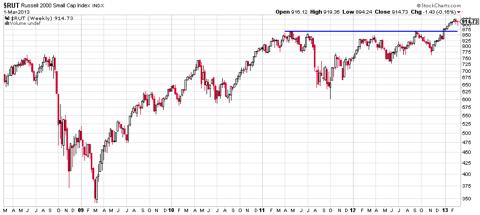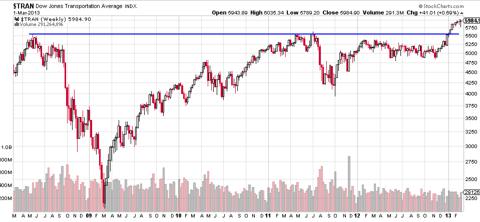 Stocks Over Bonds
Past periods of equity to bond outperformance have been longer than the one in which we currently find ourselves, and until the current trend reverses I agree with the consensus that one can expect equities to continue to outperform bonds. One can note from the chart below that bonds have underperformed since 2009, and that trend appears to be firmly in place.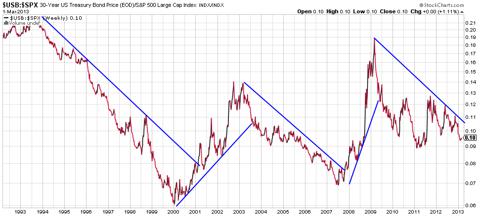 Bonds and Commodities
The historical inverse relationship between bonds and commodities could be considered in determining a commodity outlook. With the widespread belief that bonds have topped, one could naturally expect that commodities will see strength as bonds weaken.
Strength in the Nikkei points to lower bond prices and potentially higher commodity prices. There is a consistent positive correlation between the 10yr yield and the Nikkei. Continued strength in the Nikkei could put pressure on bonds prices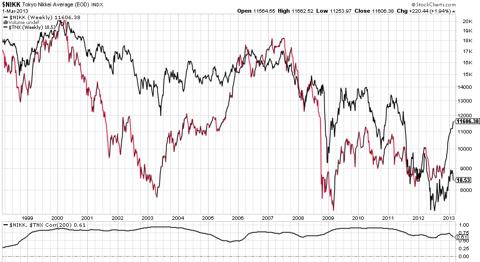 $USD
The $USD (NYSEARCA:UUP) had been in focus, particularly since its breakout in February. The $USD correlation with equities however has once again changed. Perhaps this is a sign of a changing environment? While the breakout to the upside has been negative (as expected) for commodities, it has not been particularly so for equities.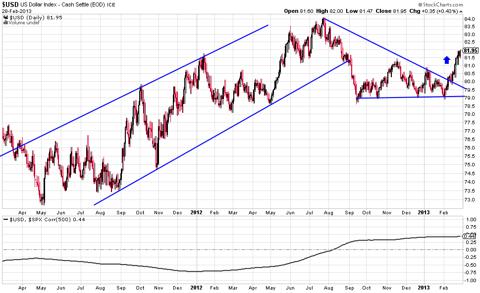 Metals, Mining, and Gold
While potentially approaching a double bottom in relative terms, this sector still remains in a clear downtrend in underperformance. I believe one would be best served waiting on the sidelines until a pronounced indication that a bottom has been put in place prior to getting long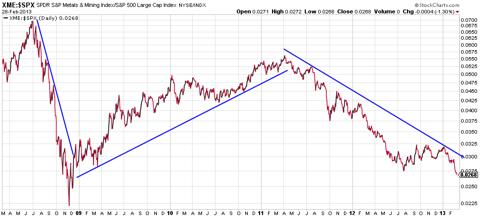 I believe gold (NYSEARCA:GLD) needs the support of miners (NYSEARCA:GDX) in order to get bullish. From summer of 2011 until summer of 2012 miners were relatively week and both miners and gold moved down. However around August that trend reversed and accordingly both went up. In November again miners became week and both resumed selling. Finally, the area in the blue box illustrates how recently miners dragged down gold (illustrated with dotted blue lines). Until relative strength in miners turns back up one may be best avoiding both products.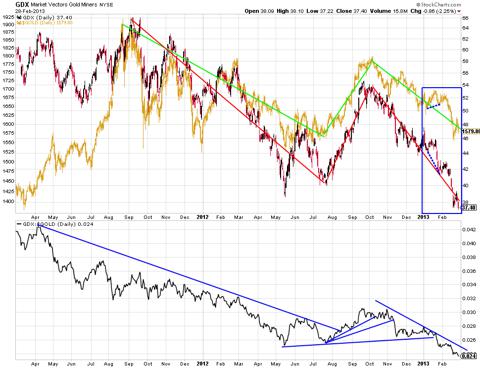 Gold is arguably at a critical juncture as it has consolidated for some time now. As gold historically has led commodities at many points, its direction will be significant. The $1,525 region will likely be significant, and price action around the long term trend below could be significant.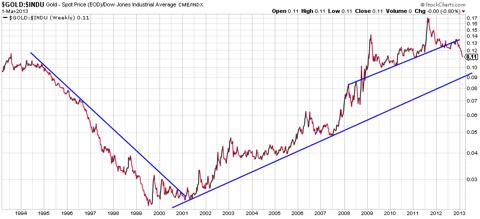 The historical high correlation between gold and TIPS (NYSEARCA:TIP) could provide further insight. Below is the 200 day correlation - longer periods illustrate an even stronger relationship. One can see that in summer of 2012 the two diverged and exhibited negative correlation. However the relationship began to return to its normal relationship in September and gold caught up to TIPS.
Note that while gold finished down last week, Tips were up. Continued strength in TIPS would be presumably bullish for gold, as the divergence in 2012 was more of an anomaly than the standard.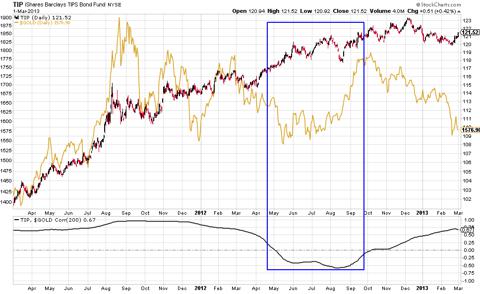 Energy
The XLE and accordingly its components appear poised to outperform having recently broken the downtrend in relative strength.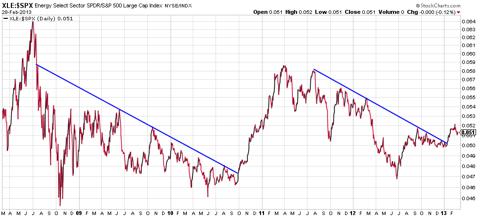 Commodities
It is my opinion that while commodities will experience gains in the near future, equities will be the strongest asset class. That being said, as we approach the late stage of the cyclical bull market commodities will likely be the strongest performer. Until then, equities, and commodity related equities should be the strongest performers.
This is a reversal of the trend that occurred over the prior decade, but appears to already be occurring. It may be too early to determine if the long term trend has indeed changed again, but I believe it is the most likely scenario in the near future. Note the reversal of the long term trend in 2000 when the commodity bull market began and equities peaked.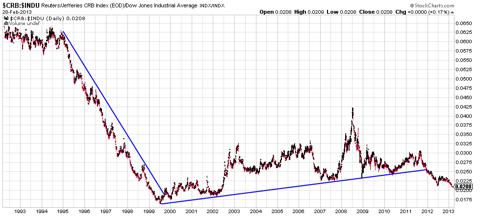 As the biggest consumer of commodities, China will play an important role in commodity direction. While correlation between the two did temporarily break, it appears to be regaining strength and accordingly equity direction in China will be important for commodities.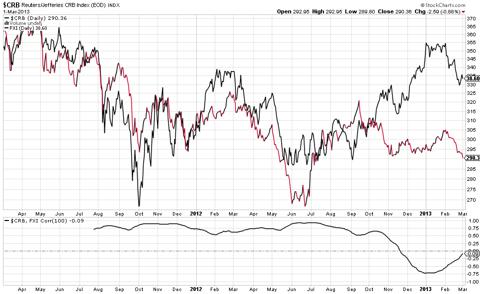 $CAD
There was a significant breakdown in the $CAD (NYSEARCA:FXC) in February. While currently resting above support, the $CAD reached an oversold level (RSI of 20) not experienced in the last five years. This typically has bearish implications, and should be considered due to its strong correlation to commodities.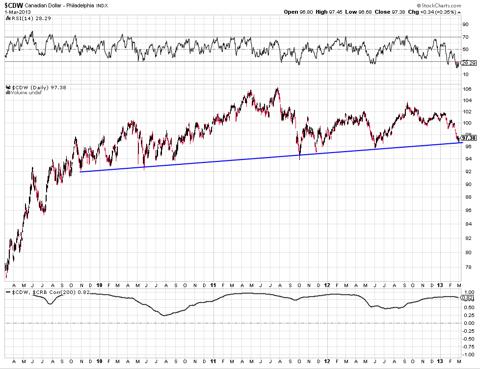 Oil
I think there may be strong justification for considering a long WTI oil (NYSEARCA:USO) position at this juncture. March is historically the strongest month for oil. Given that oil has put in a series of lower highs and higher lows on declining volume one should expect a breakout in the next few months. A breakout upward would be in line with sector and asset class rotation and eventually a climax would be indicative of a late stage bull market.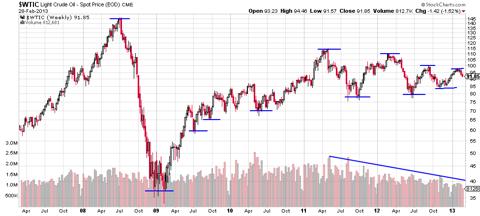 If the recent pullback in Brent (NYSEARCA:BNO) proves to be temporary and upcoming support holds one can have further confidence in an upcoming breakout of WTI.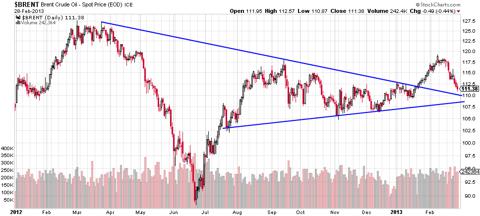 Final Thought
I think it is important to remember that equities are still in a secular bear market. While the cyclical trend is up, the secular one is down, and one must remain agile and willing to take profits when given the opportunity. Some notable analysts have suggested that we are currently in the winter season of the Kondratieff Wave that began in 2000. This implies potentially around another 5 years of volatile equity markets and still some time until a buy and hold period may re-emerge. Even if you are not familiar with or subscribe to the Kondratieff wave theory it should be considered that the monetary regime that exists today is not so unlike the one that existed in the 1930s (last Kondratieff winter). Price action is also striking similar.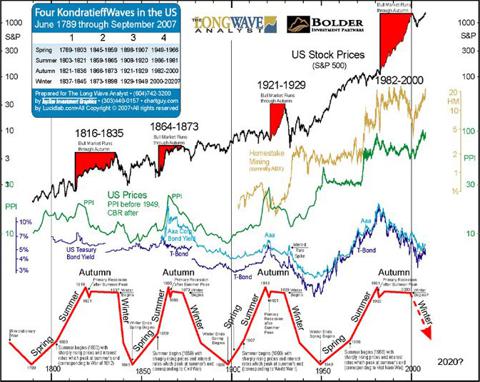 Source: here
The best advice I can give to any trader/investor is too invest in those sectors exhibiting relative strength and to protect against losses with hard-dollar stop losses.
I believe neither the highs nor the lows have been seen yet for the year and the increase in volatility experienced last week will continue.
Disclosure: I am short BBRY, AAPL, ARP, AVID, PWE, MFLX. I wrote this article myself, and it expresses my own opinions. I am not receiving compensation for it (other than from Seeking Alpha). I have no business relationship with any company whose stock is mentioned in this article.
Additional disclosure: I am long ZNGA, SVN, BNO, JJC. My positions are typically held between 2 days and 2 weeks.