By Karl Smith
Mark Perry links to the latest EIA data suggesting that the U.S. has now become the largest producer of petroleum liquids in the world.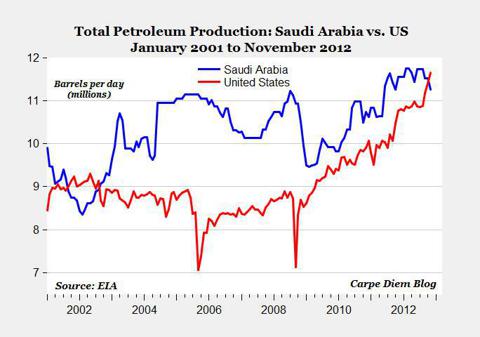 This includes liquids that are extracted from natural gas wells (natural gas liquids). Traditionally, natural gas liquids have traded at prices similar to crude oil and from an economic standpoint were best understood as part of the oil supply, though that has changed due to the surge in U.S. production.
Nonetheless, U.S. production of petroleum is going through the roof. North Dakota's Bakken formation retains marque status in America's oil boom even as it plays a less important role. Increasingly, production out of Texas, particularly the Eagle Ford shale, is driving America's record output.
It took longer than I had expected for Eagle Ford to start producing large volumes of oil, but production rates have skyrocketed toward the trend line I would have projected. That suggests Eagle Ford may be "maturing" in the sense that production will be growing rapidly rather than nearly vertically as in the past 18 months.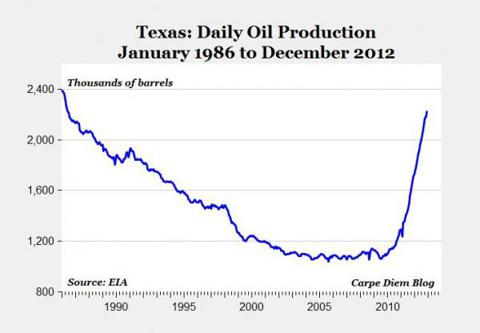 There are two other sources, however, that have yet to produce anything close to where I suspect their potential lies. The first is the Gulf of Mexico. Production their was growing steadily right up until BP's Deepwater Horizon disaster. In the wake of the disaster production fell and has been very slow to recover. Obviously tighter regulations and industry fear of a second disaster are playing a role here.
Even accounting for that, however, there is a lot of "missing production." It seems as if much of that may be logistical. For example, after the BP disaster many offshore drilling crews headed for West Africa and they are still there. Reviving production in the Gulf is requires, recruiting and training new crews. This implies we should expect strong increases in the near future as the logistical bottlenecks are worked out.
A bigger question mark than the Gulf, however, is the Wolfcamp shale in Texas. Wolfcamp is located in East Texas, home to the original oil boom 40 years ago. For the past decade drillers have been pulling ever more oil out using vertical wells. Yet the geology of the region suggests that the same horizontal fracking techniques used to rapidly increase production in the Bakken and Eagle Ford could be used in Wolfcamp.
Only Wolfcamp likely holds several times as much tight oil as either Bakken or Eagle Ford. Horizontal production has yet to ramp up in the Wolfcamp area, though this is likely because infrastructure constraints are making it difficult to get all of the production from the vertical wells to market at a decent price. Currently, the region is producing more oil than the pipelines can handle and the pipelines all go to Cushing Oklahoma, which has a stockpile of excess oil that it can't ship out. New infrastructure is being laid to send oil from the Wolfcamp area straight to the refinery center in the Houston area, but that won't come online until later this year.
Interestingly, it looks as if a deal between Pioneer Natural Resources, which owns lots of drilling rights in the area, and China's Sinochem, which has a ton of capital, will lead to new horizontal wells being drilled around than time. If the production volumes here are as explosive as in Bakken and Eagle Ford, then total U.S. production could be headed for another jump over the next several years.