This is one of the most impressive events to take place among large capitalization stocks since I entered the markets some 20 years ago. Fundamentals aside, since everyone already knows about how Apple (NASDAQ:AAPL) is incredibly cheap, while Amazon.com (NASDAQ:AMZN) struggles to stay profitable, the very magnitude of Apple's underperformance merits exposure.
In the course of 5 and a half years after launching the iPhone, Apple became one of the most profitable, nay, the most profitable corporation on Earth. For a brief while, it also became the most valuable. During that same period, Amazon.com went from being slightly profitable to posting an unexpected yearly loss for 2012, even if all (including me) believe that Amazon.com can certainly be somewhat profitable in a normal year.
It is against this backdrop that the following massive, jaw-dropping, underperformance of Apple stock took place and still continues, today. (Source: All charts by Yahoo Finance)
Last 3 months
In just the last 3 months, Amazon.com is up around 5% versus a 25% drop for Apple. This makes for a 30% underperformance in just 3 months.
Last 6 months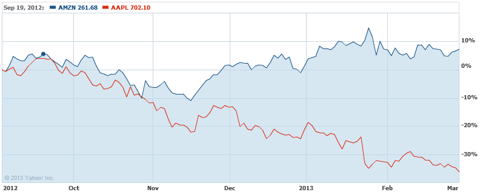 In 6 months, which more or less coincides with Apple's fall from grace, Amazon.com is up around 7%, versus Apple's massive 36% drop. This makes for a 43% underperformance in 6 months.
Last year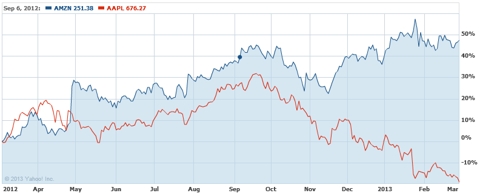 Astonishingly, in the 1 year timeframe the underperformance gets even larger. This already includes an initial rally by Apple, but it also captures rare weakness in Amazon. In this timeframe, Amazon.com is up around 47%, whereas Apple drops around 19%. The Apple underperformance is thus around 66%. It should be noted that Amazon.com basically missed 3 out of 4 quarters during this timeframe, and guided down powerfully in every quarter, to the point where it posted a loss for the whole of 2012. Amazon.com guided down not just on earnings, but also on revenues. It missed not just on earnings, but also on revenues - to the tune of $1 billion below estimates in Q4 2012. Yet, it still outperformed Apple by 66%.
Last 5 years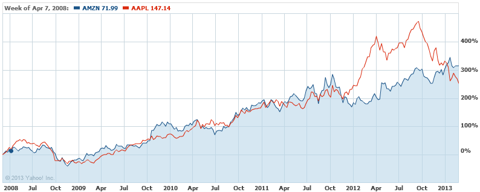 This timeframe is curious. Since it captures most of the life of the iPhone, the most successful product in history, Apple has times where it outperforms Amazon.com. Yet, with the recent massive underperformance it still manages to show underperformance even in this 5 year timeframe.
Amazon.com went up around 318% during this timeframe, versus 247% for Apple. This puts Apple's underperformance at around 71% in the last 5 years.
Since May 1997

Finally, since May 1997, Amazon.com went up around 17760%, while Apple went up around 10110%. Apple's underperformance was thus a cool 7650%. The starting point was a hot IPO for Amazon.com and near-bankruptcy for Apple. The end point was no profits for Amazon.com and the most profitable company on Earth for Apple. And yet, given the vagaries of the market, Amazon.com outperformed by a massive 7650%!
It should be emphasized that in May 1997, Apple was on the brink of insolvency. It has just bought out NeXT, and Gil Amelio was still its CEO. Steve Jobs, who had come into an advisory role with the acquisition of NeXT, would only become de-facto CEO in July of that year.
Conclusion
In spite of Apple going from near-bankrupt to the most profitable company on Earth, its stock massively underperformed Amazon.com on every timeframe - a company whose earnings are basically zero.
I believe this incredible outcome, unpredictable even if one were to go back in time with full knowledge of what the future held except for stock quotes, is only explained by an incredible freak of nature which led growth funds to dump Apple stock and, lacking alternatives, load up on Amazon.com against all possible rationality.
And yet, this too shall pass, and rationality will at some time be reestablished. I don't know if such will entail Apple stock recovering mightily, as the smartphone market seems increasingly competitive, but it will surely entail Amazon.com trading at much lower valuations, since signs of its growth slowing are already easy to identify.
Disclosure: I am short AMZN. I wrote this article myself, and it expresses my own opinions. I am not receiving compensation for it (other than from Seeking Alpha). I have no business relationship with any company whose stock is mentioned in this article.