One of the interesting things about the three-month-old rally over the last month is that the cyclicals like the materials sector have not participated (see chart) at all. Miners have been among the hardest hit within the sector. A good example is the huge mining conglomerate Freeport-McMoRan (NYSE:FCX). The miner is dirt cheap, and I believe there are several things starting to work in its favor. Long-term value investors looking to establish positions in stocks that have yet to participate in the rally should give it serious consideration.
Click to enlarge images.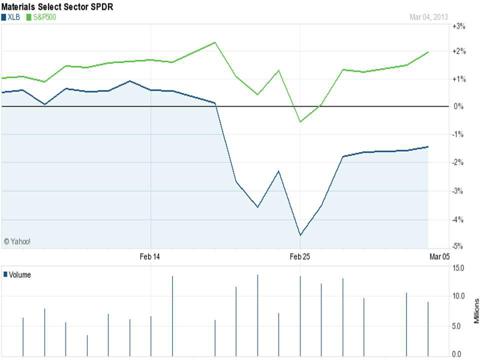 Here are some recent positives:
Bank of America just upgraded the shares to a "Buy" and has a $39 price target on the shares.
The shares just crossed the threshold where they yield 4%, which should help put a floor on any further decline.
Finally, the stock is right at the level it has shown strong technical support at over the last year (see chart).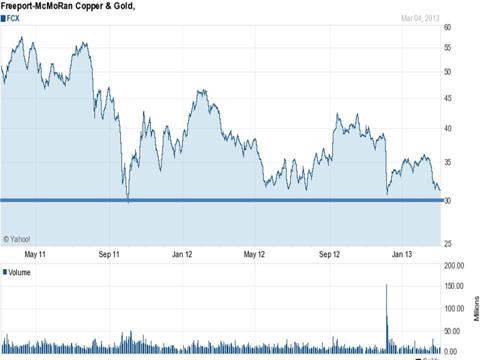 Here are four additional reasons why FCX is deep in value territory at just over $31 a share:
The stock is selling at under seven times projected 2014's projected earnings. Mining conglomerate BHP Billiton (NYSE:BHP) sells for 15 times 2014's projected earnings as a comparison point.
FCX sells for approximately eight times operating cash flow, and there is that juicy yield of 4%.
The median price target of the 14 analysts that cover the stock is $40 a share, some 30% above the current stock price.
After falling for months, consensus earnings estimates for both FY 2013 and FY 2014 have ticked up over the last month. The company is also expected to have a big hike up this year from $3.22 a share in FY 2012 to a consensus EPS estimate of $4.43 a share this year.
Disclosure: I am long FCX. I wrote this article myself, and it expresses my own opinions. I am not receiving compensation for it (other than from Seeking Alpha). I have no business relationship with any company whose stock is mentioned in this article.