On March 1, 2013, Vanguard Natural Resources (NYSE:VNR) reported its Q4 and full-year 2012 results. For FY 2012, Vanguard reported record production of 18,298 BOE/d and distributable cash flow of $141M, or $2.60 per unit. The distribution coverage ratio for FY 2012 was 1.08X, down from 1.40X in 2011. Just prior to earnings being released, Vanguard announced that it was acquiring $275M of natural gas, oil and natural gas liquids "NGL" assets in the Permian Basin from Range Resources Corporation. As of this writing, Vanguard was trading for about $27.74 per unit. Vanguard currently offers a $0.2025 monthly distribution per unit. At current prices, the yield for Vanguard is about 8.75%.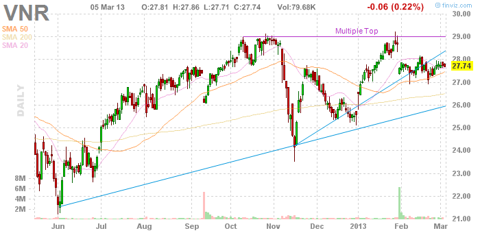 During 2012, the distribution coverage ratio fluctuated for Vanguard, ranging from a low of 0.61X in Q2 2012, to a high of 1.44X in Q1 2012. For FY 2012, the distribution coverage ratio was 1.08X.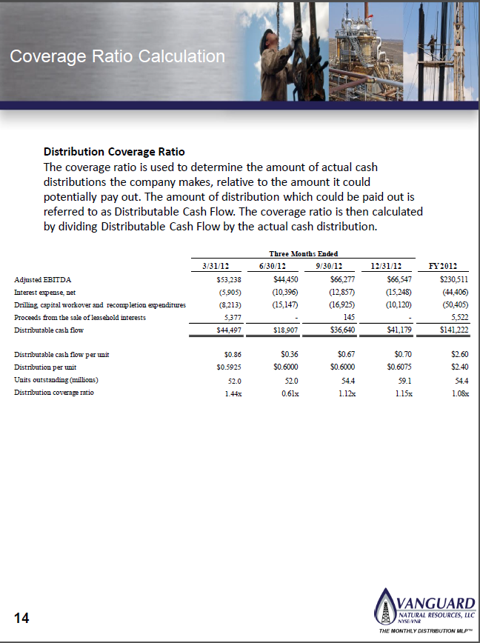 In order to protect its cash flows, Vanguard often hedges its expected future production. The fair value of commodity derivative contracts held by Vanguard was an asset of approximately $93.1 million as of Q4 2012. $44.5 million settles during the next twelve months. As of year-end 2012, Vanguard had over 90% of its anticipated crude oil production hedge through 2016 and more than 85% of its natural gas production hedged through mid-year 2017. Note that the chart below includes both the pre and post Range Permian assets acquisition hedging figures: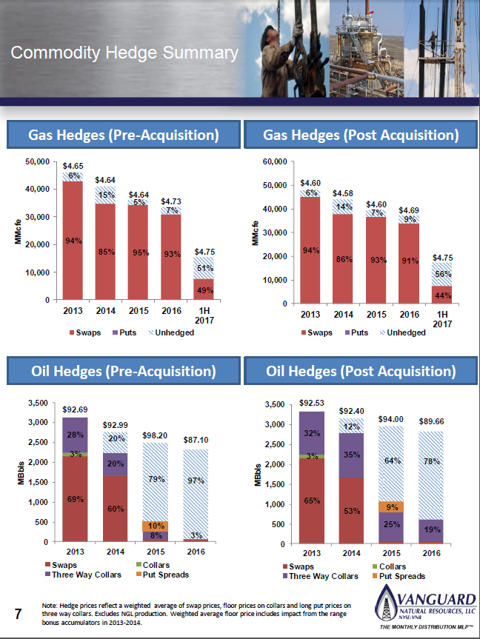 Vanguard generally realized lower prices for its production during 2012. The average realized price for oil was $80.98 during Q4 2012, down from the $93.70 realized during Q4 2011. The average realized price for natural gas was $2.37 during Q4 2012, down significantly from the $4.12 realized during Q4 2011. The average realized price for NGLs was $42.74 during Q4 2012, much lower than the $80.19 realized during Q4 2011.
However, thanks to its hedging program, Vanguard was able to realize much higher prices than it would have achieved if it had not hedged. The average realized prices including hedges for FY 2012 was $84.00 for oil, $4.47 for natural gas and $66.88 for NGLs.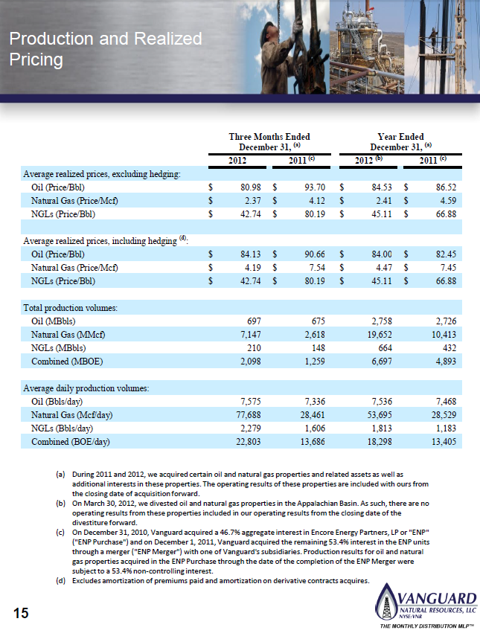 Vanguard also provided an update on its total reserves and reserves by area. As of Q4 2012, Vanguard had reserves of 152.2 MMBOE, with a mix of 28% oil, 60% natural gas and 12% NGLs. 74% of the reserves are proved developed. Note that these figures do not include the Range Permian assets acquisition.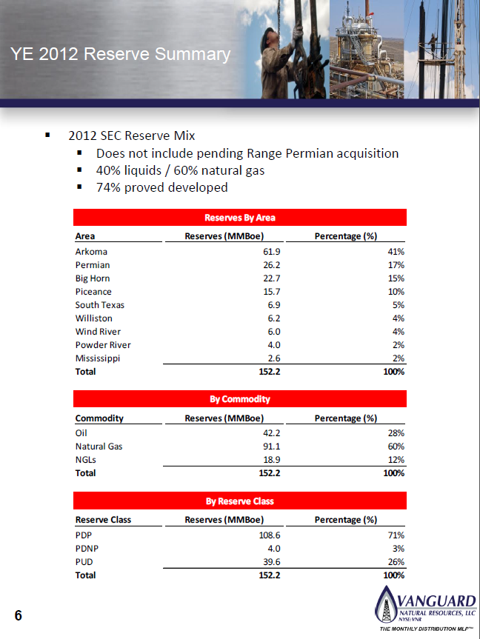 Along with the results, Vanguard also provided its FY 2013 guidance. Vanguard expects that its 2013 production will range from 31,350 to 33,317 BOE/d, which is at least a 70% increase from 2012 levels. Adjusted EBITDA is expected to increase to $302M, up 31% from last year. By far, the most important metric for Vanguard is distributable cash flow ("DCF"). The midpoint for DCF in 2013 is expected to be $184M. On a per unit basis, DCF is expected to be about $2.69 per unit, an increase of 3.5% from 2012 levels. The distribution coverage ratio is expected to increase to 1.11X in 2013.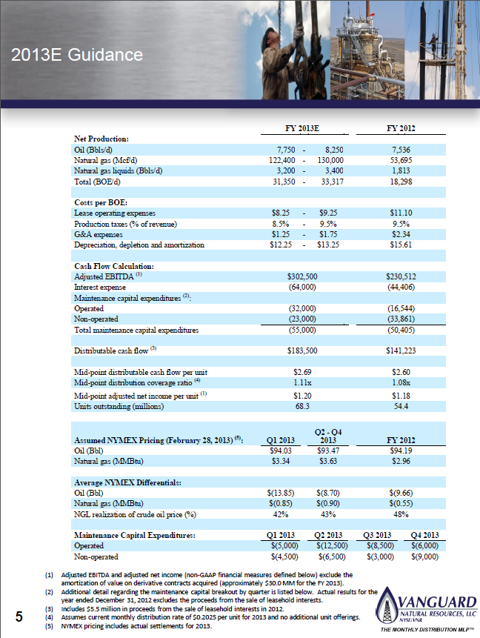 Conclusion
Due to its active hedging policy, Vanguard was able to protect its cash flows in 2012. The Range Permian assets acquisition should prove a good fit for Vanguard, as its assets are similar, being 41% natural gas and 59% oil and NGLs. The assets are in one of Vanguard's core operating areas and should provide Vanguard with developmental drilling opportunities. Vanguard expects that the acquired assets should enhance its cash flow as they are developed over the next four to six years.
Disclosure: I am long QRE, VNR. I wrote this article myself, and it expresses my own opinions. I am not receiving compensation for it (other than from Seeking Alpha). I have no business relationship with any company whose stock is mentioned in this article.