Yesterday, the Dimension 3X Financial Bull ETF (NYSE:FAS) traded nearly 300M shares. That's pretty amazing for an instrument that didn't even exist a year ago. Forgive the style drift — I know it's hardly a microcap. Though net assets are down to $320M (per Yahoo!), the ETF attempts to replicate on a leveraged basis the daily movements of much bigger stocks.
That said, I don't think this market will turn until the FAS — which Ron Sen aptly named the crack cocaine of financial stocks — heads north. I'm a buyer here and believe that a short-term reprieve will come this week or next.
This is just an attempt to get in front of a snapback rally, not an endorsement of lasting recovery at our nation's ailing banks. There are three potential catalysts:
1. the severity of the oversold condition;
2. this Thursday's hearing on mark-to-markets, the lifting of which many think will aid bank stocks; and
3. options expiration.
The first catalyst (the oversold condition) is most compelling. When a stock trades at such massive volume and can't go down even in the face of negative prints on the major indices, there is a pretty good chance the sellers are ready for a break. That's my bet anyways, and we'll find out as the week progresses whether it works.
Click to enlarge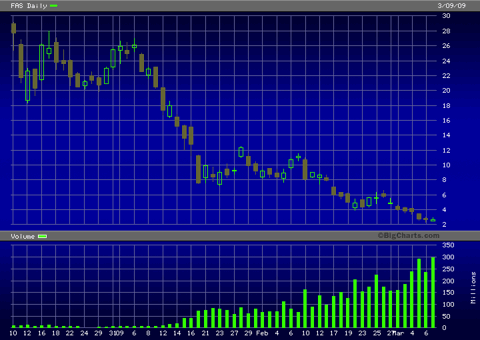 DISCLOSURE: Long FAS