Comcast (NASDAQ:CMCSA) has been at the forefront of the minds of many investors for a variety of reasons recently. The stock price has been climbing at an astoundingly fast rate - it has just about doubled over the past fifteen months, from $21 in November 2011 to $41 last week. The long-term price trend is a result of Comcast's overall business, while the recent bump up in the stock price came from Comcast's announcement on February 12th that it would be purchasing the remaining 49% ownership stake of NBCUniversal from General Electric (NYSE:GE) well ahead of schedule. According to the statement on Comcast's website, this acquisition "solidifies Comcast's position as a leading media and technology company." It also brings Comcast even farther down the road to being Disney's (NYSE:DIS) biggest competitor. What does this mean for the company's future and for investors who want to be a part of it? Let's find out.
As one of the best ways to understand a company is to research its history, I recommend checking out the timeline on Comcast's website for a brief overview of where the company came from and how it got to where it is today. The growth story is quite remarkable - the company transformed from a small, privately-owned cable operator with 1,200 customers in 1963, into one of the nation's largest media companies with a total of 51.3 million combined residential video, high-speed internet, and digital voice customers at the end of fiscal year 2012.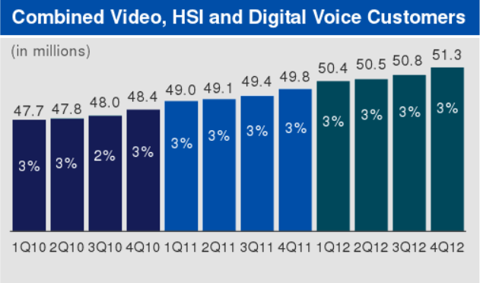 In addition to the services it provides for individuals, Comcast also offers services for small and mid-sized businesses. Although Comcast is best known as a content deliverer, it produces content itself as well. Some of the more successful channels Comcast and its subsidiaries fully or partially own include: G4, The Golf Channel, E! Entertainment, NBC Sports Network, SyFy, USA Network, CNBC, and MSNBC. The purchase of NBCUniversal adds movie studios as well as theme parks and resorts to Comcast's ever-growing span of control.
As stated above, in Comcast's journey to grow as much as it can in every direction it can, it seems to be competing directly with Disney in more and more areas. In the past, Comcast played more in the realm of content providers like Time Warner Cable (TWC) and DIRECTV (NYSE:DTV), but now it competes directly with entertainment companies like News Corp. (NASDAQ:NWSA) and Disney. In choosing NBCUniversal, Comcast got the media company that looks most like Disney does. Let's take a look at how Comcast's NBCUniversal compares to Disney. Currently, Disney is the largest media conglomerate in the world, with 2012 revenue of $42.3 billion compared to NBCUniversal's revenue of $23.8 billion. As seen by the charts below, taken from Disney's fourth quarter investor presentation and Comcast's fourth quarter investor presentation respectively, both Disney and NBCUniversal derive most of their revenue from their media networks segment (cable networks plus broadcast television for NBCU). It appears that NBC is gaining quickly on Disney in this area as media networks grew a total of 13.6%, compared to 4% at Disney. This is due to NBC's broadcasting of the Super Bowl and the Olympics. In the studio/movie segment, the winner is not completely obvious. NBC grew its movie business last year while revenues dropped at Disney, putting NBC only $666 million behind the House of Mouse. Although Disney had the highest grossing film of the year, The Avengers, Universal Pictures created a larger amount of smaller hits, from Dr. Suess' The Lorax all the way to Ted.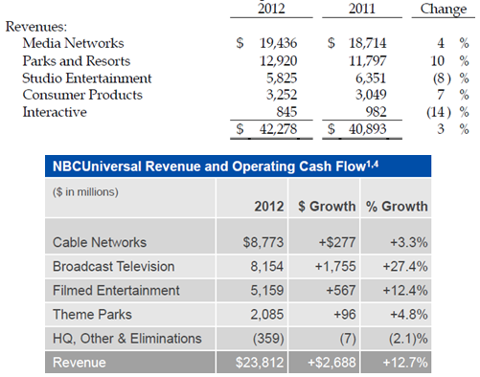 When it comes to theme parks and resorts, Disney clearly has the lead. With 2011 annual attendance to Disney-owned parks coming in at 121.4 million, they are pretty hard to beat. Universal Studios only had a quarter of Disney's total visitors, but it grew by 13.7% from 2010 to 2011, compared to Disney's growth of only .7%. According to the AECOM Economics 2011 Theme Index, NBCUniversal holds the third place spot in terms of annual theme park visitors.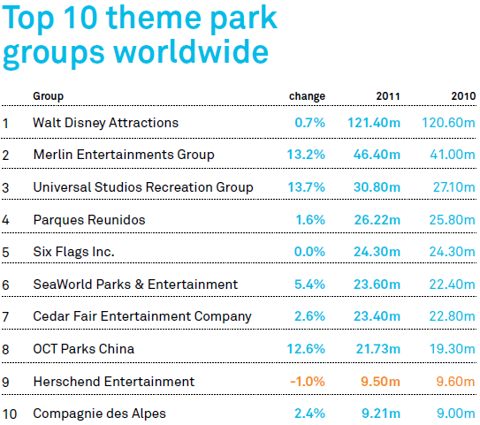 Universal Studios above-average growth in its theme park segment is due mainly to The Wizarding World of Harry Potter attraction at its Islands of Adventure in Orlando, Florida which grew its guest count by 29% in 2011 alone. This trend was so noteworthy that in Comcast's 2012 year-end report, the company made special mention of it as well as the new Transformers attraction at Universal Studios Hollywood.
Now back to Comcast as a whole. Comcast looks at NBC as an investment, they see value. In its investor presentation, Comcast states that the purchase of NBCUniversal ahead of schedule has an attractive value compared to both media peers and the value under the original 2014/2017 redemption structure. Investors clearly see value too, as they pushed the stock price above its all-time high to a closing peak of $41.45 on February 19th. Comcast itself had revenue of $39.6 billion in 2012; if NBCUniversal revenue of $23.8 billion was added to that, it would give Comcast total revenue of $63.4 billion for the year. Because it will own NBCUniversal completely sometime around the end of the first quarter. Comcast will no longer have to share this extra revenue with General Electric, meaning it can use the extra profit it provides for expansion or return it to shareholders.
This brings us to our final evaluation of Comcast and Disney as competitors - the stock itself. In terms of price-earnings, illustrated on the chart below, Comcast (red) is less expensive now than it has been over the past twelve months, while Disney (blue) is more expensive than it has been in that same time frame. As of close on Friday, March 1st, Comcast is trading with a price-earnings of 17.48 compared to Disney's 17.91 and the media industry's average of 17.14.

Comcast has a dividend yield of 1.63% compared to Disney's 1.37%. Over the last twelve months, Comcast's stock price has grown 35% compared to Disney's growth of 30%, both quite exceptional. Comcast has $16.3 billion in retained earnings before the deal goes through, compared to Disney's $39.7 billion. Comcast is also dedicated to returning money to shareholders as well. In 2012, they created value for investors through $3 billion in share repurchases and $1.6 billion in dividends. This year they plan to return $2 billion in dividends and $2 billion in share repurchases which should help push the stock price even higher. Disney had a similar program in 2012. They created value through $3 billion in share repurchases and $1.1 billion in dividends. They both sound pretty good at this point. From what I can see, Comcast does have one thing over Disney - diversification. Disney is definitely diversified, but not to the extent that Comcast is. Disney has television shows and networks, broadcasting stations, movie studios, cruise ships, theme parks, and Jedi, but Comcast with NBCUniversal will have even more. Comcast will cash in on the content it creates just like Disney, but it will also cash in on its delivery over the air, through cable, on the internet, and even over the phone when everyone calls each other to ask if they saw the latest episode of The Voice on NBC.
Overall both Comcast and Disney are great companies. They both had above average returns during 2012 and are still doing great three months into 2013. Both companies are solid investments as well and should definitely be held long-term. Some investors cannot bring themselves to purchase stock in companies that compete directly with each other. I, personally, am not of that persuasion as I already own Disney and will most likely be purchasing Comcast at some point in the near future. If you do have to choose between these two media giants, you may find Comcast the better pick, based solely on its more vertical integration. Because Comcast competes in the production and distribution sides of the media market, it is better diversified than Disney is, and in the world we live in, diversification can be the key to staying alive. Overall, it looks like Comcast does not have much to fear from direct competition with Disney. If Comcast was looking for a partner it could use to create another Disney, it chose the right one.
Disclosure: I am long DIS. I wrote this article myself, and it expresses my own opinions. I am not receiving compensation for it (other than from Seeking Alpha). I have no business relationship with any company whose stock is mentioned in this article.