As an investor, I need good data to make good decisions. In the onslaught of data that has followed the release of the BlackBerry (NASDAQ:BBRY) Z10, it is easy for any investor- from the smallest individual investor to the largest hedge fund manager- to become numb from the sheer volume of information or to perhaps grasp onto a single data point rather than looking at the whole picture.
Any one data point alone can be easily misinterpreted, but taken together they begin to form an image. It is similar to a jigsaw puzzle - a single piece doesn't tell you what you are looking at - but as you correctly align more and more of the pieces - the picture begins to emerge. In putting the puzzle together, there are times when you have the correct piece in your hands but may be looking at it upside down. In this article, I will attempt to look at one piece and at least set it right side up so that we can see how it fits in the picture.
Whether you are long or short BlackBerry, clear analysis is needed to informed decision making.
Let me make one thing perfectly clear - I can't predict the stock market or the price or any particular stock. What I can do is look at available information, turn it round and round until I know how it fits in the scheme of things.
The piece that I am holding in my hand today is the release of the PacCrest report and particularly the limited information reported through Forbes. Forbes supplied the following quote from the PacCrest analyst: "U.K. inventory levels of the Z10 touch-screen BB10-based smartphones are 'already too high'."
What does that statement make you think?
If I'm long BBRY - I start to shudder - perhaps sales are slow - this could be a sign that I need to re-evaluate my investment thesis.

If I'm short BBRY - I get pretty gleeful, patting myself on the back - thinking something along the lines 'I knew BBRY would never make it'

If I'm on the sidelines watching: I might consider 'It's time to short this puppy' or perhaps as Cramer has written I just might get a good buy point in the days ahead.
You see, the same piece of information can mean many things to many different investors. But what would happen if I was holding the piece upside down - and missing how it actually fits in the bigger picture?
As far as I can determine, PacCrest has not made this piece of research public. But somehow, Mr. Savitz at Forbes has a copy. Now Mr. Savitz has not given us the whole report, just a few choice quotes of his choosing, 'U.K. inventory levels... too high'
Fortunately, I'm not the only one that feels that information needs to be examined in context. In a piece in 'Tech Trade Daily' over at Barron's, Tiernan Ray has provided enough information for the reader to make their own interpretation of the PacCrest report. In particular, it gives us information that we can use to turn the piece to its correct orientation.
So let's have a look at the inventory level profile from the PacCrest report as shared by Tiernan Ray. (Thanks for sharing)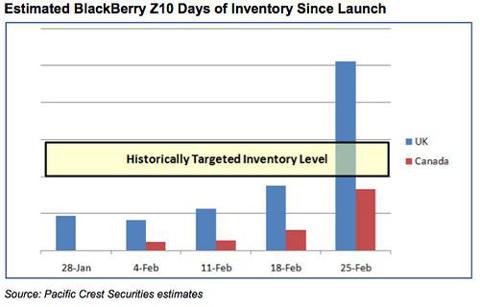 Although no scale is provided, U.K. inventory levels are increasing each week. This implies that the retailers are actively purchasing more. Some of you are small business owners - Do you increase inventory on products that are not selling? And what to make of the huge inventory spike the week of February 25. This indicates heavy buying from retailers and mobility system operators.
Now let's put on our thinking caps. What could possibly explain heavy buying? Here's what I have come up with:
Possibility 1 - U.K. suppliers wanted to build inventory now as BlackBerry is expanding releases country by country every week and future supply may be constrained. Perhaps the conversation went something like this:
'I'll take a 100,000 now and another 100,000 in two weeks' to which BlackBerry responded 'We can ship 100,000 now but we are opening in Peru in 10 days and require 100,000 for that opening'
The U.K. buyers may have responded - 'We take the 200,000 now and you can put off the Peru opening for a week or two to build back your internal inventory'
Possibility 2 - If you look at U.K. mobility operators you find that the Samsung (OTC:SSNLF) GIII is generally free on a 2 or 3 year term as is the Galaxy Note. Perhaps the British suppliers bought in larger quantities to secure the best possible pricing. The Apple (NASDAQ:AAPL) iPhone 4 also free on a 2 or 3 year term, while the BlackBerry Z10 and iPhone 5 support higher pricing. Note: (A further search found that both the iPhone 5 and BlackBerry Z10 can be had for free from Vodafone (NASDAQ:VOD) if one pays a premium monthly fee).
Possibility 3 - Perhaps having a 3rd strong viable operating system is an advantage for U.K. operators both short- and long-term. Perhaps they want to help BlackBerry move enough inventory this quarter to squelch the naysayers. To perhaps give an unexpected boost to BlackBerry sales that hasn't already been accounted for.
Possibility 4 - Perhaps you have an alternate or better explanation. Let me know below. As I gather information and look at different ways of interpreting that information, it makes me a better investor.
If you want to be better informed, read the entire article linked to Tiernan Ray above, as he asks the PacCrest analyst some very pointed questions.
Canadian Inventory
Sometimes two pieces of a puzzle fit together nicely. In the Forbes article, Mr. Savitz. further quotes the PacCrest analyst,
Canadian carrier stores and retailers also appear to be rapidly approaching targeted levels, in our view.
Just what does that mean? Is it good or bad? Again it is hard to decipher meaning without context. To the intelligent investor's rescue, again comes Tiernan Ray. The graph above shows that Canadian inventory levels have not yet reached historical levels. Sell through, supply constraints, and multiple international releases mean that BlackBerry cannot even meet its historical stocking levels. It means that the company is supply constrained.
I'm feeling pretty confident about this last statement because this past weekend I was visiting in-laws in British Columbia for a birthday celebration and had a chance to get in a day of skiing. After arriving Friday afternoon, I had few hours to spend checking out the local smartphone market.
I first visited a 'Source' store and was told that they sold all their Z10 inventory they were given the first day and haven't received any more inventory from Bell. It appears Bell is keeping all its supply to its outlet stores and not providing any inventory to its secondary suppliers. This was confirmed when I went in to a big box store that offered mobility devices and services for at least five different service providers (Bell (NYSE:BCE), Rogers (NYSE:RCI), Telus (NYSE:TU), Koodo and Virgin). They had not received any inventory. The major players are holding all Z10 inventory for themselves. I could get any other phone on the market at this outlet - but not the Z10.
In the mall I visited, all the major vendors had an outlet. At the first outlet, I played stupid (easy for me). 'Is that phone any good?', I asked. The young man became quite excited telling me it was indeed 'good' and offered to show me its unique features. I let him show me through the phone and then asked 'Do you sell any?' Before he could answer, the manager responded, 'It's a hit'!!!
A very bright young man at one outlet told me sales have been roughly even among BlackBerry, Apple and Samsung at his outlet. He told me I couldn't go wrong with any of them while ably demonstrating the features of the Z10. Another outlet told me that the Z10 was outselling iPhone 4 and 5 products but trailing Samsung. A Koodo outlet told me they are somewhat supply constrained, receiving 5 a week and selling them all.
My take
I am quite certain that the BlackBerry Z10, with support in a month or two from the Q10, will enable BlackBerry to meet is first stage expectations and increase its foothold in the smartphone space. How the stock trades is indeed another matter. We all know that the markets can and often do stay irrational for long time. However, that applies both ways. It's not fun trying to catch a falling knife and nor is fun to be the last one on a runaway train.
Questions
There were concerns about whether or not BlackBerry could survive long enough to launch its new products, whether or not the new products would be any good, and whether or not marketplace would accept them.
Answers
So far the answers are: Yes. Yes. ... and it's still too early to tell, it might be 'a hit' but if it sails over the fence it just might be a 'home run'!
Disclosure: I am long BBRY. I wrote this article myself, and it expresses my own opinions. I am not receiving compensation for it (other than from Seeking Alpha). I have no business relationship with any company whose stock is mentioned in this article.