iShare Dow Jones US Home Construction ETF (BATS:ITB) is trading right at its 52 week high on promising news surrounding the US housing market. Since the 2008/2009 credit crisis, this is the first year the US housing market has experienced a substantial change in direction. Although the interest rate environment is still artificially low due to the Federal Reserve's opinion of the US' economic well being, there are several forward looking catalysts investors should bear in mind when selecting assets for their portfolio this year. It is not too late to profit off the housing recovery. This article provides an overview of an ETF that is prompted to benefit from a recovery in the US housing market. In addition, I will outline several catalysts and signals this recovery is going to continue.
Overview & Market Performance
ITB's returns strive to match the price and yield performance the Dow Jones U.S. Select Home Construction Index. This index measures the performance of the home construction sector of the US equity market, and includes companies that construct residential as well as prefabricated homes. It is important to note that ITB's management invests in a sample of the securities within the index and may not necessarily hold all of the securities that are included in the index at any given point in time. BlackRock Fund Advisors currently manage the ETF.
Currently, ITB is trading at $23.49, which is only 1.5% below its 52 week high. With nearly 41.1 million shares outstanding, its market capitalization is roughly 965.44 million. The average number of shares traded daily is roughly 3.5 million, which suggests this ETF is fairly liquid. To evaluate the risk within ITB's holding period returns, I computed ITB's firm-specific beta of 1.49. This beta value is barely above the market beta of 1, implying that ITB's returns reveal a relatively low level of risk.
Figure 1: ITB's One Year Price Graph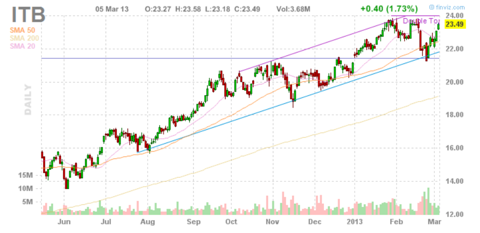 Catalysts Going Forward
The price of homes in many areas across the US is increasing, however price stability does not exist. One indication suggesting the US housing market has made a full recovery will be reflected by stable home prices.
The foreclosure process still remains slow, but it is faster than it has been in recent years.
The banking sector is displaying beginning signs of recovery. It's clear by analyzing different bank portfolios that real estate values are recovering.
As long as inflation remains under 2.5%, and unemployment remains above 6.5%, Bernanke claims he will continue buying bonds to artificially keep interest rates low. These constraints are what Bernanke claims are necessary for a solid recovery in the US housing market.
Conclusion
The housing market is far from a full recovery, which is appealing for those seeking an investment in this industry. The housing market will not reach a full recovery until foreclosures have been worked out, negative equity is eliminated, and last prices have finally stabilized. As of now, it is clear these factors still exist. Therefore, it is not too late to invest in a security that is positioned to further benefit from stimulation in the housing market.
Sources: FinViz, Google Finance, Yahoo Finance, and The Wall Street Journal.
Disclosure: I have no positions in any stocks mentioned, but may initiate a long position in ITB over the next 72 hours. I wrote this article myself, and it expresses my own opinions. I am not receiving compensation for it (other than from Seeking Alpha). I have no business relationship with any company whose stock is mentioned in this article.