Pfizer, Inc. (NYSE:PFE) reported earlier Tuesday that it had received a favorable ruling from the U.S. Patent & Trademark Office that effectively extends the patent protection of its painkiller Celebrex until 2015. The "reissue patent" will extend the period which Celebrex can be marketed without the threat of generic competition by approximately 18 months from May 30, 2014 to until December 2, 2015.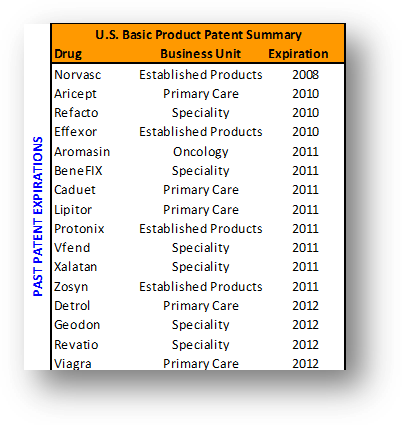 The importance of this ruling to Pfizer cannot be overstated, in our opinion. The company has faced a daunting progression of key drugs lost to patent expiry in recent years, resulting in sales eroding by over 11% from $67.1 billion in 2009 to $59.5 billion in 2012. The ruling will allow for Celebrex to partially bridge the revenue gap as Pfizer's newly approved drugs and pipeline mature.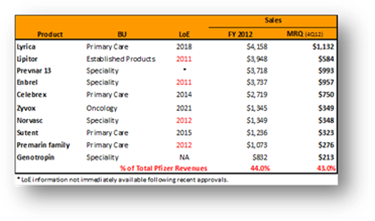 Celebrex was to have been the next blockbuster in Pfizer's portfolio to lose exclusivity based off of the previous expiration date. The drug was Pfizer's fifth largest selling drug in fiscal 2012 and fourth ranking in the company's recent fourth quarter of fiscal 2012, with sales of $2.72 billion and $750 million, respectively. Further, the company had placed an increased promotional emphasis on the drug following the exclusivity lapse of Lipitor in Q4 2011. Celebrex results, when expressed as a percentage of total Pfizer revenues, have risen from 3.9% in fiscal 3Q12 to our projected 5.3% in fiscal 4Q13.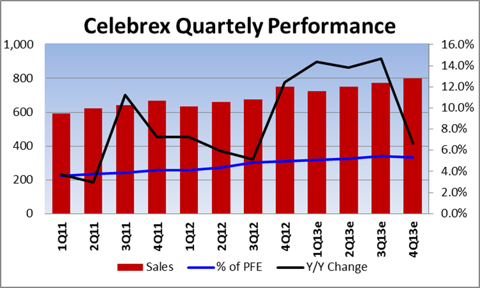 We feel that Tuesday's decision will impact Celebrex sales by approximately $5.3 billion over the life of the extension. We think this will conservatively add $0.05 to our fiscal 2014 and $0.09 to our fiscal 2015 projections, respectively.
Disclosure: I have no positions in any stocks mentioned, and no plans to initiate any positions within the next 72 hours. I wrote this article myself, and it expresses my own opinions. I am not receiving compensation for it (other than from Seeking Alpha). I have no business relationship with any company whose stock is mentioned in this article.