U.S. petroleum refining and marketing companies have had an incredible run over the past couple years. Mostly because they have been taking advantage of two factors, the gap between WTI and Brent crude and the fact that gasoline and diesel prices are pinned to the price of Brent crude. U.S. refineries with easy access to cheap domestic crude feedstocks have been enjoying unheard of profit margins. I believe that HollyFrontier (NYSE:HFC) is extremely well-positioned to continue taking advantage of the current crack spread situation. A closer look at its financials also leads me believe that it is currently undervalued.
HollyFrontier is an independent petroleum refining and marketing company based in Dallas, Texas. The company operates five refining operations located in Cheyenne, Wyoming; El Dorado, Kansas; Artesia, New Mexico; Tulsa, Oklahoma and Woods Cross, Utah. All of its refineries produce gasoline, diesel and other refined products to be marketed throughout the Rocky Mountains, Midwest and Southwest.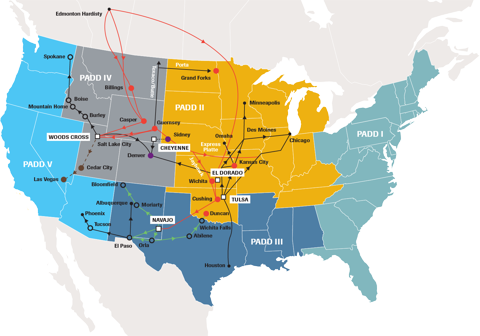 The Tulsa refinery is a stone's throw away from Cushing, Oklahoma, the largest trading hub in North America and location of the WTI crude pricing benchmark. Most importantly, HollyFrontier owns a 44% interest in Holly Energy Partners (NYSE:HEP), a MLP that stores and delivers most of its crude feedstocks and refined products.
In case you're just tuning in to the rapidly changing energy landscape created by horizontal drilling and hydraulic fracturing in the U.S., domestic crude has gotten much cheaper than crude sourced outside of North America. As of March 4, domestically sourced WTI crude for April delivery was trading at an 18% discount to Brent, the global crude oil benchmark. Furthermore, Canadian heavy crude sourced from the controversial oil sands are piling up, and trading at an even bigger discount to WTI, due to a lack of pipeline access to its largest foreign market, the U.S.
Refiners have been getting so much attention lately because their main products, gasoline and diesel, are still priced according to the Brent benchmark. As a result, refinery margins have never been better. HollyFrontier has three logistical advantages that have led to its current TTM operating margin of 14.36%.
Its complex refineries are capable of processing cheaper heavier crude from Canada.

Its refineries have direct pipeline access to the WTI hub and Canadian crude.

Its markets in the Southwest and Rocky Mountains are growing at a faster pace than the rest of the country.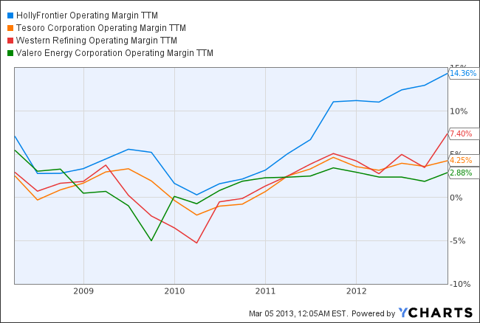 Phillips 66 (NYSE:PSX) the recent spinoff from ConocoPhillips (NYSE:COP), Valero (NYSE:VLO), and Marathon Petroleum (NYSE:MPC), the recent spin off from Marathon Oil (NYSE:MRO) are the largest, U.S.-based, refining and marketing companies by market cap. All three have had a terrific run over the past year.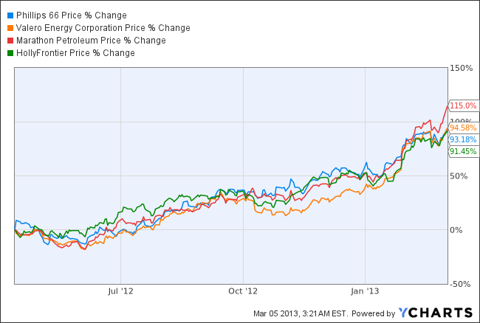 Lets see how they stack up to my beloved HollyFrontier:

All three companies would be worthy of a good portfolio. With respect to HollyFrontier, only Marathon Petroleum is being as effectively managed, unfortunately it is trading at a premium. Until the recent refinery spin offs, Valero was the largest U.S.-based independent refiner. It has built up a great deal of shareholder equity over the years, but currently it isn't operating as profitably as the competition. If you're trying to take advantage of the enduring crack spread, HollyFrontier the way to go.
According to Warren Buffett, "Intrinsic value can be defined simply: It is the discounted value of the cash that can be taken out of a business during its remaining life." Also, "the percentage change in book value in any given year is likely to be reasonably close to that year's change in intrinsic value." Over the past five years, HollyFrontier's book value has grown from $4.9 to $32.7 per share, an astounding average change of 45.96% per year. It is important to note, much of that growth occurred when Holly Corporation and Frontier Corporation merged in Q3, 2011. Excluding the jump from $14.62 to $26.95 that occurred when the company merged, the 5 year average change in book value is still a whopping 32.97%.
I'll perform three fairly rudimentary intrinsic value calculations that take into account the amount of cash that can be taken out in the form of dividends and shareholder equity discounted to the ten year note at 1.88% over the next ten years. The best-case scenario, assumes the company continues to grow at the five-year average rate of 32.97% mentioned earlier, over the next ten years, and continues to pay its current dividend of $0.30 per share. The baseline scenario assumes book value per share grows at just half of the five year average mentioned earlier (16.49%), and maintains its current dividend. In the worst-case scenario, the company cuts its dividend by half, and grows at one-tenth the current five-year average quoted above (3.30%).
The results are as follows:
Best case scenario - $476.5, an increase of about 716% over the closing price on March 4, 2013

Baseline scenario - $134.8, an increase of about 131% over the closing price on March 4, 2013

Worst case scenario - $42.71, a decrease of about 27% over the closing price on March 4, 2013
Assigning a weight of 20% to the best-case scenario, 10% to the worst case scenario, and 70% to the baseline scenario gives us a weighted average of about $185.40 or a 217% increase.
Further fueling my interest in HollyFrontier is an incredibly strong balance sheet. The company's current ratio of 2.7 and a debt to equity ratio of 0.2 are giant blinking green lights. Its long-term debt of $1.33 billion is well below TTM net income of $1.73 billion. Every time I look at this company's numbers, I have to pinch myself. I never thought a petroleum refining and marketing company would be able to pull off a return on invested equity of 28.24%.
Now I know that the above valuation is overly simple, but I also think that it is overly conservative. If somebody would care to complete a more detailed and complicated valuation, I would be love to have a look.
Disclosure: I have no positions in any stocks mentioned, but may initiate a long position in HFC over the next 72 hours. I wrote this article myself, and it expresses my own opinions. I am not receiving compensation for it (other than from Seeking Alpha). I have no business relationship with any company whose stock is mentioned in this article.