On 28th of February Eli Lilly (NYSE:LLY) was trading around $54. Over a period of 3-months this stock appreciated around 14% and over a period of one year it gained more than 38%. If we compare the performance of Lilly with its competitors, it clearly stands out as the outperformer of the industry.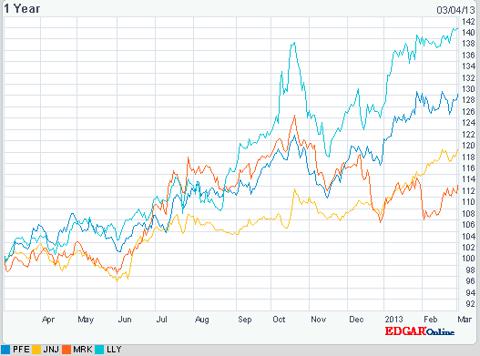 Source: www.nasdaq.com
With such a gain of momentum, there rises a concern of correction in the price and a question of probable time to exit. For the investors who entered at the beginning of the run, this might be a price level to come out, but for those who are late entrants, there is still a chance to gain. My views are based on the fact that the out-performance of the stock is not at all speculative and is supported by its fundamentals.
A strong Price to book value
Analyzing price to book value ratio (P/BV) of Eli Lilly with that of the health care industry and its competitors, I found that the current level of the company is very healthy and there apparently seems a space for 'P' value to go higher.
| | | | | | |
| --- | --- | --- | --- | --- | --- |
| Price to Book Value Ratio | Dec 30, 2012 | Dec 31, 2011 | Dec 31, 2010 | Dec 31, 2009 | Dec 31, 2008 |
| Industry, Health Care | 2.95 | 2.62 | 2.44 | 2.47 | 2.63 |
| Eli Lilly & Co. | 4.69 | 3.35 | 3.21 | 4.17 | 5.01 |
| Johnson and Johnson | 3.29 | 3.13 | 2.88 | 3.45 | 3.56 |
| Pfizer | 2.42 | 1.95 | 1.75 | 1.57 | 1.44 |
| Merck | 2.44 | 2.14 | 1.85 | 1.97 | 2.72 |
Eli Lilly was trading at a level of $54 at the start of FY'08. Then its P/BV value was around 5 (2 times the industry's value then). Currently its P/BV stands at around 4.7(1.6 times the industry's value).
Besides, for other financial ratios, Lilly's Price to earnings (P/E) is 15 and Price to sales is around 2.6. Both these figures are less than the industry's standard. This shows that the price of the company's stock has a potential to increase up to a level, at least, to the industry's standard.
Strong fundamentals of the company are a reflection of the operational and financials deliberation it has shown. After analyzing recent operational and financial progress made by the firm, I have come up with three reasons that show the P/BV of the company is totally justified. The stock is not overvalued and still has the potential to outperform the market.
Very Strong Clinical Development Pipeline
Fourth quarter revenue of Lilly declined 1 percent. This decline was driven by the patent expiration of its former No.1 product, the antipsychotic ZYPREXA. This fall could have been worse but was largely offset by growth of other products.
Eli Lilly currently has the richest mid-to-late stage pipeline in its history. This represents a variety of therapeutic areas including cancer, diabetes, neuroscience and autoimmunity. It has 26 molecules in development phase I, 23 molecules in development phase II and 13 molecules in development phase III.
Besides, there is 1 New Drug Application (NDA) which is filed with the U.S. Food and Drug Administration.
Recently, Lilly discontinued phase III Rheumatoid Arthritis program for Tabalumab, an anti-BATF (B-cell activating factor) monoclonal antibody, due to lack of efficacy. Yet, it has 12 more molecules under development in phase III. This shows that the innovation pool of the company is intact and very promising.
With extension of Patent on ALIMTA- lung cancer drug- till 2017 or beyond, Lilly has managed to maintain its sales target intact. It does not have to face the competition from generic products for next 4-5 years at least.
In terms of loss in sales owing to the patent expiry, Lilly's peers have witnessed substantially bigger losses than it has. Merck (NYSE: MRK) has faced major loss because of the expiration of Singulair, its top selling product, contributing 12 percent to the company's revenue. For Pfizer (NYSE:PFE), loss of exclusivity on Lipitor in the major markets like Australia, Japan and Brazil has come as a very big blow. Lipitor for Pfizer was the leading revenue contributor for a series of years.
A Constant Dividend paying stock along with the Growth character
Lilly's stock has been a constant dividend paying stock. In year 2012 dividend payout was $1.96 per share which is at the same level every year since 2009. Prior to that, the stock had been paying a healthy and constant dividend. The fact that dividend payment is not affected by the earnings and the volatility in the earnings makes this stock a safe investment option for risk-averse and fundamental investors also. They have already announced their 1Q'13 dividend in line with the expectations.
If we compare other major players of the industry, they might pay the dividend in the same ratio but either their stock is low in performance or the dividend payout is getting affected by the earnings in the concerned year.
Therefore, this constant dividend paying quality of the stock coupled with the growth characteristics it is showing makes it an industry outperformer.
Repurchase program and confident Earnings Guidance
The company is quite confident about their future projections. This confidence is getting reflected in the company's earning guidance and share repurchase plan.
Lilly announced a $1.5 billion share repurchase plan in 2013. Till now, in this financial year, they have completed around 20 percent of their plan. This shows the company's confidence in its operation. Investors can expect that the company will be able to execute its plan by the end of FY'13.
Earnings guidance is another parameter to gauge the confidence of a company in its operational outlook.
Lilly is witnessing a lot of patent expiration that has put its sales under the pressure. It lost the patent of Zyprexa and will lose the patent protection of antidepressant Cymbalta by December 2013. Yet, on the support of its strong pipeline, the company has come up with stable 2013 earnings guidance.
Recently, Lilly's 2013 earnings guidance increased by $0.07 per share on the back of the estimated benefit from the delayed enactment of the American Taxpayer Relief Act of 2012. It is now expected to be in the range of $4.10 to $4.25. This is a 14 percent increase over the earnings per share of 2012.
Under American Taxpayer Relief Act, taxation recommendations for lower income individuals got delayed. For individuals with taxable income of $400,000 per year or less, the tax rates for income, capital gains, and dividends remained at their 2012 levels. Recommendation was to revert to the higher rates from the expiration of the Bush tax cuts. Tax increase was being seen as a deterrent for the consumers' spending. This could have a negative effect on the overall economy, especially essential sectors like Pharmaceutical and Healthcare.
Final Take on Lilly
After doing the price movement analysis and validating our hypothesis with Lilly's fundamentals and operational strengths I believe that though it has outperformed the market, the stock is not overvalued. There clearly are signs for this stock to go up further. I will keep my bullish outlook on it.
Disclosure: I have no positions in any stocks mentioned, and no plans to initiate any positions within the next 72 hours. I wrote this article myself, and it expresses my own opinions. I am not receiving compensation for it (other than from Seeking Alpha). I have no business relationship with any company whose stock is mentioned in this article.