Global internet users have increased more than six-fold since 2000 but still only represent about 1/3 of the total world population. Internet users are expected to continue increasing rapidly; while it took twenty years for the first 2 billion people to connect to the Internet, the next 2 billion users will be coming online in only five years. The vast majority of this increased penetration will be in emerging markets where mobile internet is more practical than traditional internet due to much lower infrastructure costs.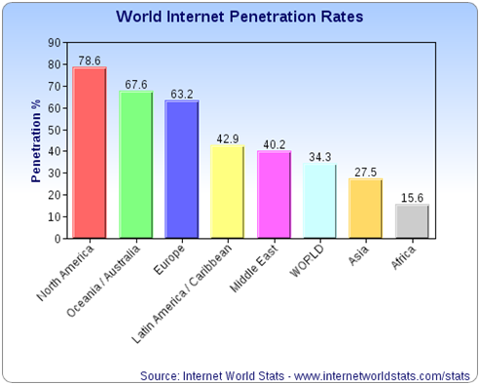 Nokia (NYSE:NOK) has stated that its goal is to "Connect the Next Billion" and I believe it is well positioned to take advantage of this rapidly growing mobile technology market. The company has sales in more than 150 countries spanning the globe but the success or failure of its phone business will be highly dependent on how well it does in the large growth markets of Africa and the BRIICs.
Africa
Just about 7% of Africans had smartphones in 2012, but within 5 years this is expected to grow to more than 40%. This will be possible due to the rapid economic growth currently taking place in sub-Saharan Africa, which contains 7 of the 10 fastest growing economies in the world.
Nokia is no stranger to the continent; in 2011, it had 12 of the top 15 devices in Africa and was responsible for 61% of mobile ad impressions. According to the economist, Nokia ranks with Coca-Cola as the continent's most recognized brands.
The BRIICs
The BRIICs (Brazil, Russia, India, Indonesia and China) contain 44% of the world's population and have a combined GDP of over 15 trillion dollars. The BRIIC nations are projected to account for 38% of all smartphone shipments in 2013 and BRIIC smartphone sales are expected to grow at a compound annual rate of 19% through 2016. These five nations should be a great barometer of the future of Nokia's phone business.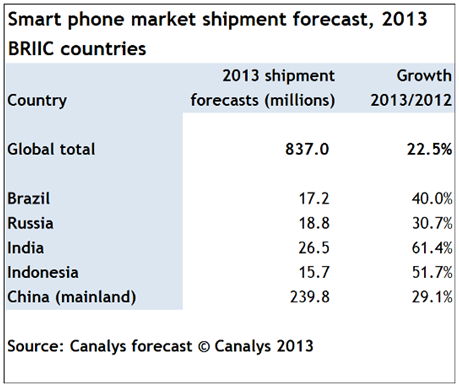 Brazil
3G penetration in Brazil is only around 20%, but smartphone sales are expected to grow about 130% between now and 2017 thanks to economic growth, declining prices and a number of government incentives for the production of smartphones in the country. This should bode well for Nokia. Brazil is its fifth largest market and the company has production facilities in the country ready to meet this growing demand.
Russia
Despite having by far the highest per capita GDP of the BRIICS, Russia's 3G penetration is still less than 10%. However, the smartphone market in Russia is projected to grow more than 20 percent a year through 2015. Russia has typically been a key market for Nokia and in spite of losing ground recently to Apple (NASDAQ:AAPL) and Samsung (OTC:SSNLF), Nokia devices still make up 23% of all mobile internet traffic in the country.
Indonesia
Boasting a population of more than 240 million people and Southeast Asia's largest mobile market, Indonesia should not be ignored. Smartphone sales grew 56% in the country last year and are expected to grow another 52% in 2013. Nokia's mobile market share in Indonesia was 21% last year and it should be able to compete more effectively in Southeast Asia after the opening of its 300 million dollar Vietnam factory. The new plant should open sometime this year and be capable of producing 45 million handsets annually.
India
Although India has over 900 million mobile subscribers, it has a 3G penetration rate of less than 4%. The number may actually be closer to 1% when you subtract out 3G provisioned users without 3G compatible phones. A major reason for this small number was the extraordinarily high cost of 3G data services relative to local incomes but this has recently changed. In an effort to induce growth, operators have recently slashed 3G subscription prices by almost 70%. This is good news for Nokia, as it has 23% share of the Indian mobile phone market and was recently voted India's most trusted brand for the second year in a row.
China
China currently has more than a billion mobile phone subscribers, but 3G penetration is still less than 20%. This number is rapidly growing and smartphone shipments in China are projected to reach 240 million units in 2013, twice that projected for the U.S.
Nokia was once a dominant player in China; as recently as 2011, it had 30% of the phone market but has since lost almost its entire share to both local and international competitors. It has only been a couple years since Nokia was the #1 consumer brand in China and the company should be able to regain market share with the right products and strategy.
The Right Stuff
Nokia may have the global manufacturing, distribution and brand name to take advantage of these opportunities but they must still make products people want and at the right price. I believe the current lineup of sub-$200 phones is capable of competing with any other phones on the market at their respective price points.
The cheapest phone of the lot, announced last week at the Mobile World Congress, is the Nokia 105, which costs only about $20. The phone has a dust and splash-proof keypad, FM tuner, flashlight and a battery capable of up to 35 days of standby time. Additionally, the phone comes with Nokia Life for customers in India, China, Indonesia, Nigeria and Kenya. Nokia Life is a SMS advice service with 100 million subscribers worldwide and is designed to address information gaps so that consumers in emerging societies can be better informed and improve their livelihood, with targeted services for healthcare, agriculture, education and entertainment. A $20 phone with this much value should have no problem selling in emerging markets across the globe.
Another phone announced last week was the $85 Nokia 301. Also sporting more than a month of standby time, it has 3.5G connectivity and comes with the Nokia Xpress Browser which compresses data by up to 90 percent, allowing users to save money on data plans. The phone seems to be geared toward the younger demographics, with bright color choices and Facebook and Twitter apps pre-loaded. The 3.2 mega-pixel camera with sequential shooting, voice guided self-portraits and a 100-degree panorama function is impressive for this price point. So is the Nokia Slam feature, which allows users to share media with devices nearby using Bluetooth.
Bridging the gap between feature phones and full on smartphones is the Asha series. Ranging in price from $75 to $150, this line has been incredibly successful since it was first launched in 2011 and it's not hard to see why. Nokia packs a ton of features into these phones and has tailored specific models to fit varying cultural needs. The Asha series contains both QWERTY and full touch models, runs Nokia's smooth S40 Java-based operating system and comes with the Nokia Xpress Browser to save data usage. With many dual SIM models, these are popular in markets like Africa, China and India where users frequently switch SIM cards to take advantage of different pricing plans when traveling or when making long distance calls. All Ashas also come pre-loaded with Nokia maps for the region which can be used offline to save data usage. Most models also have 3G connectivity and access to thousands of apps in the Nokia Store. These apps are designed to take up less space on the phone and require less data to download. Everything about the Asha series is designed to save the consumer money.
The final sub-$200 phone worth noting is the Lumia 520, it was unveiled last week at the Mobile World Conference and will cost around $180, unsubsidized before taxes. The phone sports Windows Phone 8, which I am a big fan of. The OS may not be for everyone but I find it fast, intuitive and enjoyable. WP8 definitely stands out from iOS, Android and the other lookalikes and I think it will gain significant share once more consumers are exposed to it. Back to the phone, the Lumia 520 has impressive specs for the price and many features that were borrowed from higher priced Lumias like a dual-core 1GHz Qualcomm Snapdragon S4 processor and a super sensitive touchscreen that can be used while wearing gloves or with fingernails. The 5 mega pixel camera can record 720P HD video and uses some of the same lens technology found in the celebrated Lumia 920 camera. This $180 phone packs quite a punch for the price and I expect it to be a huge success when it begins releasing around the world in late Q1 and early Q2.
Nokia also has a number of higher priced phones that are even more impressive but this article is focused on emerging markets where large carrier phone subsidies are less common and consumers are much more price sensitive.
Competition
In any market as large and fast growing as smartphones, there is bound to be intense competition and no analysis of Nokia's phone business would be complete without examining its competitors. At the high-end are the usual suspects: Apple, Samsung, Google/Motorola (NASDAQ:GOOG), BlackBerry (NASDAQ:BBRY), HTC, LG, Sony (NYSE:SNE) and many others. The high-end market is extremely competitive but I feel the WP8 OS, Nokia's signature design quality and industry leading camera technology allow the company to stand out.
Low and mid-range phones have become increasingly competitive as well, with a number of low cost Androids from Samsung and Chinese manufacturers flooding the market. At first glance, you wouldn't expect a European company to be able to compete on price with companies from China but you would be surprised. Nokia has mobile device factories across the globe in a number of low cost labor markets like Brazil, Mexico, India and China. Additionally, as mentioned earlier, the company will be opening a $300 million factory in Vietnam this year capable of producing 45 million handsets annually. This is part of a trend of manufacturers opening facilities in Southeast Asian nations to take advantage of even lower labor costs than China and greater access to those local markets. After the phones are made, they still have to make it to markets around the world and this is something Nokia does well; it was the world's largest vendor of mobile phones from 1998 to 2012 and still has a very large and efficient distribution system.
More Than Just A Phone Manufacturer
The focus of this article was Nokia's emerging market opportunities in mobile devices and I think that those alone justify the current enterprise value of less than $8 billion but the company is much more than just phones:
Nokia Siemens Networks - This 50/50 joint venture with Siemens AG is the second largest supplier of 4G LTE infrastructure and currently 45% of all LTE subscribers across the world use a network where NSN has been one of the suppliers. NSN has performed very well recently and some analysts think it could be worth more than $13 billion by itself.
HERE Mapping and Location Services - The mapping division is the result of the 2007 acquisition of Navteq for $8.1 billion as well as subsequent smaller acquisitions. HERE powers Microsoft's Bing Maps, Facebook's Places Maps, Yahoo! Maps, Amazon Maps, Russian search giant Yandex's Maps and after recent deals with auto manufacturers like Toyota, HERE now provides maps in 4 out of 5 new cars with in-dash navigation. The division has also expanded into the world of augmented reality with the release of City Lens and it appears they have even more exciting and ambitious plans for the future of location-based services.
Patents - Nokia's patents might just be the most valuable asset of all. The company has spent over $60 billion on research and development in the last 10 years and has built one of the wireless industry's strongest and broadest intellectual property rights portfolios, with approximately 10,000 patent families. The company has recently won patent infringement disputes with Apple and BlackBerry that resulted in about $650 million in initial payments plus ongoing royalties. Nokia's U.S. patents have an average remaining term of about 13 years and it has continued to defend them, with suits currently underway against HTC and others. (For more information on the patents I highly recommend reading brnichols's article Nokia Patent Portfolio An Untapped Goldmine)
I think it's time to put the "Nokia is going bankrupt" rhetoric to rest. If it weren't for restructuring charges of nearly $2 billion in cash, the company would've easily been cash flow positive in 2012. If you add back the $1 billion dividend as well, then Nokia's net cash balance would've actually increased nearly $1.4 billion last year. The restructuring is of course necessary; Nokia is emerging much leaner, more efficient and highly focused which should bode well for the bottom line going forward.
Overall I think Nokia is in a great position to capture a large share of the incredibly large and rapidly growing mobile technology market. They have created a lineup of phones that can compete with anyone in their respective price ranges and appear to have some very exciting products in the pipeline. I think the phone business alone is worth the current stock price but the price looks almost too good to be true once you throw in NSN, HERE and the patents. There are of course a number of risks that could change this view but right now the potential reward for taking this risk is too compelling for me to pass up.
Disclosure: I am long NOK. I wrote this article myself, and it expresses my own opinions. I am not receiving compensation for it (other than from Seeking Alpha). I have no business relationship with any company whose stock is mentioned in this article.