This article focuses on New Mountain Finance (NYSE:NMFC) and compares it to the 14 BDCs covered in previous articles including:
Updates
SLRC has dropped over 6% the last two weeks so I adjusted the valuation category higher (more favorable) and now consider it one of "The Good" BDCs.
Business Development Companies (BDCs) lend to small and mid-sized businesses, with limited financial leverage, paying out most of their income to investors and paying little to no corporate tax.
These are the five general criteria I use to evaluate BDCs:
Profitability (EPS to cover dividends, growth)
Risk (diversification, volatility, leverage)
Payout (sustainable, consistent, growing)
Analyst Opinions
Valuation (P/E, PEG, NAV)
For more information about BDCs, how I evaluate them, and my BDC investment philosophy, please see this article.
Below is an oversimplified table evaluating the companies I have reviewed among a universe of 30 BDCs giving them a relative score between 0 and 10 (10 being the best). In reality I use different weightings for each criterion. In future articles I will add the new companies to this table as well as update info.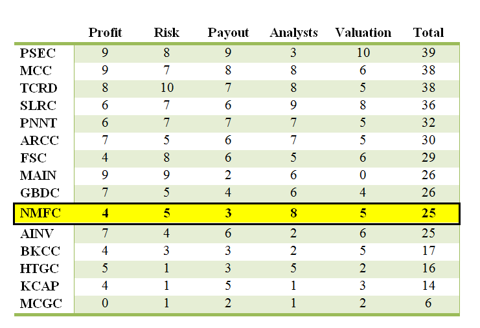 New Mountain Finance
Market Cap: $565 million
Div Yield: 8.9%
Div/EPS: 106%
Div/Proj. EPS: 100%
P/E: 11.9
Price/NAV: 1.09
Debt/Equity: 0.65
Recent Developments
December 7 - completed a public offering of 3,250,000 shares of its common stock at a public offering price of $14.80 per share. In connection with the offering, the underwriters purchased an additional 320,063 shares with the exercise of the over-allotment option to purchase up to an additional 487,500 shares of common stock.
December 18 - increased the maximum revolving borrowings under the $185 million Holdings Credit Facility by $25 million for a new maximum borrowing amount of $210 million. Also increased the maximum revolving borrowings under the $200 million SLF Credit Facility by $15 million for a new maximum borrowing amount of $215 million.
December 27 - declared a special dividend of $0.14 per share.
Profit
For 2012 NMFC is projected to have EPS of $1.34, a 7% growth over 2011, but not enough to cover dividends paid of $1.71 (including special dividends). The debt to equity of 0.65 is higher than average, giving NMFC less liquidity potential for portfolio growth without share dilution. Analysts are projecting little to no annual growth in EPS over the next two years.
Risk
NMFC's portfolio had a fair value of approximately $859 million in 58 portfolio companies with a less than average industry diversification due to its focus on technology and healthcare (see chart below).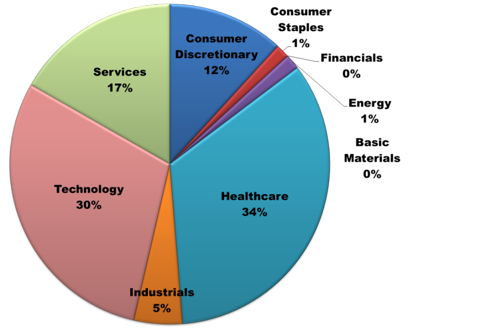 The asset class mix of the portfolio is 60% first lien, 36% second lien, 3% subordinated debt, and 1% equity and other. As of September 2012 the first lien position in ATI Acquisition Company remained on non-accrual status due to the inability to service its interest payment and uncertainty about its ability to pay such amounts in the future.
Institutional ownership of the stock is almost 68%, and insiders and management own over 10% (see chart below). Both of which should be a good indication.

Payout
The current dividend yield is 8.9%, which is average for the group but does not include special dividends. NMFC is projected to cover quarterly dividends with net investment income but with little potential for growth until EPS can support.
Analysts
Most analysts are bullish and have a target price of around $15.
Valuation
The stock is currently trading 9% over NAV and a P/E of 11.9, which is close to the group average.
Summary
NMFC will report financial results later this week and I will be looking for growth in net investment income after deploying the capital from recent stock offerings, as well as leverage ratios and NAV. With an average dividend yield and low expected growth rates I would consider NMFC a "Maybe" BDC along with ARCC, FSC, GBDC and AINV.
Disclosure: I am long MCC, MAIN, ARCC, SLRC, PSEC, PNNT, TCRD. I wrote this article myself, and it expresses my own opinions. I am not receiving compensation for it (other than from Seeking Alpha). I have no business relationship with any company whose stock is mentioned in this article.