Although the tobacco industry is somewhat controversial, it is a cash flow generating machine, and fortunately for investors, these companies reward shareholders with sizable dividends. The question is; what's the best tobacco play in the industry. Well for starters, all the major tobacco companies pay a dividend that yields at least 3.5%, but there are some distinct differences among the industry leaders. Let's see which dividend paying tobacco company is the best. Of the five tobacco companies listed below, I like two, one a U.S. operator, and the other a global tobacco company.
Altria Group Inc (MO) pays a 5.2% dividend yield and recently reported quarterly results that showed earnings up 32% year over year. One of the beauties of Altria's 5.2% dividend yield, although it is the lowest among the major U.S. operators, is that it only represents an 82% payout of earnings, which is very nice when stacked up against its peers.
Altria's top brand includes Marlboro, but part of its continued strength and anchor to its future growth is its smokeless segment, where the smokeless business line saw volumes up 10% last quarter on a year over year basis. Two of Altria's strongest smokeless brands include Copenhagen and Skoal, with other initiatives including collaboration with Okono to develop non-combustible nicotine-containing products, and Verve Dics, a mint-flavored, chewable tobacco containing tobacco-derived nicotine. Taking a deeper look at Altria's smokeable segment, we find other notable brands beyond its stable cigarettes. This includes its Black & Mild brand, which has a leader in the space.
Altria is the top U.S. market share leader…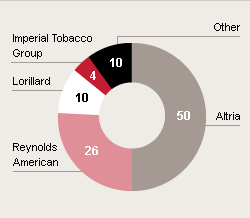 Source: IBISWorld
Altria also has the leading EBITDA margin amongst its peers, which is a big deal in the price competitive industry that is the tobacco.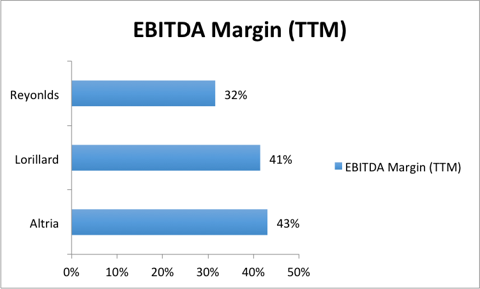 Reynolds American, Inc. (RAI) pays a 5.4% dividend yield, but has a 104% payout ratio. The company does hold the second position in U.S. market share, but recent quarterly results show a weakening in the company's performance. Earnings were up only 5% for the quarter, year over year, but its premium brands, Pall Mall and Camel, showed weak volume. Cigarette shipments for the quarter dropped 2.7%, worse than the expected 0.9% decline.
Lorillard Inc. (LO) pays a 5.7% dividend yield, the largest among major U.S. tobacco companies, but this dividend is an even greater payout on earnings than Reynolds at 220%. The other downside to Lorillard is its 60% debt ratio, compared to Altria's 39%.
This tobacco company's leading brand is Newport, but the company is also trying to better adapt to changing consumer preferences with investments in tobacco alternatives, including the acquisition of blu eCigs. However, the speculation of a potential FDA ban of menthol would have a large impact on the company's leading cigarette brand, Newport. Concerning hedge fund activity, billionaire Louis Bacon (Moore Global) and Bill Miller (Legg Mason) sold off their entire stakes of this tobacco company during 4Q (see all the activity).
While Altria is my U.S. tobacco play, I believe that British American Tobacco PLC (NYSEMKT:BTI) beats out other major international tobacco company Philip Morris with a 3.9% dividend yield. From a valuation standpoint, British Tobacco is near the high end of the industry, but I feel this premium is warranted, given its solid dividend and leading 5-year expected earnings growth. What's more is that the company has plans to potentially offer an alternative nicotine product in the U.K. in 2014. BTI is Europe's largest cigarette maker and producer of key brand Lucky Strikes; this new "tobacco inhalation device", which is not an electronic cigarette, is a key step to securing its role as an international leader in the tobacco alternatives.
Philip Morris International Inc. (PM) pays a 3.7% dividend yield and has a solid dividend payout at 63%. However, unlike British's inhalation device progress, it appears that Philip Morris has not taken up any key expansion or strategic initiatives projects for some time. What's more, its last acquisition was as far back as mid-2011.
My other big hesitation with Philip is that it remains expensive on a price to sales basis, currently trading at 4.9x sales, compared to British Tobacco (4.2x) and the average of the three U.S. operators from above (3.3x). What's more is that the balance sheet on Philip is a bit weaker; the company has a debt ratio of 60%, compared to British's 39%, and a debt to capital of 100%, versus British's 57%.
British is also turning over over its inventory quicker and collecting cash from customers much faster when compared to Philip Morris:
Receivables Turnover
British Tobacco 11.5x
Philip Morris 8.8x
Inventory Turnover
British Tobacco 5.8x
Philip Morris 1.1x
In the end. The tobacco industry appears to be somewhat saturated, but what these companies have mastered is generating solid cash flow. I believe that Altria and British Tobacco are 2 of the best companies in the industry, both paying well-covered dividends that yield 5.2% and 3.9%, respectively.
I see Altria's leading market share and leading profitability as a "double whammy". Notable tobacco company investor David Winters has Altria as his top tobacco company investment, taking up the third spot in his portfolio at the end of 2012; this is above his Philip Morris and Reynolds stakes (see all of Winters' stocks).
Meanwhile, British Tobacco's solid position in the less scrutinized overseas markets, related to tobacco concerns, makes the company a solid growth and dividend play, with a robust expected 5-year earnings growth rate of 10% annually (according to Wall Street) (read more about British helping you retire rich).
Disclosure: I have no positions in any stocks mentioned, and no plans to initiate any positions within the next 72 hours. I wrote this article myself, and it expresses my own opinions. I am not receiving compensation for it (other than from Seeking Alpha). I have no business relationship with any company whose stock is mentioned in this article.