Oh, The Humanity!
Since its last earnings report, nothing seems to be going in the right direction for Apple (NASDAQ:AAPL) bulls. Nobody knows this better than this author who penned a couple of articles in the last few months about why I was bullish Apple. I made an argument for its massive cash vault to come unlocked, and incorrectly predicted that February catalysts would be the start of a new rally for Apple stock.
Apple has had a couple of run-ups here and there, but in the grand scheme of things, it's been heading downward quickly, losing almost 40% off of its all-time high. The Einhorn saga has since taken place, and the patent dispute with Samsung (OTC:SSNLF) continues to lurk in the background.
The stock's RSI hasn't been over 50 since early January and it hit the technical "death cross" in early December 2012. It's been a tough couple of months:
Apple's Secret Weapon
How do I defend staying long on a stock that's performing as such? Well, aside from the demonstrable evidence that the company's fundamentals are safe and sound (regardless of whether Cook decides to spread the love with the cash on hand), it's come to light over the past few days that Apple has been working on a new product, the iWatch. Bloomberg was one of the first to report on the coming iWatch:
Apple has a team of about 100 product designers working on a wristwatch-like device that may perform some of the tasks now handled by the iPhone and iPad, people familiar with the company's plans said last month.

Features under consideration include letting users make calls, see the identity of incoming callers and check map coordinates, said one of the people, who asked not to be identified because the plans aren't public. It would also house a pedometer for counting steps and sensors for monitoring health-related data, such as heart rates, this person said.

Apple seeks to introduce the device as soon as this year, this person said. Apple has filed at least 79 patent applications that include the word "wrist," including one for a device with a flexible screen, powered by kinetic energy.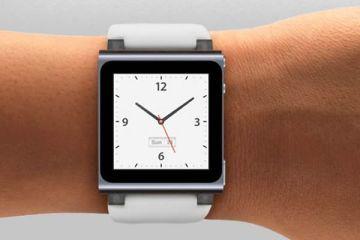 It's been said that Jonathan Ive, who has been the brain child behind the designs of many of Apple's products, including the MacBook Pro, iMac, MacBook Air, iPod, iPod Touch, iPhone, iPad and iPad Mini. Amongst Apple design aficionados, he's God.
Here's why Apple's upcoming watch could be the shot in the arm that the company needs; and could bring the stock rocketing through all-time highs:
A New Sector Means Untouched Revenue Opportunities
This is absolutely massive. The iPhone was one of the biggest successes in the company's history. It generates roughly half of the company's current revenue.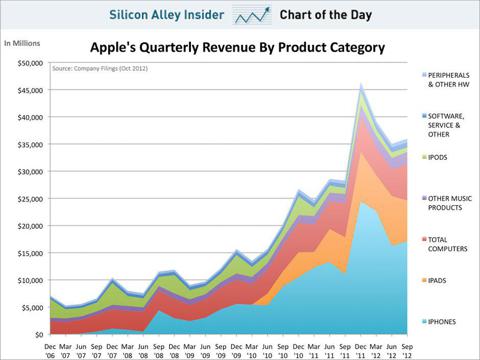 Apple has a knack for tapping into new markets. It did it first when it started into the mp3 business and they carried that over and morphed it into the iPhone. From there, it was the tablets. Every single new product it makes is sexier to look at than what's currently out there and offers superlative new function. Apple only seems to enter into a market if it can be the best. There hasn't been anything that has made major media in the world of wristwatches for as long as I can remember. Like a leopard stalking its prey, this could be the best possible time for Apple to enter into this market.
Time magazine said it best:
Apple normally doesn't invent a new product or product category. Sure, the company did invent the first commercial PC with the Apple II, and the Mac improved on PCs with a graphical user interface and mouse input. But since then, all of Apple's other products have been recreations of existing products. Apple did not invent the MP3 player; Apple reinvented it and made it better. Apple did not invent the smartphone; Apple reinvented it and made it better. And Apple did not invent the tablet; Apple reinvented it and made it better.

As Apple designer Jonathan Ive said recently, "Our goals are very simple - to design and make better products. If we can't make something that is better, we won't do it." Clearly, Apple applied that thinking first to iPods, then smartphones and more recently, to the iPad.
With the watch, Apple will have a chance to potentially merge several products: the iPhone, the iPod nano, and all of its Nike (NYSE:NKE) branded workout gear that uses your iPhone and other devices to track workouts. Something wrapped around your wrist could be a great indicator of things like running times, steps taken and heart rate, right?
Also important to note is that Apple's products don't really cannibalize each other. iPad owners often own Macs and iPhones as well. Apple will do well to engineer this watch as a complement to the Apple products you already own, not to replace them. This should be easy due to the limited amount of space that it has to work with.
Margins are Much Higher Than For TV's
It's been the argument for the last few years now: what is going to be the next market that Apple tries to tap into? Speculation has run rampant including everything from TVs to video game consoles. With TV being the clear running favorite, I wanted to try and identify from a profit margin standpoint what the best decision could be for Apple. The watch industry, although bringing in less in revenue, has margins almost four times that of the TV industry. Not only that, watches occupy less inventory space, are easier to ship, and are generally a smaller and easier product to carry.
Bloomberg comments:
The global watch industry will generate more than $60 billion in sales in 2013, said Citigroup Inc. analyst Oliver Chen. While that's smaller than the pool of revenue that comes from TVs, gross margins on watches are about 60 percent, he said. That's four times bigger than for televisions, according to Anand Srinivasan, a Bloomberg Industries analyst.

"This can be a $6 billion opportunity for Apple, with plenty of opportunity for upside if they create something totally new like they did with the iPod -- something consumers didn't even know they needed," said Chen, who covers luxury- goods retailers.

The TV industry will generate $119 billion in sales this year, according to market-research firm IHS Electronics & Media. Using Chen's margin estimates, a 10 percent share for Apple in each market would mean gross profit of $3.6 billion for watches, outstripping $1.79 billion for TVs.
In terms of a release date, it's up in the air right now. One thing is for sure, it's coming. Tim Cook said:
"The only thing we'll never do is make a crappy product," he said at the Goldman Sachs Technology conference last month. "That's the only religion that we have. We must do something bold, something ambitious, something great for the customers, and we sweat all of the details."
Dave Rosenberg from Bloomberg tries to take a paltry stab at a bearish argument:
While tech industry media and analysts salivate at the prospect of an Apple iWatch, in the company's backyard I'm seeing many of my high-tech friends decide that an analog mechanical watch is their must-have luxury. They appreciate putting the smartphone away for a minute. They are celebrating the trusty old-school timepiece, filled with tiny interlocking components, as an engineering marvel.

Luxury goods, especially watches, have weathered the economic downturn and are part of a subtle push out here toward "quality crafted" tools, clothing, and accessories. Silicon Valley may have helped make the watch functionally obsolete, but it hasn't managed to eradicate appreciation for the mechanical, the analog. While the general population looks forward to the latest in futuristic status symbols, tech's futurists are going retro.
What he fails to point out, though, is that the same people that belong to the "retro" crowd are the same people that makeup the smartphone generation. If Apple makes it, they will come, whether it's a watch, phone, TV or laptop.
What This Means For Investors
At the risk of violently beating a dead horse, I remain extremely bullish on Apple and the coming iWatch from Apple could be the solution for Apple longs.
Due to the watch coming as a somewhat surprise (it was first reported in December 2012), it could catch analysts and institutions off guard in terms of estimates for revenue and how it'll hit the bottom line. Apple is once again lining itself up for an opportunity to flatten and demolish expectations for earnings in the coming future; something it used to be experts in.
Folks, the bottom line is simple: you have the most fundamentally sound company in the history of the world trading about 40% off of its all time highs in the midst of an extremely bullish market. We now have almost definitive proof that Apple is going to be tapping into an untouched revenue source. The biggest company in the world is about to get even bigger, and this investor remains extremely bullish on Apple. As always, best of luck to all investors.
Disclosure: I have no positions in any stocks mentioned, and no plans to initiate any positions within the next 72 hours. I wrote this article myself, and it expresses my own opinions. I am not receiving compensation for it (other than from Seeking Alpha). I have no business relationship with any company whose stock is mentioned in this article.