HP (NYSE:HPQ) priced at $20 this week making good on my prediction. So where do we go from here? To $25, of course.
The reasoning:
1. HP might just find David and Bill's garage again and do some real fine innovative work again. Look at HP's recent commitment to R&D, something that was lacking for years. HP spent $3.4 billion on its research budget in 2012, higher than in the prior three years. It is moving a much higher percentage of its operating cash flow over to R&D. The investment is nice to see after years of R&D neglect.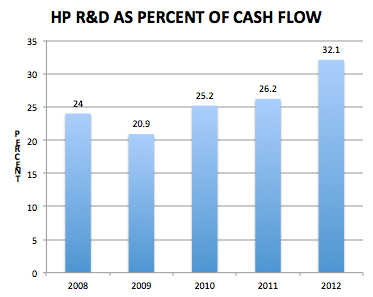 (My data sourced from Qs and Ks.)
2. No more multibillion dollar "white elephants" like Autonomy and EDS. Good to her word, Meg Whitman has really sworn off HP's old shopaholic ways and stopped the overpriced M&A. Kudos to her. Again, the proof: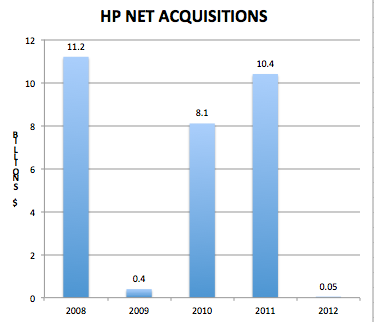 (Sourced from Qs and Ks.)
3. It's still cheap. Price to sales is a very modest 0.33. EV:FCF is a low 8.64. Both metrics are well-under its 5 year average. HP throws off a ton of cash. Free cash flow was $6.9 billion - remarkably high for a company with a market cap of only $40 billion.
HP has its mojo back again. My new price target: $25.
Disclosure: I have no positions in any stocks mentioned, and no plans to initiate any positions within the next 72 hours. I wrote this article myself, and it expresses my own opinions. I am not receiving compensation for it (other than from Seeking Alpha). I have no business relationship with any company whose stock is mentioned in this article.
Additional disclosure: The opinions in this document are for informational and educational purposes only and should not be construed as a recommendation to buy or sell the stocks mentioned. Past performance of the companies discussed may not continue and the companies may not achieve the earnings growth as predicted. The information in this document is believed to be accurate, but under no circumstances should a person act upon the information contained within. We do not recommend that anyone act upon any investment information without first consulting an investment advisor as to the suitability of such investments for his specific situation.