The Genesis of a Value Investor
Sardar Biglari burst onto the investment scene in 2008 with his successful proxy fight for The Steak n Shake Company. While only 35 years old, he has assembled an outstanding investment record over the past sixteen years that is largely unknown and unappreciated. Often portrayed as arrogant, egotistical and self-absorbed by his critics, he is mostly misunderstood by the investment community. Biglari Holdings, Inc (NYSE:BH-OLD): Sardar Biglari - Bet The Jockey is a series of eight articles to investigate Biglari's investment results since inception, the strategies he has used to achieve these results, analyze his concentrated investment decisions and the likelihood that he can achieve outlier status and outperform the market over the long term.
Here's to the crazy ones. The misfits. The rebels. The troublemakers. The round pegs in the square holes. The ones who see things differently. They're not fond of rules. And they have no respect for the status quo. You can quote them, disagree with them, glorify or vilify them. About the only thing you can't do is ignore them. Because they change things. While some may see them as the crazy ones, we see genius. Because the people who are crazy enough to think they can change the world, are the ones who do. - Apple Inc. "Think Different" commercial
Apple's "Think Different" campaign marked the return of Steve Jobs and the beginning of the company's re-emergence as a technical giant. The thirty-second commercial featured such iconic 20th century personalities as Albert Einstein, Bob Dylan, Martin Luther King, John Lennon, Ted Turner, Muhammad Ali, Frank Lloyd Wright and Pablo Picasso. These were creative people who had taken risks, defied failure and bet their career on doing things in a different way.
The world's greatest investors "Think Different" as well. They view the world differently from you and me. They see future potential where we see trouble. They are market contrarians comfortable challenging conventional wisdom. They are smart, independent thinkers, confident in their decisions and comfortable with concentrated positions. We admire their personal qualities and long-term investment performance because we realize they are an extremely rare breed.
Given the explosion in cable business news channels and Internet sites, the media is quick to confer "the next Warren Buffett" status on the hot fund manger that has posted impressive short-term results. While these managers rarely live up to the hype over the long run, an individual will occasionally come along that is worthy of further due diligence and consideration. One such individual is Sardar Biglari, President and Chief Executive Officer at Biglari Holdings, Inc.
Sardar Biglari
Sardar Biglari was born in Tehran, Iran, eighteen months before the overthrow of the Shah. His father was a military officer and his mother was a friend of the royal family. After the Revolution, his father was imprisoned and both Sardar and his mother were put under house arrest. Five-years later, in 1984, the family gained asylum in the United States and settled in San Antonio, Texas. The move was a big adjustment for Biglari who was just seven years old.
Starting at the age of thirteen, Biglari worked at his parents' Oriental rug store. In 1996, at age 18, Biglari and a school friend started INTX.Networking LLC. Refusing to accept any help from his parents, he raised $15,000 in start up capital and relied on bartering connectivity services for vitally needed services, such as signage, advertising and business cards. The company quickly grew to be the tenth largest Internet service provider in San Antonio with more than 1,000 subscribers. In August 1999 at the height of the Internet bubble, Biglari sold the company to Internet America, Inc. In the process, Biglari learned one of his first lessons of investing: it's always good to sell to over-optimistic buyers. At the age of twenty-two, several media reports at the time suggested Biglari was now a millionaire.
While a fair amount of folklore has developed around Biglari and the comparison to a young Warren Buffett, actual terms of the cash deal were not disclosed. Millionaire status at this point in his career would be a stretch. According to industry analysts, Internet service providers at the time were selling for two to three times revenue. INTX offered standard Internet access for about $20 per month. Given the company's prospective revenues, a buyout price north of $1 million does not seem realistic.
Biglari first discovered investing after reading the book "The Warren Buffet Way" by Robert Hagstrom while attending college at Trinity University in San Antonio. The book provided an in-depth introduction to value investing and the innovative investment and business strategies behind the spectacular success of Warren Buffett. Buffett's logic, financial principles and common sense investment approach immediately appealed to him. Biglari read, studied and researched extensively, and became friends with Philip Cooley, a like-minded finance professor and head of the student-managed investment fund at Trinity. Using the proceeds from the sale of INTX.Networking, Biglari launched The Lion Fund in 2000 as a private investment partnership. A year later, on the back of excellent results, he began raising capital from outside investors. Phil Cooley would later accept Biglari's invitation to join the Board of Directors of the new investment management firm.
The Lion Fund, LLC
From the outset, The Lion Fund's stated objective was to exceed the returns generated by the stock market over the long term. As Biglari explained in his annual letter to investors, "Our partners have the option of buying the S&P through an index fund at low cost, a move that in the long run is sure to beat the results obtained by the majority of money managers. Thus, unless we outshine the index . . . we bring nothing to the table."
The Lion Fund investments fell into three broad categories: generals, specials, and controls. Generals were passive stakes in undervalued companies with "sustainable competitive advantages under able and honest management." Specials were arbitrage or other unconventional investments (such as risk arbitrage arising from an announced corporate transaction) and were generally uncorrelated with the stock market; thus, they could "provide an edge over the S&P during periods of decline." Finally, controls were investments large enough to make the fund a dominant shareholder and give it the power to influence corporate policies, and thus, take advantage of valuation gaps between market price and intrinsic value. Biglari wrote, "We prefer to make our views known privately rather than publicly. Thus, we seek to be active with a company without being activists." Because of its philosophy to concentrate in a limited number of stocks, The Lion Fund invested in only a few control opportunities on the basis of value. Given the size of The Lion Fund, control situations were deliberately limited to small or perhaps mid-sized companies. (Biglari rarely provided information on the fund's specific holdings; however, at times its ownership stake became large enough to require SEC filings).
While complete investment results for The Lion Fund are not available, performance can be pieced together through a combination of public sources. On April 4, 2004, the San Antonio Business Journal reported that a review of the 2003 Lion Fund annual report showed that the fund had achieved a 17.9 percent average annual return since inception in 2000 through 2003. This compared to an average annual return for the S & P 500 of minus 5.3 percent for the same period. Harvard professors Fabrizio Ferri, V.G. Narayanan and James Weber had the opportunity to review The Lion Fund investment results through early 2007 in preparation for their Harvard Business School case study on the Friendly Ice Cream Corporation. They reported that, "From the time of its founding in 2000 through early 2007, the Lion Fund succeeded in reaching its performance objective. Its average annual returns exceeded 20%, while the S & P 500 ran close to a 1% average return over the same period." A $1,000,000 investment in The Lion Fund at inception would have grown to $3,284,500 by 2007, assuming a 20% annual return, compared to $1,066,800 if he had invested in an S&P 500 index fund over the same period.
Biglari's First Control Investment - Western Sizzlin Corporation
At first Biglari focused on equity investments as a passive investor. That changed when he set his sights on Western Sizzlin. On August 2, 2005, The Lion Fund, LLC filed an initial statement of ownership with the SEC disclosing that it had acquired 11.36% of Western Sizzlin Corporation, a publicly traded restaurant chain.
Western Sizzlin was founded in Augusta, Georgia, in 1962 by Nick Pacarella. According to company lore, he was traveling around the country in search of cheap land on which to build a steakhouse, and he stopped in Augusta because of a flat tire. It was the tire store employees who convinced him to locate his restaurant in Augusta. Pacarella's goal was to serve quality steaks in a casual atmosphere at value prices. By searing the bottom of the steak and adding flames and special seasonings on the top to lock in the flavor, Western Sizzlin's signature FlameKist® steaks gained a loyal following and the restaurant was a quick success.
In 1966 Pacarella responded to numerous requests and began selling franchises nationally. Over the next twenty years, the restaurant operation grew to become the second-largest steakhouse chain in the country with 600 units generating over $500 million in annual revenues. Western Sizzlin was a successful chain until Pascarella's death in March 1988 with Restaurants & Institutions magazine naming it the top steakhouse chain in America in 1984, 1985 and 1987. Near the end of Pascarella's reign, however, same-store and system-wide sales grew stagnant and a number of units closed. In addition, the chain lagged well behind the competition in sales per unit. While Ryan's Family Steak House averaged $2.3 million per restaurant, Sizzler $1.5 million and Bonanza $1 million, Western Sizzlin generated just $800,000. Moreover a large number of stores were doing less than $500,000 in annual sales.
Following Pascarella's death, his wife Nora and son Edward chose to sell the company to an investment group headed by Pizza Hut co-founder, Frank Carney, who prevailed with a bid of $95 million in a leveraged buyout. Back in 1958, Carney and his brother Dan had scraped together $3,000 to launch the Pizza Hut chain in Kansas City, converting a bar located next to their father's grocery store. They built Pizza Hut into a 4,000 unit chain before selling it to Pepsico in 1977. Carney expressed high hopes for Western Sizzlin, which he planned to grow to 1,000 units and increase the per-unit sales volume to $1.1 million over the next five years.
Carney and his management team enjoyed some initial success, boosting per-store sales volume above $900,000, but instead of growing to 1,000 units within five years, the Western Sizzlin chain shrank to 350 within four years. Stiff competition in the segment from such chains as Ryan's Family Steak House and Golden Corral curtailed the company's growth, forcing many franchisees to change concepts or simply close their doors. Given the shortfall in projected earnings, Carney's purchase price proved to be too high and the company was forced to file bankruptcy in November 1992.
In October 1993, a group of 28 franchisees bought the chain, now reduced to 320 units for $10 million. The chain continued to decrease in size and by 1999 it consisted of 21 company-owned units and 230 franchised units. In March 1999, the company went public in a reverse merger with Austins Steaks & Saloon, Inc. By 2005 Western Sizzlin Corporation operated five company owned restaurants, with another 123 units held by franchisees. Restaurants were located in 19 states, primarily in the southeastern region of the United States.
Biglari felt that the stock price of Western Sizzlin did not reflect the true value of the franchise and that by acquiring a controlling interest; he would be able to impact the performance of the company. Many of the stockholders from the original franchisee ownership group had grown tired and wanted out. Biglari arranged to buy up large stakes in the company from eager sellers. On November 10, 2005, the fund disclosed that it had increased its holdings to 15.9%. Biglari requested and obtained two seats on the Board of Directors. He continued to acquire Western Sizzlin stock through out 2006. In March 2006, he was appointed Chairman of the Board while Phil Cooley was appointed Vice Chairman. At the time of his appointment, Biglari was just 28 years old.
Several additional shareholder groups were supportive of Biglari's efforts, which gave him effective control of the company. He moved to restructure the Board by pushing seven existing directors to resign and replaced them with five new directors. By December 2006, Biglari's ownership stake totaled 34.3% of the company, representing an average cost per share of $8.30.
Biglari's Buy Analysis
Biglari realized that Western Sizzlin represented a faded brand in an intensely competitive industry. Recent financial results were negatively impacted by poor management decisions, a conflicted Board of Directors made up of franchisees, mounting litigation costs related to closed restaurants and a long, steady decline in the franchisee base. Biglari's SEC initial statement of ownership filing indicated that he first started acquiring Western Sizzlin shares at a split adjust price of $8.50, yielding a market capitalization of $10,105,285. Net debt totaled $161,981 at June 30, 2005, indicating a total enterprise value for the company of $10,267,266.
While reported profits were nominal, Biglari noted that the company had been able to reduce leverage and improve liquidity over the two previous years. Biglari paid little attention to accounting earnings, but rather focused on adjusted free cash flow or what he called "economic earnings". Using this calculation, he would add back the amortization charge on royalty contracts and depreciation expense and subtract capital expenditures necessary to maintain operations.

Biglari noted that the bulk of depreciation and amortization expense represented amortization of franchise royalty contracts ($728,702, $701,560 and $682,460, for the years 2002, 2003 and 2004, respectively) requiring no further investment to maintain. In addition, while the company had under-spent depreciation in recent years, Biglari projected minimal capital expenditures going forward ($40,000/yr) given the de-emphasis on company owned restaurants and focus on the franchising business. Based upon Biglari's analysis, Western Sizzlin's total adjusted free cash flows significantly exceeded accounting earnings that appeared on the income statement and the company was selling at just 6.0x total free cash flow ($10,267,266/$1,714,000).
In his 2006 letter to Western Sizzlin shareholders, Biglari pointed out that, "The restaurant business is not an easy one to operate, actually it's brutal. It necessitates superior entrepreneurial talent that must fight unremittingly day in and day out and sometimes all day long to attract customers" In this environment he said CEO's often succumb to the siren song of growth and blindly reinvest capital in new restaurants with the prospect of low returns simply to expand the empire. Biglari explained that he would take a different path. Accounting earnings were not important but rather his sole focus would be on the generation of free cash flow through improved earnings and the judicious reinvestment of capital. He understood that while franchisee revenues were declining, they provided a meaningful source of steady free cash flow. In taking control of Western Sizzlin, his plan was to arrest the decline in the franchisee base and grow franchise revenues, cut costs and reduce capital expenditures to maintenance levels.
In January 2007, the company was reorganized into a holding company structure whereby all operations were conducted through wholly-owned subsidiaries. Financial and capital allocation decisions were centralized at the holding company level while management of the operating businesses was decentralized at the business unit level. Western's most important business activity was the restaurant operations. Biglari felt that any incremental capital that could not be redeployed into the core business at high risk-adjusted rates would be channeled back to the parent for reallocation to other unrelated businesses or investments.
Final Analysis
Biglari's concentrated position in Western Sizzlin proved to be a classic value investment with the company trading at a low multiple of adjusted free cash flow while providing a reasonable margin of safety. More importantly, Western Sizzlin provided Biglari with a platform to tap the capital markets and served as a springboard to undertake future acquisitions. Acting as his own investment banker, Biglari raised $4.2 million and $7.6 million through rights offerings in 2006 and 2007. By cutting out the middleman, Biglari was able to keep his issuance costs at 1.9% versus the typical 5%-6% investment bank fees.
Western was subsequently acquired on March 30, 2010 by Steak n Shake for $13.67 per share, or $38.8 million, as Biglari worked to consolidate his various personal interests. Under terms of the deal, Western's stock ownership in Steak n Shake was transferred directly to Western Sizzlin stockholders via a special dividend ($15.8 million). Steak n Shake issued bonds paying 14% to Western shareholders for the balance of the purchase price ($23 million). Biglari realized a 101% return on his investment for his 3½ year holding period.
In 2011, Western Sizzlin reported a net profit of $1,610,000. Including goodwill amortization of $942,000, adjusted free cash flow totaled $2,552,000. In 2012, the company reported a net profit of $1,354,000 and total adjusted free cash flow of $2,296,000. Western Sizzlin made cash distributions to Biglari Holdings totaling $6.4 million from 2011 and 2012 representing 62% of Biglari's original enterprise valuation.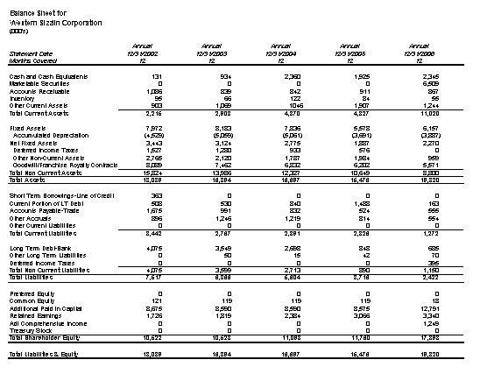 In an interview with Emil Lee from The Motley Fool, Biglari explained his thesis on Western Sizzlin and his investment philosophy in general:
As a value investor, I am looking for situations in which the consensus is incomplete or even erroneous. Western Sizzlin was an opportunity to engage in an underperforming company that was priced below its intrinsic business value. The discount to true value represented a much higher upside potential since most investors usually value a company as it appears to them at the status quo. By not closing our eyes to a business that was underperforming its potential, we were able to discover value where most had overlooked it.

In terms of our investment philosophy, our continued effort will be to assemble a collection of companies trading below their intrinsic business value. Some firms will be growing, while others will not, however, the key is not growth but valuation.

We are not simply passive investors, and growth is not necessarily a major component in the value calculation. We are also control investors, so named because we put ourselves in a position through which we can possibly create various positive changes. We can afford to pay more than can the passive investor who simply has no choice but to watch his holdings from the sidelines. Paying up doesn't mean overpaying, rather, value in a control position can increase exponentially.

Warren Buffett has said, "I am a better investor because I am a businessman, and I am a better businessman because I am an investor." Buffett's mentor, Benjamin Graham, wrote in The Intelligent Investor, "Investment is most intelligent when it is most businesslike." This statement, according to Buffett, comprises "the nine most important words ever written about investing. "I view stock ownership as ownership in a business."

Furthermore, having a dual perspective, first from the capital market's point of view, because I run an investment fund, and second from a board and management level, because I run a public company, imparts enormous advantages to me. Because of my double-pronged viewpoint, I have become a better businessman and investor. As a result, I am able to concentrate our capital in a few positions, because I am taking an approach to investing through the lens of a businessperson, not a portfolio manager implementing tiresome academic modeling. Whether we own 100% or .01% of a company, we are acutely concerned with business values and business dynamics.
Effective July, 2006 the Board of Directors delegated full authority to Biglari to make all capital allocation and investment decisions on behalf of Western Sizzlin. When he undertook the management of Western's excess cash, he invested in one stock, Friendly Ice Cream Corporation. By December 2006 Western had acquired 7% of Friendly's shares while The Lion Fund owned 8%. Given his ownership stake, Biglari would soon agitate for change.
Click here for Part II
Disclosure: I am long BH-OLD. I wrote this article myself, and it expresses my own opinions. I am not receiving compensation for it. I have no business relationship with any company whose stock is mentioned in this article.