I recently wrote an article regarding Jazz Pharmaceutical (NASDAQ:JAZZ) and its wonder drug, Xyrem. In short, Jazz dominates the market for narcolepsy treatment because Xyrem (sodium oxybate) treats more symptoms than any other approved drug. Several comments suggested I look at a very young pharmaceutical company called Tonix Pharmaceuticals Holding Corp. (NASDAQ:TNXP) and for good reason.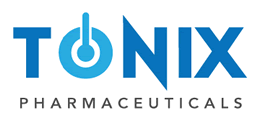 Tonix is looking to do something very similar to Jazz except in the market for fibromyalgia treatment. Although Tonix is still in the midst of developing its fibromyalgia drug, TNX-102 SL, investors can relax knowing that Jazz's former CEO, Dr. Samuel Saks, is on Tonix's Board of Directors. For those who do not know, Saks was responsible for the commercialization of Xyrem during his tenure at Jazz and was also trying to develop sodium oxybate as a treatment for fibromyalgia, though the project was dropped in 2011. Saks' experiences with Jazz will surely help steer Tonix in the right direction as it tries to get TNX-102 SL on the market in the future.
What is TNX-102 SL?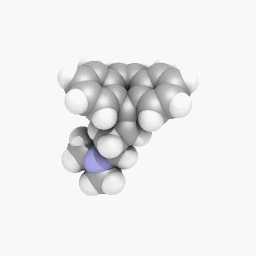 Cyclobenzaprine 3D molecule
TNX-102 SL is a sublingual tablet that utilizes new technology to deliver a dosage of cyclobenzaprine into the patient's body. Because of the tablet's innovative design, the delivery of cyclobenzaprine into the bloodstream is much faster than normal. Patients will not be able to achieve the same absorption speeds by crushing existing cyclobenzaprine drugs and putting the powder under their tongues. Cyclobenzaprine itself is a muscle-relaxant that helps relieve skeletal muscle spasms and pain in acute musculoskeletal conditions. However, it has been used off-label to treatment fibromyalgia in order to improve sleep in patients. This brings us to the next questions.
What is fibromyalgia?
Fibroymyalgia is characterized by chronic widespread pain and allodynia, which is a hypersensitivity to pressure. However, fibromyalgia symptoms are not just limited to pain and also include fatigue, sleep disturbance, joint stiffness, bowel/bladder abnormalities, numbness/tingling, and cognitive dysfunction. Altogether, these are symptoms under the condition, fibromyalgia syndrome. As of right now, the cause of fibromyalgia is unknown, so there are only treatments for the condition. Currently, the market for fibromyalgia treatment is dominated by three branded drugs: Lyrica (pregabalin), Cymbalta (duloxetine hydrochloride), and Savella (milnacipran hydrochloride). Lyrica, which is produced by Pfizer (NYSE:PFE) is used primarily for pain management. Eli Lilly's (NYSE:LLY) produces Cymbalta, and Forest Labs produces (NYSE:FRX) Savella. Both are used primarily to manage mood.
How will TNX-102 SL compete?
Unlike Jazz's Xyrem, TNX-102 SL would not monopolize the market but rather coexist with these other drugs. As noted before, patients with fibromyalgia syndrome suffer a plethora of symptoms. There is no wonder drug on the market that treats all of them. Instead, polypharmacy, the use of multiple medications by a patient, is generally accepted when treating this condition. If TNX-102 SL were to be approved by the FDA, patients would be able to take TNX-102 SL in addition to other drugs. In terms of patents, TNX-102 SL currently was issued three patents, so Tonix should not have to worry about a generic version being created anytime soon. TNX-102 SL would be the only approved drug for fibromyalgia syndrome that improves sleep n patients.
Conclusion
I realize that a lot of this is uncertain and requires a relatively giant leap of faith. In terms of financials, there is not much to analyze when it comes to Tonix Pharmaceuticals. The company has a market cap of $16.84M and is still in its early growth phases. However, at the end of 2012, Tonix announced that it had secured approximately $3.3 million in cash, and it is expected the company will try to secure more this year. And with luck, Tonix will be able to enter phase 3 trials later toward the end of the year. There is a huge potential for Tonix to succeed with TNX-102 SL. It has selected a very niche market to penetrate like Jazz, and the presence of Jazz former CEO, Dr. Samuel Saks, should help inspire confidence. To anyone arguing that Tonix is not Jazz-the two are definitely extremely similar. If I recall, Jazz was trading as low as $0.52 in 2009 and is now trading at $59.01. Bulls are setting price targets of at least $70 for the stock. Tonix is currently priced at $0.32. If it can pull off TNX-102 SL, who knows how high the stock will rise? I think we have another Jazz on our hands.
Disclosure: I have no positions in any stocks mentioned, and no plans to initiate any positions within the next 72 hours.
Business relationship disclosure: Capital Traders Group is a team of Proprietary Trading and Equity Research Analysts. This article was written by Kevin Sun, one of our Equity Research Interns. We did not receive compensation for this article (other than from Seeking Alpha), and we have no business relationship with any company whose stock is mentioned in this article.