PokerTek (NASDAQ:PTEK) releases its Q4 earnings on Thursday, March 7, 2013. Most of you have probably never heard of PokerTek, and with a market cap of only about $12 million, that's not too surprising. Personally, I have been invested in PokerTek for over 15 months; 15 turbulent months, might I add. Despite the ups and downs the stock and company has gone through in that time period, things are finally looking great for PokerTek, and I expect that to be reflected in the Q4 earnings.
Before I get started in my analysis and predictions for the quarter and 2013, here is PokerTek's company profile and a 52-week chart:
According to its website, "PokerTek, Inc. was founded in 2033 and is headquartered in Matthews, NC. The company develops and markets products for the gaming and amusement industries. Pokertek develops PokerPro® automated poker tables and related software applications to increase revenue, reduce expenses and attract new players into poker rooms by offering interactive poker that is fast, fun, and mistake-free."
Essentially, PokerTek develops and manufactures electronic gaming tables under its PokerPro® and ProCore™ platforms. The platforms offer a variety of card games including, but not limited to Texas Hold'em, Blackjack, and Baccarat. These products can be found on cruise ships, in casinos, or in charity poker rooms around the world.
Here is the 52-week chart of PokerTek: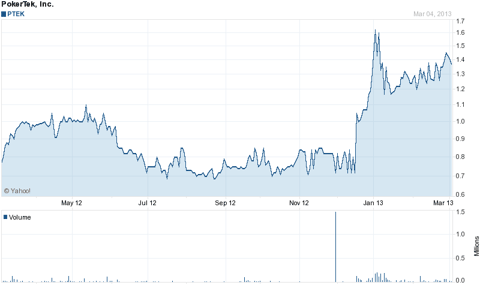 Now that you can see where the stock has been over the last year, let's dive into what I hope to see from the company in Q4. There has been an abundance of good news and press releases from the company in Q4, most of which should greatly add to the company's top and bottom line beginning this quarter, but carrying on into 2013. In case you haven't been keeping up with the news like I have, here is what was released in Q4:
11/06/2012 - PokerTek showcased its products at the SAGSE in Buenos Aires, Argentina. One month later, the company confirmed that it signed distribution partners in Colombia, Argentina, and Peru. The company also announced that it expects initial placements by year-end.
12/03/2012 - PokerTek was selected to, and presented at, the LD MICRO Growth Conference, which was held on December 5th.
12/05/2012 - PokerTek announced a joint venture with DEQ Systems and launched EZ Baccarat with DEQ.
12/18/2012 - PokerTek re-enters Mexico after it was forced to leave the market due to legislation changes in Mexico. The company announced it already had installed 14 tables, or 140 gaming positions at the time this news was released.
12/20/2012 - PokerTek added more Blackjack Pro positions in Ontario, Canada. The company said that the additions represent a 78% increase in positions during the current quarter.
While yes, most of this news occurred in December, and therefore should have somewhat limited impact on Q4 earnings, I think there are some important things to take note of in these press releases:
The company had already installed 14 tables in Mexico, a market that once consisted of 17% of PokerTek's recurring revenue, when the announcement was made. As a result, I expect the installations in Mexico to contribute more than people think to Q4 revenues.
The joint venture with DEQ Systems is one of the most important announcements the company has made. Some people may not be aware of this, but baccarat is far more popular in the Far East than poker. Prior to this announcement, PokerTek lacked a presence in Asia, but now, with the baccarat platform it created, it will now enter Asia, one of the world's most popular gaming area. Most importantly, the joint venture gives PokerTek an opportunity to enter Macau, the world's largest destination for gambling.
With increased distribution to South America, PokerTek is continuing to prove that its automated poker tables are winning over the emerging markets. PokerTek has yet to tap even half of the South American countries, which could easily provide a catalyst to growth.
New installations in Canada, continue to be a catalyst for PokerTek's blackjack platform. The 78% increase in player positions, albeit from a rather low starting point, shows the company's blackjack tables are catching on a rather quick pace in Canada.
Unrelated to the news of Q4, but still important to note, is PokerTek's regaining of compliance with NASDAQ's minimum bid price requirement. With this, PokerTek is no longer threatened by the potential to be delisted by the exchange.
Q4 earnings should shed light on the direction of the company. The news presented this quarter shows the company gaining traction around the world with all of its products; poker gained acceptance in South America, blackjack in Canada, and baccarat in the Far East. That being said, here are some of my predictions for the Q4 earnings release and earnings call:
Q4 Earnings
Due to the new installations in South America, Asia, Canada, and Mexico, in addition to the seasonality of the holidays and the improving economy from a year ago, I expect to see Y/Y revenue up between 5-8%. This would put total revenue somewhere between $1.4 and $1.45 million.
Increased operating expenses. PokerTek will likely be hit by increased operating expenses, but don't let this affect your view of the future. The increased operating expenses will largely be the result of the research and development of the EZ Baccarat platform. Selling, General, and Administrative expenses should increase slightly as well, as PokerTek hired distributors and placed more products this quarter.
I would also expect the EPS to improve Y/Y from last years' qQ4 (.06) loss.
Earnings Call
On the conference call, I hope Mark Roberson, the company's CEO, CFO and Treasurer, elaborates on the success PokerTek is having in three key areas: South America, Asia, and Mexico. For South America I am interested to see how many tables were placed in the three new markets PokerTek discussed in the press release, as well as its initial plans to increase its product placement there. In Asia, I am interested in its success on cruise ships, which is where its baccarat tables were first placed. Additionally, any word on entry to Macau would be great, but don't count on it as Mr. Roberson typically keeps quiet on future plans. Finally, in Mexico, I would like to hear when it expects to return to the capacity it had before legislation forced it out. Remember, PokerTek just recently re-entered Mexico, so it is important to find out how that process is going.
Additionally, I want to hear on more plans for U.S. expansion, where the company has yet to maximize its presence. I know the company is working to provide tables for a charity poker location that hopes to open in Avon, Ohio, but besides this, which actually hasn't been released in a formal press release yet, no information has been available about U.S. expansion. In the past, a number of charity poker locations in the states, specifically Ohio, have contracted PokerTek for their tables, so I hope Mr. Roberson elaborates on that success.
On a perfect conference call, Mark Roberson would comment on the opportunity online gambling holds for PokerTek, but don't count on him saying anything. In previous conference calls, Mr. Roberson refused to answer, or pivoted around, any online gambling discussion. Maybe, just maybe, this will be the time he says something, especially with Nevada and New Jersey legislation. Any release of online gambling news would be a great catalyst for the stock, but my best guess would be this won't be released on the conference call.
What 2013 Holds
As an investor who has been through the thick and thin of the last 15 months, I am optimistic about the future of the company. Increased distribution and global penetration, coupled with the NASDAQ compliance bodes well for the company as we enter the third month of the year. 2013 should be a big year as the company's baccarat platform continues to give PokerTek presence in Asia. Mexico installations should continue to increase allowing PokerTek to fully appreciate the market that once gave it 17% of its recurring revenue. Finally, South America will provide new revenue to the top line for the first time this year. Even if PokerTek does not enter the online gambling industry, I believe the company is in the best position it has been in since I became an investor. Look for great things from the company as 2013 progresses.
Disclosure: I am long PTEK. I wrote this article myself, and it expresses my own opinions. I am not receiving compensation for it. I have no business relationship with any company whose stock is mentioned in this article.
Additional disclosure: I have no plans to add to, or sell, any of my position in the next 72 hours.