V.F. Corporation (NYSE:VFC) is a global apparel company, which owns well-known brands like Wrangler jeans, The North Face, Eastpak and Vans. To determine if it would be a good addition to my portfolio, I will judge it on the following aspects:
Revenue
Net income
EPS and dividend
Margins
Valuation
Revenue
In the last 10 years, VFC's revenue has increased by just over 100%, growing from $5.2 billion in 2003, to $10.9 billion in 2012. This gives it a compounded average growth rate of 7.7%.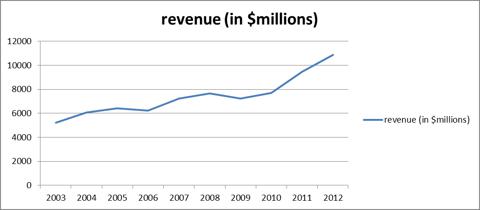 Net income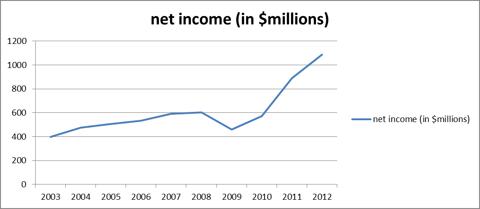 Net income is growing at a faster pace than revenue, going from only $398 million ten years ago, to $1.086 billion in 2012. This gives us an annual growth rate of 10.6%. Net income has only gone down once, in 2009, when it dropped from $603 million (2008), to $461 million (2009).
The fact that net income is growing faster than revenue means the operating margin (net income/revenue) is increasing. It has gone from 7.6% in 2003 to 10.0% in 2012.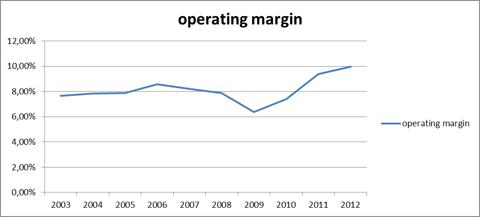 Earnings per share and dividend
VFC is currently trading at $164.26, which means it yields a 1.9% dividend. While this is not very high, it is growing at a considerable rate.
The graph below shows earnings per share and dividends for the 2003-2012 period. It shows us 3 important things:
Dividend is increasing at a nice rate, growing an average 11.6% per year. It has gone from $1.01 in 2003 to $3.03 in 2012.
EPS is very stable, having dropped only once (in 2009). It has grown by an average 10.4% yearly, going from $3.61 to $9.7.
Payout ratio is at a low level.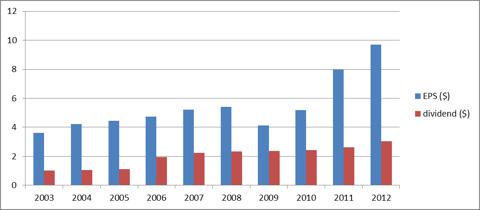 Let's take a more detailed look at the payout ratio. The graph below shows dividend/EPS for the last 10 years.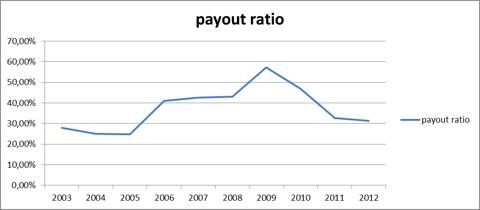 The payout ratio is at a very sustainable 31.2%. This shows us VFC keeps a large share of the profits, which means it will be able to invest and expand.
Valuation And Conclusion
VFC is trading at a price to earnings ratio of 16.8, which is well below the industry average of 27.6. Its price to book ratio is 3.5, compared to 3.0 for the industry average. With its amazing growth in revenue and earnings, its high profit margin, and its strong brands, I believe VFC deserves a much higher valuation. I could easily see VFC climb to a p/e of 20, which would mean a price of $194 would be reasonable.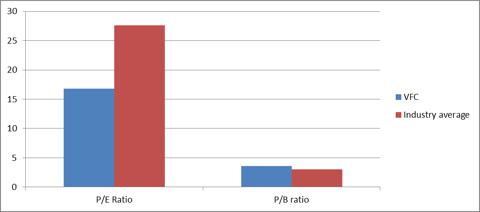 Disclosure: I have no positions in any stocks mentioned, but may initiate a long position in VFC over the next 72 hours. I wrote this article myself, and it expresses my own opinions. I am not receiving compensation for it (other than from Seeking Alpha). I have no business relationship with any company whose stock is mentioned in this article.