Several movies made the roughly $3 million investment to advertise at the Super Bowl this year and now with a full month gone since the Steelers became world champions, it's a good time to see just what they got for their money.
The ten movie ads that aired during the Super Bowl (including the G.I. Joe spot just before the game) saw highly varied subsequent interest at their official movie sites.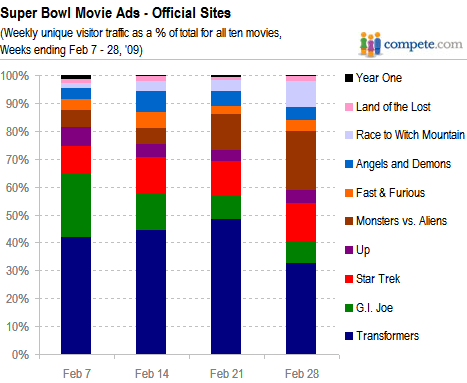 (Year One's Crackle.com page was used because viewers were directed there at the end of the spot)
Predictably, high-action blockbusters dominated traffic, but official channels aren't the only place that people are checking for information about upcoming movies. With over 20 million unique visitors per month, IMDb.com is a popular destination for anything you need to know about movies.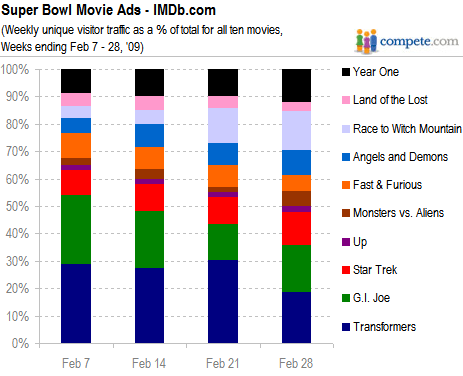 Highlights
The effect of March release dates and further marketing efforts on the more recent weeks should be noted for some of these titles, such as Race to Witch Mountain and Monsters vs. Aliens.
While the action blockbusters well outpaced others on their official sites, the lead wasn't so dominating on IMDb, where lesser-known movies like Year One managed to carve out decent interest.
For the week of the game, Up's ranking varied the most, coming in the fourth highest among official channels and falling all the way to last on IMDb. Fast & Furious saw opposite results, with the official site in the bottom half of the rankings, but climbing all the way up at third on IMDb, moving past Star Trek.
Combining Disney's two offerings (Race to Witch Mountain and Up) still only moved their ranking up to fourth (official sites) and fifth (IMDb) for the week of the game – that's $6 million to barely finish in the top half.
However you look at it, both Transformers and G.I. Joe created significant interest that has been sustained beyond the week of the game, despite release dates in June and August.
This just goes to show that just as interest in movies varies, so does the destination for getting information about them. Movie marketers need to be aware that their message about the film isn't the only one fans are seeing and increasingly account for third-party channels in their promotional efforts.