Introduction
As far as comparisons go, it is fairly straightforward to pitch an apple against an apple. But how do you evaluate Google (NASDAQ:GOOG) against Yahoo (YHOO)? Google, which is scaling new heights as it passes $800 on the stock market, yet pays no dividend and is mighty expensive to buy, and Yahoo, which has had six CEOs in five years yet still, seems to be no better off than a rabbit digging its way to China. Better yet, how do you choose between these two with Facebook (NASDAQ:FB) being an option as well? In this analysis I put forth a picture of prospects, finances and faith from investors.
Stock Performance
The three Internet giants have had different journeys to get to this point. While Google and Facebook are prospering, Yahoo seems to be past its glory days. Below is an illustration of Yahoo's performance compared to Google, Standard and Poor's 500 and the Dow Jones Industrial Average. Any investor which bought Yahoo stock for the next 5 years has lost 20.81% on the potential sales value, which is below the market average and far behind Google's monumental increase of 76.36%.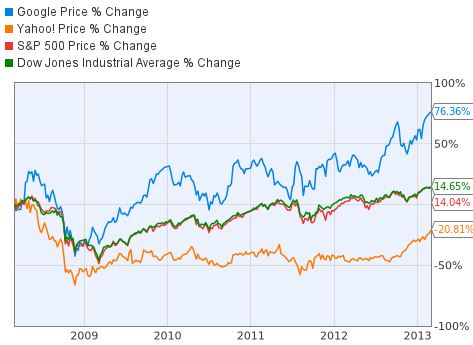 On the other hand, Facebook went public with an IPO in May and its assumed value has dropped by 27.36%. In comparison, Yahoo has been doing phenomenally well over the same time period, outpacing even Google. However, there is a distinguishable difference between their growths: Google maintained a growth rate of 34.24% at the stock price bracket of $600-$700, while Yahoo showed an increase of 42.61% at a price range of $10-$15. For Yahoo, the introduction of Marissa Mayer has been faring well judging by the significant stock price strides during her 7 month tenure. Facebook continues to struggle despite reports of getting a $429 million tax refund in 2012 due to its provision of stock options to its employees.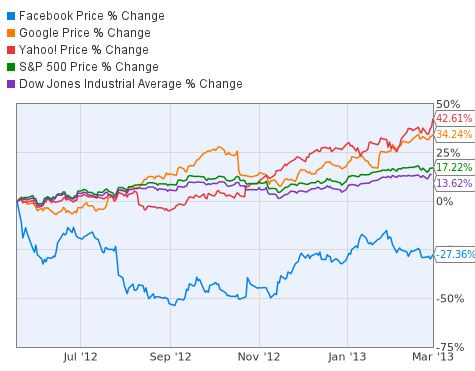 Financial Perspective
Indicator

Price/Earnings ttm

25.83

6.98

2752.00

Price/Book

3.7

1.7

5.5

EPS Growth

(3 Year Avg.)

16.6

41.4

0.0

Dividend Yield, %

-

-

-

Debt/Equity

0.0

0.0

0.2

Return on Equity

16.5

28.3

0.4

Current Price

$838.70

$22.96

$27.52

$862-$1079

$37-$49

N/A

Stock Valuation

Undervalued

Undervalued

N/A

Upside Potential to Reach Fair Value

3%

59%

N/A
Data from Morningstar on March 6, 2013
The discounted earnings plus equity model, developed by EFS Investment Partners and applied to the three competitors, suggests that currently all stocks (except of FB) are undervalued. In addition, EFS' fair stock price valuation indicates that currently Yahoo! is trading at the most attractive discount. At a price of $22.96, YHOO is trading at a significant discount. Its stock has 59% upside potential to reach its fair value.
Breaching the $800 barrier, Google is having a tremendous 2013. Its P/E ratio is settling a little under the industry average of 27.8, which shows its somewhat fair valuation. But the prime driving force behind Google's growth has been the increase in earnings thanks to its overarching search and advertising services. It has a phenomenal 52-week range from $556.52 to $840.15. Currently, the company is sitting on a huge pile of cash as it hoards $48 billion. A provision of dividend has been making the rounds for quite a while as investors demand payout from the acquired cash. Google's rationale behind holding cash is to finance buyouts of companies which fit well with the Internet giant's operations. As a future consideration, buyouts need to be well thought-out - such is the case of Motorola (NYSE:MSI), which continues to be a loss-making component of the organization. Google's market share has been growing in the Android market as well; from 33.3% in 2010, 48% in 2011 and 72% in 2012.
Yahoo! is no longer a "digital media company". In their latest annual 10-K report, the company referred to itself as a "global technology company", perhaps a sign of the company's future direction. It is shutting down services which it deems as being either under-utilized or a downright failure i.e. Yahoo! Avatars, Yahoo! Clues, Yahoo! App Search, Yahoo! Sports IQ, Yahoo! Message Boards website and Yahoo! Updates API. Like Google, Yahoo! does not offer a dividend but unlike Google, it does not have a heap of cash sitting idle. The company has also partnered with Facebook in its process of revamping the website to include features such as newsfeed and likes. Furthermore, streamlined apps for mobiles and tablets are also in store which makes its P/E of about 7 look extremely undervalued. The EPS for the last two years has been flat, and unless a breakout feature is put on display by Yahoo!, its primary growth should be fueled by the use of Internet on mobile devices.
The 1-billion-member social network Facebook is hoping to put an end to the flat February performance (-12%) of the stock. For a young company like Facebook the financial metrics perhaps do not matter as much as its tangible growth-oriented steps for the future. The company will not be paying tax on the billions it made last year, which will help bolster its finances and so will the suggested buyout of Microsoft Atlas. The 1-million-member base, Facebook's biggest asset, can be used to generate revenue by advertising. The last three quarters have seen the year-on-year revenue growth of 40.14%, 32.29%, and 32.29%, respectively. The stock has been rallying recently on the back of making 23% revenue from its mobile ads. Growing revenue and margins are perhaps the strongest indicators for the performance of today's Facebook.
Make or Break for Investors
The three competitors share one striking similarity: Internet companies have only one route to take - to advertise and invest in mobile devices. The three companies under review are not on equal footing, nor are they equally priced, which is a huge concern when assessing the cost/benefit of investment. Firstly, buying Google at $800 is a very risky strategy which can be avoided when there are other stocks available in the market that provide the same, if not better returns for a lesser price. Secondly, there is only so much revenue that can be generated from the current means of advertising from Google - unless it enters the mobile market directly, I do not see it as a buy, nor do I suggest it. Yahoo on the other hand, has seen positive movement on the price chart, but I wonder just how long the company can continue to grow in a hostile environment of intense market competition and revolving doors for CEOs.
This deduction leaves us with Facebook, and while I am not the biggest fan of the stock, it is undoubtedly the most promising, profiting and forward looking company out of the three here. Why? Well, simply because it has its back against the wall - innovating and finding new sources of revenue is more imperative for Facebook than Google or Yahoo at the moment. I see organic growth for the company in the future as it capitalizes on the potential of mobile users and advertising space of 1 billion members.
Morningstar issued the following ratings for these three stocks: GOOG - 4/9 buy, 1/9 outperform, 5/9 hold. YHOO - 2/9 buy, 1/9 outperform, 5/9 hold, 1/9 underperform. FB - 6/9 buy, 2/9 outperform, 2/9 hold, 1/9 underperform.
Bottom Line
Don't expect Facebook to meet its $38 valuation anytime soon, but in the long run Facebook has the potential to grow faster than Yahoo and at par with Google. I believe that investor confidence is the single most important driving factor for Facebook's stock price and that can only be built by improving the customer experience and posting better numbers.
Disclosure: I have no positions in any stocks mentioned, and no plans to initiate any positions within the next 72 hours. I wrote this article myself, and it expresses my own opinions. I am not receiving compensation for it (other than from Seeking Alpha). I have no business relationship with any company whose stock is mentioned in this article.