With the market breaking out to all time highs, speculative money is sure to flow into stocks and nothing is more speculative than the biotech sector. In this article, we are going to look at three beaten down biotech stocks that have cash, have had recent drops in price and offer great potential for near-term rebounds.
1. Durect Corp. (NASDAQ:DRRX)
This company has potentially two big news events coming in the next three weeks that could cause some nice upside in the stock. Pfizer, Inc. (NYSE:PFE) its partner, is meeting with the FDA to discuss its drug Remoxy at the end of this month. This drug, which posted disappointing results last year and caused Durect to lose 40%, could see positive news and result in a nice bounce back in price. We discussed this in our article, "Small Pharmaceuticals With Near Term Catalysts". Durect is expected to file an NDA with the FDA in March per its last earnings report. As stated in that press release, "Following our pre-NDA communications during the summer with the FDA regarding POSIDUR, we intend to submit a new drug application (NDA) under 505(b)(2) with the FDA in the first quarter of 2013." There are only three weeks left in the quarter, so news on this NDA could come any day and help boast the price of the stock. Durect has $28.9m in cash and equivalents, and is trading at a market cap of $51m.
A look at the Durect chart shows support is strong at $1.10, and a break over $1.18-20 could set the stock free for a long overdue move to the upside. A gap fill to the $1.50+ area should be seen on positive news.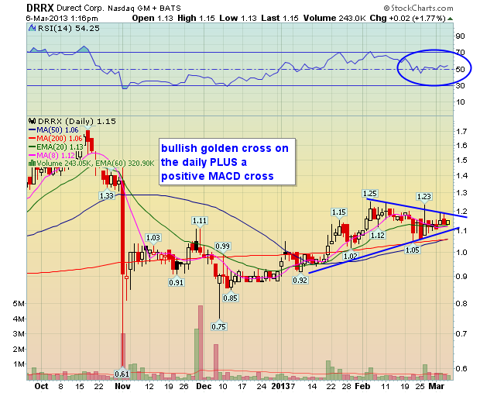 2.BioCryst Pharmaceuticals, Inc (NASDAQ:BCRX)
The company designs, optimizes and develops novel small molecule drugs that block key enzymes involved in infectious and orphan diseases, with the goal of addressing unmet medical needs of patients and physicians. BioCryst currently has two late-stage development programs: peramivir, a viral neuraminidase inhibitor for the treatment of influenza, and ulodesine, a purine nucleoside phosphorylase (PNP) inhibitor for the treatment of gout. In addition, BioCryst has two early-stage programs: BCX4161 and a next generation oral inhibitor of plasma kallikrein for hereditary angioedema, and BCX4430, a broad spectrum antiviral for hemorrhagic fevers. BCRX had a tough end of the year when the company withdrew its leading Hep C drug candidate on adverse safety data. This news helped send shares down 75%. Over the last four months, the stock has been slowly trading lower and finally appears to be putting in a bottom. Cash and investments totaled $37.1 million at December 31, 2012. BioCryst expects 2013 net operating cash use to be in the range of $22 to $26 million so at this time, there is no need for additional financing. The market cap here appears to be a cheap $61m.
A look at the chart shows a breakout at $1.27, leading to a move back to the 50-day moving average at $1.50.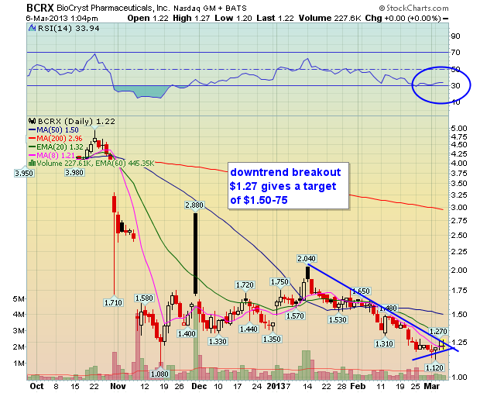 3.Celsion Corp. (NASDAQ:CLSN)
This was a stock we profiled last month in our article, "Speculative Boiptech Stocks That Could Bounce", and in that article, we noted the oversold chart and the expected move back to $1.60. A week later, the stock popped to an intra-day high of $1.54 for a 30% gain. Since then, there has been a slow bleed, thanks to news of financing competed at $1.24 per share. Now that financing has been completed, the company has approximately $35m in cash. Celsion has been consolidating over the last two weeks since that news at the $1 level, and could be setting up for another bounceback. Subset data analysis could come at any time, and this will likely be the catalyst for a bounceback. Also, with the financing completed at $1.24 and the stock hovering at $1, there is good reason to expect a bounce back to that price level near term. With a market cap of $50m and some small hope for positive news in their other trials there is reason to put some speculative money in this play. A bounce back to the February $1.54 highs would mark a 50% return from here.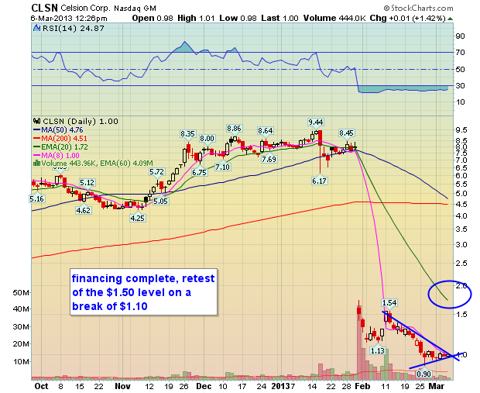 Biotech stocks carry large risk, as we have mentioned many times in other articles, but that risk can carry very nice rewards for investors who time entries correctly. These three biotech stocks appear ready for some nice upside moves in the near term. With event news and the overall bullish sentiment in the market, speculative money will likely find its way here.
Disclosure: I am long DRRX, BCRX, CLSN. I wrote this article myself, and it expresses my own opinions. I am not receiving compensation for it (other than from Seeking Alpha). I have no business relationship with any company whose stock is mentioned in this article.