My philosophy has quickly morphed into: figure out what to buy on fundamentals and figure out when to buy on technicals. While I'm not averse to just pulling the trigger when I feel a stock is undervalued/overvalued in long/short positions, respectively, I feel that to do justice to my readership, I need to cover both in my updates in order to help minimize losses/maximize profit. So, this is the first real step towards that.
Without further ado, this is an update on Nvidia (NASDAQ:NVDA). I cover the technical picture (as there seems to be some things of note there) as well as some of the latest fundamental drivers that may be responsible for the healthier technicals.
The 200 Day Moving Average: Busted
From a technical perspective, Nvidia has been - until very recently - a technical mess. The stock hung out below its 50 DMA for a little while, and has been under its 200 DMA for several months (implying an unhealthy technical picture):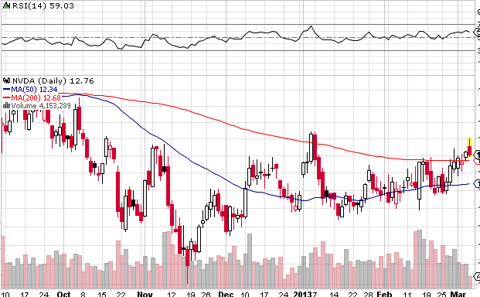 However, as the price languished, the 50 DMA and the 200 DMA have come down (since that average was skewed with much higher values factored in), which gave the stock a much better chance of actually breaking through that critical moving average. As we can see, the stock recently busted out from below the 200 DMA. If the stock can actually hold above it, then this could signal a very real trend reversal.
My main concern is that while the stock broke through that key resistance level, it did so on light volume. I would look for several days of convincing finishes above the 200 DMA before "confirming" the uptrend.
That's the technical picture. Let's talk fundamentals.
Nvidia Refreshes Quadro: The "Big" Story
The noteworthy product announcement was the refresh of the mid/low end of Nvidia's "Quadro" lineup. The Quadro lineup is for professional usage, such as by movie/TV studios for special effects, and 3D modeling for video game production. These essentially sport the same silicon that is found in the consumer "GeForce" cards, but with more professional-oriented firmware that enables new features and ensures stronger reliability.
Why do we, as investors, care? Let me show you why.
This is the "best" of the midrange Quadros announced:

What does its PC gaming oriented equivalent look like? Here:

With the same silicon and different firmware/drivers, Nvidia can sell a card for $1,300 instead of $180. The firmware changes enable substantial functionality/performance for professional rendering programs. Quite simply, the professional cards are amazingly high margin since there's a lot of leverage of the GPU development work for gaming going on. This is good business.
Now to top it all off, the Quadro lineup had been in need of a refresh for some time, especially as the demand environment had gotten stale. This was a drag on Nvidia's top and bottom lines for the back half of CY2012. In the most recent quarter, management noted that demand had picked up considerably. So as these new cards ramp (which should have better gross margins than the products that are being replaced since they're built on a smaller geometry process), they should help sustain/grow the company's gross margin profile for most of the year. Success here indirectly gives Nvidia leverage on the mobile SoC products, since outsized gross margin increases due to the Quadro ramp could help the company take advantage of the natural elasticity that exists in the mobile SoC environment.
Verizon To Sell LTE-Only Phones In 2014
Nvidia's upcoming integrated LTE/apps processor "Tegra 4i" part will not ship with support for CDMA, which made it seem as though Nvidia-powered phones wouldn't hit the Verizon (NYSE:VZ) network. However, the recent clues from Verizon that it will be shipping LTE-only phones in 2014 (when "Grey" is widely available) to lower subsidies are an unequivocal positive for Nvidia's chances of seeing wider spread distribution of phones with Tegra 4i in it throughout the US.
Conclusion
Nvidia's highest margin business is getting a shot in the arm and Nvidia's highest growth business is seeing further tailwinds. It's no surprise that sentiment is turning, that the technical picture is looking better, and that the bulls may finally be in control of this long bear-dominated name.
Disclosure: I am long NVDA. I wrote this article myself, and it expresses my own opinions. I am not receiving compensation for it (other than from Seeking Alpha). I have no business relationship with any company whose stock is mentioned in this article.