In a pump and dump scheme, the objective is to sell as many shares of a penny stock as possible. To bring in buyers, stock promoters are often paid to send out emails to their list of subscribers touting the stock as their next "pick," or hard mailer advertisements may be sent. These advertisements, while effective on a minority of their recipients, tend to be easy to see through for most people. But beyond crude advertisements, it's possible for operators of pump and dump schemes to lure in buyers via a different avenue: paying fake "analysts" to write fake "research reports" on their stocks.
I would like to highlight a few websites disguising themselves as objective research firms, which in reality are hopelessly biased and derive their revenue by writing a positive report on any stock they are paid for. No matter how terrible a particular penny stock's fundamentals may be, these fake analysts will be able to write a professional looking report that (at least to the careless or uneducated) may make it seem like a solid investment.
This article will take a brief look at the following four groups. I am aware that there are other fee-based analysts, but these are just a few that have come to my attention:
Caprock Risk Management
Cohen Independent Research Group (AKA Grass Roots Research)
Harbinger Research
Murphy Analytics
Caprock Risk Management
[Editor's note: Chris Jarvis has contacted SA and the author, to explain that he was also a victim of fraud by Southern USA Resources, not a contributor to it. He maintains that Caprock strongly adheres to the CFA's Best Practice guidelines Covering Analyst/Corporate Issuer Relations.]
One compensated analyst is Caprock Risk Management, which in January 2013 published a completely nonsensical research report (.pdf) on Southern USA Resources (NYSEARCA:SUSA). SUSA was recently halted for two weeks (it will resume trading on March 14th) by the SEC due to doubts about the accuracy of certain assertions that have been made in press releases and promotional advertisements for SUSA. In fact, SUSA is a near-worthless pump and dump, with horrible fundamentals and very few business prospects in future. It was promoted via a hard mailer advertisement in conjunction with Caprock's report before the SEC stepped in to prevent more people losing money on this scheme.
In SUSA's 10-Q for Q3 2012 (it hasn't yet filed one for Q4) it had only $16,384 in cash, total assets of $1,179,415, total liabilities of $2,966,778, and $0 in revenues. Given that bleak situation, how does Caprock Risk Management make SUSA look good? By ignoring all the current numbers, and focusing on "estimated" numbers only. Refer to this laughable "earnings model" Caprock gives for SUSA: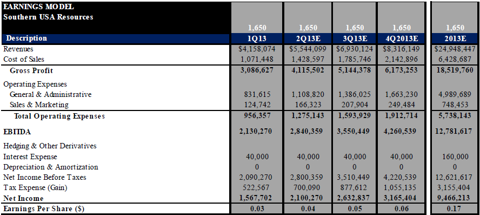 These predictions are simply ridiculous for anyone who has taken a look at SUSA's most recent financial statements (of course, in the "risks" section of the report, the fact that SUSA had only $16,384 in cash and no revenues in their most recent financial statement is omitted). Caprock even has the gall to say that higher gold prices, together with SUSA's "strategic initiative," "low cost production" and experienced management "could prove our current estimates to be conservative." But their numbers are taken out of thin air.
I also found it amusing that Caprock throws in this complicated-looking formula, hoping to convince the reader that some real detailed analysis took place:

The rest of Caprock's report talks about bullish forecasts for the price of gold, the "experienced" management, and SUSA's Clay County land. All of this is irrelevant when gold has never been found on SUSA's property, it has absolutely no indications of containing gold, SUSA's liabilities vastly outweigh their assets, and SUSA has extremely limited cash reserves. The hope is that careless investors will just take a quick look at Caprock's SUSA report, and without bothering to actually look at SUSA's real financial statements, buy a speculative position. And anyone who has brought SUSA will likely find themselves facing a terrible loss when the stock opens on March 14th.
Towards the end, Caprock's report discloses their compensation of $15,000:

As far as stock promotion fees go, $15,000 is not a particularly high amount, and I doubt Caprock was responsible for bringing in much volume for SUSA. I am sure their fee is flexible. In their report for Mesa Energy Holdings (OTC:MSEH) they disclaim they were to be paid $4,000 per month for 12 months, while their Pegasi Energy Resources (OTC:PGSI) report disclaims a fee of $4,116 per month for 12 months.
Caprock is run by Chris Jarvis, who apparently has permission to call himself a "Chartered Financial Analyst" and "Chartered Market Technician," but quite clearly Caprock's reports are not to be trusted.
Cohen Research (AKA Grass Roots Research)
Cohen Research (which has an identical website where it calls itself Grass Roots Research) is one of the most successful fake analysts, and it would seem that they can bring in real buying power. Their "pitch sheet" states over 500 company reports have been produced, boasts that "we know the promoters," and that "we give you our 8 million name double opted in Large Database." Cohen can be hired not only to write a biased research report, but also to select the best promoters for a stock promotion campaign. And they can put together campaigns with a wide variety of budgets, as they list in the pitch sheet (it looks like it can be anywhere from $25,000 to $500,000+).
Like with Caprock, Cohen's reports may totally ignore reality, and drone on for a very long time without ever actually listing a stock's horrible financials and non-existent revenue. One of Cohen's clients is Stock Market Authority, an extremely powerful stock promoter that brings in millions of dollars in volume to any stock they promote (many recall their 2011 promotion of Lithium Exploration Group (OTCPK:LEXG), which was arguably the most successful penny stock pump and dump of all time). In April of 2012, Stock Market Authority hired Cohen to write a 49-page report (.pdf) on SEFE, INC (OTC:SEFE), which I'm sure was responsible for bringing in quite a few buyers. SEFE was yet another promoted stock from Stock Market Authority that crashed the same way that all pump and dumps do (see its one year chart below):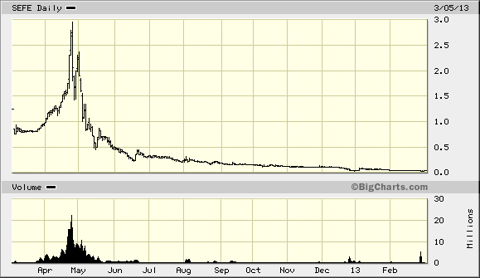 Cohen's report gives a price target for SEFE of $5.42. Less than a year later, SEFE currently trades at $0.04. Like Caprock's SUSA report, Cohen's SEFE report is extremely deceptive. In 49 pages of "research" and "analysis" it does not bring up SEFE's mediocre financials even once, and makes moronic estimates regarding SEFE's future revenue in 2013 and beyond. And just like with Caprock, part of Cohen's strategy seems to be throwing in as much financial jargon and technical formulas as possible to add to the impression that real research took place. Cohen was well aware that SEFE was a toxic stock, but it's their job to sell it as a legitimate company by writing a professional looking report that ignores all the ugly facts. They did this quite well.
On page 39 of their SEFE report, Cohen has a pie chart showing what percentage of stocks they report on are recommended as "buys" - it's a little higher than one might expect at 95%: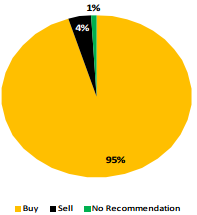 It seems that if you have money to pay Cohen, they will write a positive report on any stock of your choosing. I'm not sure what Cohen was paid for their SEFE report, as the "compensation" section merely states that "XYZ Company has paid x in compensation for this commercial advertisement." Presumably they had intended to edit this with the compensation details, but forgot.
The owner of Cohen Independent Research Group is Paul Cohen, who has taken money to promote not just SEFE, but also numerous other promoted stocks over the years. I recognize many stocks on their report list including American Liberty Petroleum (OTCPK:OREO), American Power Corp. (OTC:AMPW), Amerilithium Corp. (AMEL.OB) and Frogads (OTC:FROG) just to name a few. Each one of these stocks were pumped up by unethical stock promoters in conjunction with Cohen, and have collapsed 90%+ from their highs.
Harbinger Research
Harbinger Research has not written reports for too many popular promoted stocks that I recognize immediately, other than Eco Ventures Group (OTCPK:EVGI) and Pazoo (OTCPK:PZOO) (for these reports they were paid $7,500 and $10,000 respectively). In their EVGI report (.pdf), EVGI was rated as a "strong speculative buy" and has dropped from $0.25 to $0.05 in less than 4 months since Harbinger's report. Harbinger has also given "strong buy" ratings to some sketchy Chinese stocks, such as China Advanced Construction Materials (NASDAQ:CADC). At the time of their CADC report (.pdf), CADC was trading at $6.60, and now trades at about $0.44. For their CADC report Harbinger was paid $15,000.
Like Caprock and Cohen, Harbinger makes ridiculous earnings predictions and price targets for stocks that it knows are worthless or near-worthless. On page 8 of their EVGI report, they forecast earnings of $15.0 million in 2014, net cash of $25 million, and an EVGI stock price of $1.19 to $1.58. They do at least show a small version of EVGI's abysmal balance sheet on the first page of their report (where cash was $300 and working capital was over $1 million in the red), which must reduce the number of readers who are convinced to buy some EVGI stock.
Most of Harbinger's reports seem to be written by Brian R. Connell, who like Chris Jarvis of Caprock, boasts having a Chartered Financial Analyst designation and a college degree. But this is completely irrelevant: all that matters is that when these people are paid to write a report on a stock, we know it's going to be extremely biased.
Murphy Analytics
For those with lower budgets, Murphy Analytics is another compensated analyst who will write and distribute a report on any stock for a standard fee of only $5,000. To their credit, they do not label dubious stocks they profile with a "strong buy" rating, and if a stock's financials are terrible, they are still listed in the report. They also do not make ridiculous predictions for a stock's earnings and share price.
While I doubt Murphy's reports bring in much (if any) volume for most stocks, some stock promoters seem to view a cheap report from Murphy as a useful supplement to their promotional campaigns. Penny stock traders may recognize many stocks on Murphy's list of covered companies. One of them in particular, Net Profits Ten (OTCPK:FARE) (previously named World Moto) was a promotion from Awesome Penny Stocks, who is arguably the strongest stock promoter in the business (currently Awesome Penny Stocks is still promoting Swingplane Ventures (OTC:SWVI) which has already collapsed). Other old pumps Murphy has written reports for include SPOW (no longer active), Sunbelt International (OTCPK:SUNB) and Global Resource Energy (OTCPK:GBEN). I was also surprised to see that Murphy has just initiated coverage on China HGS Real Estate (NASDAQ:HGSH), a stock I've been suspicious of for some time (see here).
Final thoughts
The majority of successful pump and dump campaigns, such as the recent Echo Automotive (OTCPK:ECAU) and Green Innovations (OTC:GNIN), have not bothered to hire a fake analyst to write a favorable report. But there is still plenty of demand for such services. Moreover, after doing some simple research on the websites above, I'm under the impression that becoming a compensated analyst and being paid to write deceptive reports on pumped-up stocks is an easy business to get started in: there's practically no initial investment involved, it can be done by yourself, and no financial or investment experience is actually required.
Disclosure: I have no positions in any stocks mentioned, and no plans to initiate any positions within the next 72 hours. I wrote this article myself, and it expresses my own opinions. I am not receiving compensation for it (other than from Seeking Alpha). I have no business relationship with any company whose stock is mentioned in this article.