Western Refining (NYSE:WNR) continues to be a huge comeback success story. From its low of $4.31 per share to its new multi-year high of $38.85, there continues to be many reasons to remain optimistic about this high flyer:
1. The WTI/Brent spread remains wide and refiners are expected to be able to take advantage of this spread for several future quarters. The wide Brent/WTI spread has also greatly increased profits of other refiners including Valero (NYSE:VLO) and Tesoro (TSO).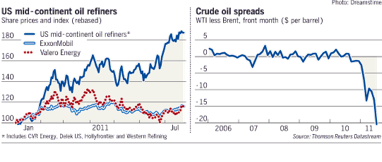 2. Insiders own 32.66% of Western Refining's shares outstanding (Yahoo Finance).
3. The declaration of two special dividends in December of 2012 is quite indicative of future shareholder benefits.
In the past five years, Western Refining has generated positive operating cash flow, from over $110 million in 2007 to $508 million in 2011. The free cash flow has improved from -$164 million in 2007 to $424 million in 2011.
One strong indicator of a stock's performance may be reflected by insider holdings. Although a company may be a good performer, the insiders may not act in the shareholder's best interest. This can be illustrated through Apple's (NASDAQ:AAPL) hoarding of cash. Hedge fund manager, David Einhorn, has taken this issue to the public and let his frustrations be known to the world.
He has highlighted Apple's billions in cash that remain untouched. As a large shareholder, Einhorn would like to see Apple increase its dividend to help rejuvenate the stock price of this former Wall Street darling. If Apple became a higher dividend yielding stock, it would reward shareholders and create newfound demand for this tech giant's stock amongst dividend and value investors.
In contrast, Western Refining has proven that its management is concerned about its shareholders (nearly a third of which is management itself) with its large dividend increases, as well as two large special dividends paid in December. In July of 2012, Western Refining's dividend increased 100% from 4 cents to 8 cents. Soon afterwards, the company announced another dividend hike payable January 28th. It was yet another 50% increase, to 12 cents a share. The two special dividends were declared on November 6th and December 11th of 2012, and paid on December 7th and December 28th respectively. The payout ratio is 71% and free cash flow continues to increase. It will most likely be used for future dividend increases to shareholders. Read more about the importance of dividend hikes in my previous article.
Incentive is the key to people's actions, and the consequences are reflected in share prices. For example, on CNBC, a guest often discusses his bearish views on the stock market, whether it be that he is short, or that he has missed out on a rally.
When evaluating a stock, take a close look at the insider transactions and the percentage of insider ownership. This is always informative about the incentives of the head decision makers at the company. It gives good guidance of where the stock price is headed, and the possible growth rate of the dividend.
I remain bullish on Western Refining and view it as a dividend growth stock as well as a high flyer that will continue to keep gush profits for the company and shower capital gains and dividend increases on stockholders for years to come.
Disclosure: I am long WNR, TSO. I wrote this article myself, and it expresses my own opinions. I am not receiving compensation for it (other than from Seeking Alpha). I have no business relationship with any company whose stock is mentioned in this article.