On March 1, Warren Buffett of Berkshire Hathaway (NYSE:BRK.A) released his 2012 annual letter, where he dedicated a good amount of time discussing various accounting issues. Specifically, Buffett discussed issues related to amortization of intangibles, where certain amortization costs, such as ones related to customer relationships, are "non-real" and should not be expensed (other amortization costs such as for software, should be expensed, in his opinion). Accounting is pretty boring, but an investor can learn a good amount about a company by understanding some of the basics of accounting. This article will attempt to simplify some other accounting lessons, not related to Berkshire, which you should read on your own in the link above, but related to Corning Inc. (NYSE:GLW). Specifically, the accounting lessons for Corning relate to the Equity Method accounting treatment for Corning's two large joint ventures, Samsung Corning and Dow Corning.
Brief Company Overview
Let's start with a very brief overview of Corning. Corning is a leading manufacturer in the oligopoly-like glass panel industry. Corning and its joint venture with Samsung, control nearly 50% of the glass panel market globally. Corning also produces glass for consumer electronic products (computers, tablets, smartphones), fiber-optic cables, automobiles and life sciences. For my previous article on Corning, please click here.
Below is an overview of Corning's financials and summary valuation. The accounting issues addressed in this article will focus on the items highlighted in grey, which relate to accounting treatment of Corning's two joint ventures (Samsung Corning and Dow Corning). Both are accounted for under the "Equity Method," which we will explain further below.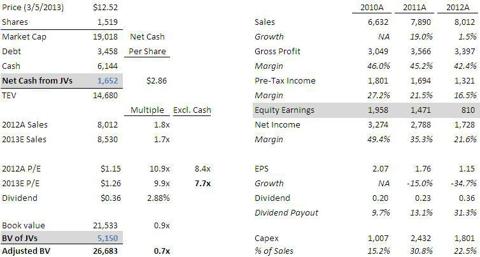 3 Accounting Methods for Investments
There are three different ways to account for investments, depending on the percent of ownership and amount of influence and control over the investment. The three methods are a) Investment in Financial Assets (Cost Method), Investment in Associates (Equity Method) and Consolidation.
Investment in Financial Assets or Cost Method (20% ownership or less, no influence)
When a company owns 20% or less of a stock, the investment is recorded through the investment in financial assets method. Financial asset investments can be classified either as a) held to maturity (at cost), b) held for trading (at fair market value), or c) available for sale (at fair market value). For example, Buffett's stock investment portfolio, including 13.7% of American Express (NYSE:AXP), 12.7% of Moody's (NYSE:MCO), 8.9% of Coca-Cola (NYSE:KO), and 8.7% of Wells Fargo (NYSE:WFC), are considered Investments in Financial Assets and are classified as Available for Sale (see page 32 of Berkshire's 2012 10-K). This means these investments are recorded at fair market value on Berkshire's balance sheet under Assets, Investment in Equity Securities.
Investments in Associates or Equity Method (20-50% ownership, influence but no control)
This is how Corning accounts for its two joint ventures. When a company owns between 20% and 50% of a stock and has significant influence but no control of that company, then the equity method of accounting is used. Under the equity method, the investment is recorded at original cost on the balance sheet and "equity earnings" (or the 20-50% of the stock's net income owned by the company) is recognized as a single line item on the income statement, below operating income. This piece is important. Because the investment flows through the income statement in a single line item that's below operating income, you will NOT see the investment's revenue numbers up top on the company's consolidated revenue number. This is best illustrated with a table and this is how equity earnings from Samsung Corning and Dow Corning flow through Corning's income statement.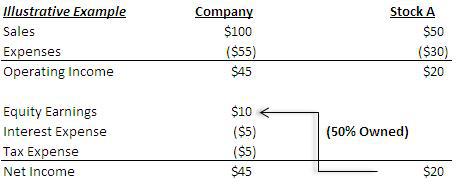 Again, note that only Equity Earnings flows through to the Parent Company's Income Statement (none of the $50 sales from Stock A investment flows to the company's income statement).
Consolidation (over 50% ownership, control)
The last category is when a company owns 50% or more of a stock and has control of the stock. In this case, the company has to consolidate or combine that stock investment's balance sheet and income statement with its own. When you then look at the company's sales for example, you will fully see 100% of the stock investment's sales figures included in there as well. If the company does not own 100% (say it owns 80%), then sales up top will be 100% or consolidated, but then there will be a minority interest expense down at the bottom that takes out the 20% stake that the company does not own. Again, this is best explained through a simple table.

Corning's Two Joint Ventures
Samsung Corning (50% Owned): Samsung Corning is a LCD panel maker. Samsung Corning is owned 50% by Corning, 43% by Samsung Electronics (OTC:SSNLF), and three other shareholders. Sales of two LCD panel makers located in South Korea (Samsung Electronics and LG Display) accounted for approximately 93% of Samsung Corning's 2012 sales. Samsung Corning has committed to invest $600 million in a new LCD facility in China scheduled to be completed in 2013. Below is the individual income statement of Samsung Corning (remember, only equity earnings flows to Corning's income statement).
Below is Samsung Corning's historical financials (you can find joint venture financials toward the bottom of Corning's 2012 10-K, beginning on page 121).

Samsung Corning's sales declined 14% in 2011 and 25% in 2012, due to overcapacity in the industry and declining LCD panel prices in the past two years. Again, see my previous Corning article for more details. However, the positive for Corning is that the Samsung Corning joint venture has been able to maintain relatively strong gross and net margins throughout this decline, with 2012 gross margins at 66% (down from 77% in 2010 though) and net margins at 44% (down from 61% in 2010).
Dow Corning (50% Owned): Dow Corning is a leading U.S.-based manufacturer of silicon-based products, offering more than 7,000 products and services. Dow Corning is also majority owner of Hemlock Semiconductor Group, a market leader in high purity polycrystalline silicon used in the semiconductor and solar energy industries. Corning owns 50% and The Dow Chemical Company (DOW) owns 50%. Below is the income statement for Dow Corning.

Dow Corning's sales, gross margin and net margin have declined in the past two years. This is mainly related to significant decrease in earnings at Hemlock, Dow Corning's consolidated subsidiary that manufactures polycrystalline silicon for the semiconductor and solar industries. The decline is driven by industry price and volume declines and China's anti-dumping affects on Hemlock sales in China, resulting in a restructuring/impairment charge of $81 million in 2012.
Putting it Together
Let's put all together of what it means when you look at Corning as an investment. We have shown above that because Corning accounts for the two joint ventures under Equity Method, the JVs' sales do NOT show up in Corning's consolidated sales. Details on the JVs are disclosed in Corning's 10-K, but just further down in the annual report. In the table below, I have reorganized the financials for Corning (including JV financials) so that it is more clear how much each business division contributes.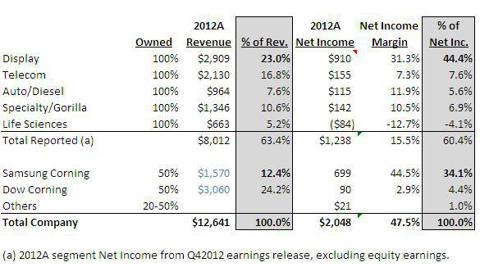 As you can see above, the JVs of Samsung Corning and Dow Corning contribute 36.6% of total sales and 38.5% of net income. The JVs are a big part of the overall value of Corning.
When considering the JVs properly, you can see that LCD glass business (which includes Display and Samsung Corning JV) is 35.4% of revenue and 78.5% of net income. Everybody likes to talk about the potential of Specialty/Gorilla Glass, but when considering the JVs' contribution, you can see that Gorilla Glass is only 10.6% of sales and just 6.9% of net income.
Given the Samsung Corning and Dow Corning JVs comprise approximately one-third of Corning's overall sales and profits, let's look at the past four years of Equity Earnings from these JVs.

You can see how much the JVs have struggled recently, with Samsung Corning dealing with overcapacity and price declines in the LCD panel market, and Dow Corning dealing with declining demand for silicon products for the solar industry.
Conclusion
I am long Corning. The main reason I am long is not because of Gorilla Glass, which unfortunately does not contribute as much as people think (at least for 2012, where it contributed just 7% of net income). I am long Corning primarily due to a play on the cyclical rebound in LCD panel industry. The LCD panel business for Corning (Display and Samsung Corning) makes up 78.5% of Corning's net income, when factoring in the JVs properly. When the LCD business rebounds, Corning will be well positioned/levered to ride that rebound. The question is when, but I argue in my previous article that 2014 seems about right for rebound, given the average seven-year TV replacement cycle and 2007 being the last peak TV demand year. In the meantime, the company pays a 3% dividend yield while I wait. The company also has $2.86 net cash per share when accounting for JV net cash, trades at 7.7x 2013E P/E net of cash, and P/B of 0.7x, after adjusting for book values of the JVs. Good luck everyone.
Disclosure: I am long GLW. I wrote this article myself, and it expresses my own opinions. I am not receiving compensation for it (other than from Seeking Alpha). I have no business relationship with any company whose stock is mentioned in this article.