The chart below shows the relative strength of the Large, Mid, and Small Cap Industrials sectors relative to their respective indices (S&P 500, S&P Midcap 400 and S&P Smallcap 600). When the lines are rising it indicates that the sector is outperforming its respective index, while a falling line is indicative of underperformance. Within the different Industrials sectors, there is an interesting divergence occurring, where both the small and mid cap sectors are outperforming their indices by a wide margin, while the large cap Industrials sector has been lagging.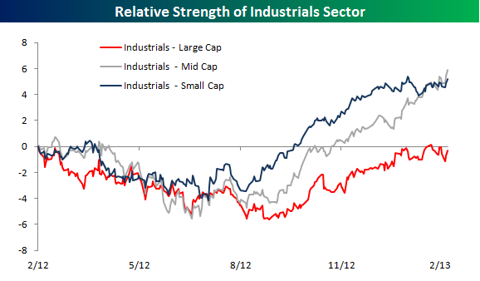 Although the divergence may seem puzzling at first glance, it makes perfect sense if you think about it. Stocks in the Industrials sector are economically sensitive, so when the economy is growing, the sector does well, but when the economy slows down, it sells off. Large cap stocks in the Industrials sector are usually multi-national companies with operations all over the world. However, as you move down the market cap scale, stocks in the sector are less far-reaching on a global basis and are more localized in their operations. Therefore, while a large cap stock in the Industrial sector may generate most of its revenues outside of the United States, a small cap stock in the sector is likely to generate all or most of its revenue inside the United States.
Take a look at the chart below showing the Manufacturing PMIs for the month of February for major global economies. With PMI indices, readings above 50 indicate economic growth, while readings below 50 are indicative of contraction. In the month of February, the Manufacturing PMI for the United States came in at 54.2 which was the highest reading since June 2011. Of the countries shown, the US was tied with India for the highest reading, and besides Brazil, every other country/region was either just barely above 50 or considerably below that level. The manufacturing PMI for the entire Euro-zone, for example, was only 47.9, indicating moderate contraction. Given this backdrop, one would expect Industrial sector stocks with a focus on the US to be doing the best, and based on the outperformance of small and mid cap stocks in the sector, that is exactly what is occurring.