It is an exciting and volatile time for companies in the 3D printing field. 3D Systems Corporation (NYSE:DDD) reported earnings on February 25th, and saw its price slide down 20%, but then recovered and closed down 9%. Perhaps the confusion about split adjusted earnings guidance mislead traders and investors, but the drop was there and it was still significant, even being cut in half.
I wrote an article a week before earnings and said that the stock faces short-term headwinds, but that the future is very bright. And as expected, volatility increased significantly before and after earnings. The stock sliced its 50 day moving average line in higher volume on 21st February and gapped down after reporting earnings. It tried to recover afterwards, but the move was in lower volume and so far failed after a three day rally attempt.
Earnings highlights
3D Systems reported adjusted EPS of $0.39 (before split), a cent over views, but missed revenue expectations, as it reported $101.6 million, and analysts were expecting $103.86 million. Revenue was up 45% over the same quarter last year, and 54% for the year, reaching $354.6 million.
The management said on the conference call that the company introduced 16 new products, and that revenue from new products increased 70% to $131.9 million. Gross margin expanded 390 basis points to 51.2%. Organic growth for the year was 22.4% and 18.8% in the fourth quarter.
The company experienced growth in all key geographic regions of the world, and performed well in European and Asian Pacific regions. North America was the strongest region, benefiting from acquisitions, which were mostly concentrated in the U.S.
The company spent $183.7 million for acquisitions in 2012, and ended the year with $155.9 million cash on hand, which is a decrease of $23.2 million from the end of 2011.
Management expects full year revenue in $440 million to $485 million range, representing a 24% to 37% increase, and non-GAAP earnings per share in $1 to $1.15 range, which translates into 30% to 49% growth. Large part of the growth is expected to be organic.
Although revenue missed analyst estimates, the growth story is still intact and the long term picture looks very good and profitable for the company. Valuation looks better now with the price down, with forward PE of 26.72 and a PEG ratio of 1.41. Trailing PE is still quite high at 72.88. But it is often the case that you have to pay a premium to get a hold of a good growth story.
Competition
Stratasys (NASDAQ:SSYS) reported earnings that beat estimates and sent the stock higher. The rise comes after a steep selloff, which brought the stock down below its 200 day moving average line. The company completed the merger with Objet worth $1.4 billion, and the combined company should bring in synergy effects and the management expects the growth to continue in the future. The company sold 29,000 printers in 2012. The management expects a great growth opportunity in 3D design and analysis tools, which are becoming more functional and easier to use. David Reis, Chief Executive Officer of Stratasys said on the conference call:
There are approximately 14 million total CAD seats and more than 5 million 3D CAD seats currently worldwide. And we expect those numbers to continue to grow. However, despite this large addressable market, we estimate fewer than 50,000 professional 3D printers having installed through the end of 2011 suggesting a significant market opportunity for us.
Stratasys has a trailing PE of 80.28; forward PE is 27.05 with a PEG ratio of 1.21. That puts it roughly at the same valuation levels of 3D Systems.
Short interest
Short interest of 3D Systems has decreased in four latest reporting periods, with the latest reporting period being the most interesting, because we saw a significant decrease in short interest, meaning many traders were satisfied with the price drop and covered their shorts. Share price at the time was around $40 (split adjusted), and we saw tremendous volume and a steep drop afterwards, so there might have been more short covering and a further decrease of short interest, especially if the company continues to deliver higher growth levels.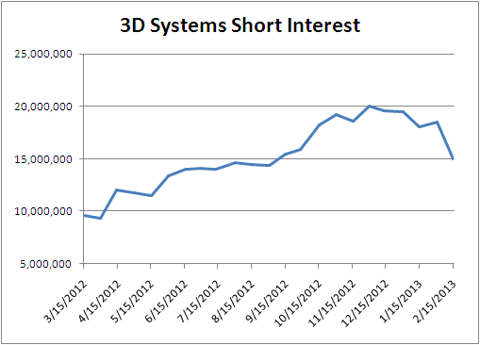 Source for data: Nasdaq
Price action
3D Systems and Stratasys saw their share prices decline since the end of January. Both stocks lost about a quarter of their value from their late January highs. Stratasys' earnings announcement pushed both stocks higher, but 3D Systems ended the day down and it headed lower afterwards. The 50 day moving average line, which served as support earlier, might serve as resistance now. However, 3D Systems has yet to test it, because it did not manage to reach the line after dropping below it. Further price consolidation is needed after volatile movements these stocks experienced. The 200 day moving average might serve as a strong support level if the price decreases further.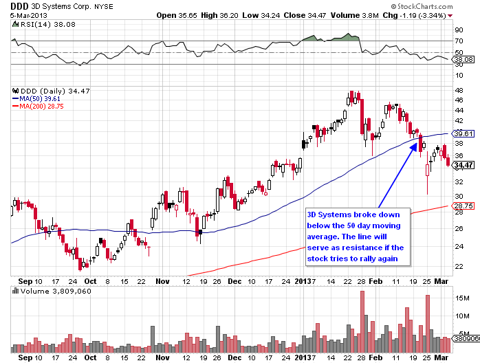 Conclusion
Although volatile action is expected in the near term, and we could see lower price levels of 3D Systems in the near term, the long term story is intact. The company expects stronger organic growth this year, which is one of main causes of concern for investors, since much of the growth in the past came from aggressive acquisition policy. Valuations came down after the sell-off and new earnings numbers, and a premium is expected to be paid for being part of a growth story that 3D Systems and 3D printing present.
Disclosure: I have no positions in any stocks mentioned, and no plans to initiate any positions within the next 72 hours. I wrote this article myself, and it expresses my own opinions. I am not receiving compensation for it (other than from Seeking Alpha). I have no business relationship with any company whose stock is mentioned in this article.
Additional disclosure: This writing represents my personal opinion, and is for informational purposes only.