In short, since a picture is worth a thousand words, I want to describe the company's current quarter with a chart (Form 10-K here).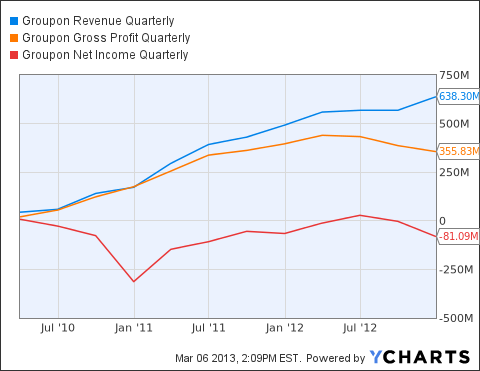 GRPN Revenue Quarterly data by YCharts
As the chart above shows, while Groupon's (NASDAQ:GRPN) revenue has increased, its gross profit has decreased and its loses have also increased.
What is going on here? Aren't margins suppose to be in tandem with revenue? Yes if the business model was the same, but it is changing.
Please look at the chart below:

Third party revenue that makes up the original business of the company is actually doing lousy. Not only was third party revenue down in Q4 on a y-o-y basis ($413 million in Q4 2012 vs. $475 million in Q4 2011), but it was also down sequentially q-o-q. For Q3 of 2012 the company recorded third party revenue of $423 million and direct revenue of 144 million.
On the other hand, we see direct revenue becoming an ever increasing part of the company's sales mix. In fact, while for all of 2011 direct sales were miniscule - about $20 million with total sales of $1.58 billion - in 2012 direct revenue was $454 million with total sales of $1.88 billion. In other words, on a yearly basis, direct sales were about 29% of total sales. But look what is happening in Q4, direct sales comprise 35% of total sales.
So what's the problem with direct sales? Well there is no profit to be made. In the chart above, direct revenue for the current quarter was $225 million, but the cost of direct revenue was $218.5 million. In other words, the company made a mere $6.5 million in profit.
The decline in the company's core business is probably a product of fierce competition in the coupon space. Google (NASDAQ:GOOG) offers and Yelp Deals (NYSE:YELP) - as well as the many other national platforms - are taking business from the company and it can't do anything about it.
As I see it, in the face of brutal competition the company is trying to make up for the lost high margin coupon revenue by doing more direct deals. But this to me looks a lot more like wholesale activity than anything else.
And I would not really have a problem with this, if the company only managed to make money. Also, if I wanted to buy a wholesale stock, I wouldn't be buying a coupon stock.
In my last take on the company I said the following:
The stock needs solid positive news in order for enough buyers to come in and push prices higher. A Google take-over offer might push prices higher, but that is a wild-card and we can't really base our investment decision on a wild card.

For those who have bought the stock at higher levels and are out of the money, I still think you'll get your money back, just that you will have to wait longer term.

However, because timing is almost everything, if you are sitting on profits, take the money and run until we get a better picture of what is going on inside the company and what year end results will look like.
Bottom line:
I am not sure anymore about the long term prospects of this company as I was several months ago. To be honest, I underestimated how fast direct sales would rise and how negatively they would impact gross profits.
I think the possibility that Google might buy Groupon is now totally out of the picture, and we can not count on this as a wild card anymore.
I still think this stock is a sell at current levels, until we get a better sense of future earnings. Furthermore, we need to get a better understanding on how the company's model is evolving and its future impact, because it is obvious that many things in the company's model are changing.
Disclosure: I have no positions in any stocks mentioned, and no plans to initiate any positions within the next 72 hours. I wrote this article myself, and it expresses my own opinions. I am not receiving compensation for it (other than from Seeking Alpha). I have no business relationship with any company whose stock is mentioned in this article.