It's official. The Dow Jones is trading at new all-time highs. Looking at the chart below, it appears as if all the agony caused by the 2008 financial crisis has been erased. But guess what? A chart can be deceptive. I'm not the first and probably won't be the last to point out the painful differences between Dow 14,000 in 2007 and Dow 14,000 in 2013.
On open-eyed trip down memory lane will highlight many perverse market realities not captured by any single bar or candle chart. What are they and who profits from them? The two most recent Dow 14,000+ readings happened in February 2013 and October 2007. Let's compare the two.
The table below speaks for itself and tells the story of millions of Americans still left without (adequate) jobs, out of their homes, bankrupt, and/or on food stamps.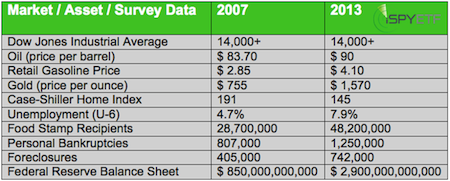 The chart below ads a few more brush strokes to that picture as it plots the S&P 500 against unemployment (the rosy U-6 number), food stamp recipients and the Fed's balance sheet. But there's another story to tell. The story of the "1%-ers" or the "1% of 1%-ers."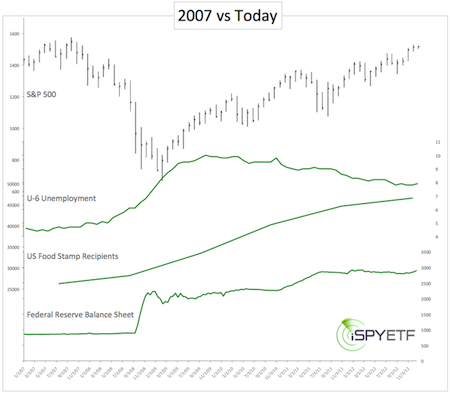 According to Forbes, the year 2012 saw 200 new billionaires, a 16% increase over last year. The total number of billionaires is now a record 1,426 worldwide. As a group, billionaires' net worth soared to $5.4 trillion, a 17% year-over-year increase. The average net worth of a billionaire is $3.8 billion according to Forbes. It's tough to find historical data on the world's billionaires, but in 2004 there were 691 billionaires with a collective net worth of $2.2 trillion.
Although the future of the fake QE bull market is uncertain, we already know the winners and losers of the great fake recovery: The "expensive champagne elite" (winners) and the average Joe middle-class (losers). There are now more billionaires and more welfare recipients than ever before. The middle-class, however, is shrinking.
According to a recent report from the Pew Research Center, the middle-class now accounts for only 45% of the income pie, down from 62% 40 years ago. Since 2001 middle-class median income dropped from $72,956 to $69,487. Median wealth declined 28% from $129,582 to $93,150. 85% of self-described middle-class adults say it is more difficult now than it was a decade ago to maintain their standard of living.
Unfortunately, artificial liquidity and a divided political environment seems to destroy the natural habitat for the middle class. What can the middle class do to avoid an entry on the endangered species list? There's no fail-proof formula, but this may help:
Use common sense and don't follow Wall Street's example. The government and/or Fed will bail out big banks, but it won't bail out the "average Joe."
Disclosure: I have no positions in any stocks mentioned, and no plans to initiate any positions within the next 72 hours. I wrote this article myself, and it expresses my own opinions. I am not receiving compensation for it. I have no business relationship with any company whose stock is mentioned in this article.